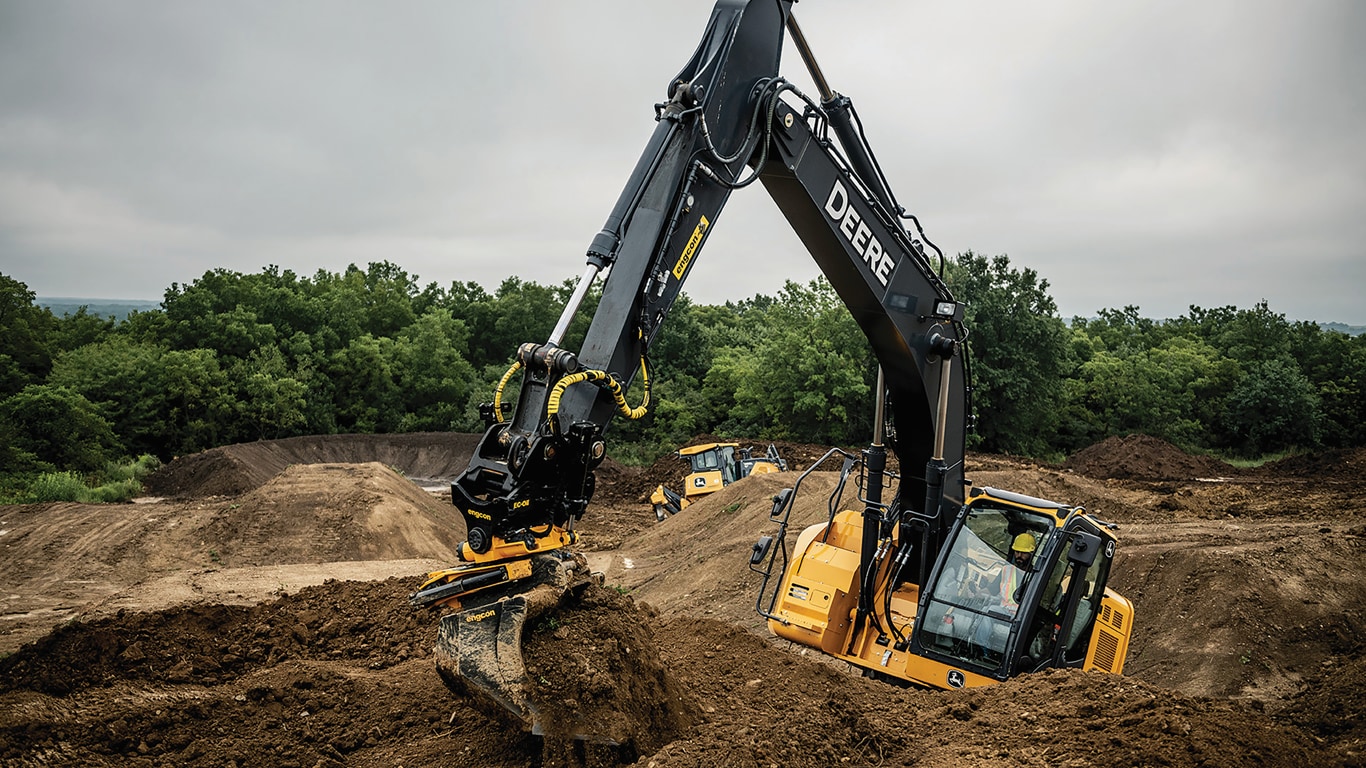 All About John Deere Excavators and Attachments: The Workhorses of Your Fleet.
They go by many names: excavators, trackhoes, backhoes, diggers and power shovels. But no matter what you call them, one thing is clear — excavators are among the most widely used vehicles on job sites, and for good reason. Your John Deere team is here with information about the excavator's versatility and varied applications. You'll see how John Deere machines are engineered to work harder, smarter and safer — and we'll help you choose the right ones for the job.
From housing developments to highways, farms and landscaping to urban infrastructure projects, excavators are essential to all kinds of construction. With a range of sizes — including compact, mid-size and large — there's a John Deere excavator for every need and budget. Let's take a closer look.
What is an excavator?
Excavators are construction machines with a signature arm, boom and bucket. They're primarily used to dig earth, clear brush and rocks and for heavy hauling. What's more, users can swap out the bucket for a range of attachments, creating a whole host of other uses. We'll cover attachments later.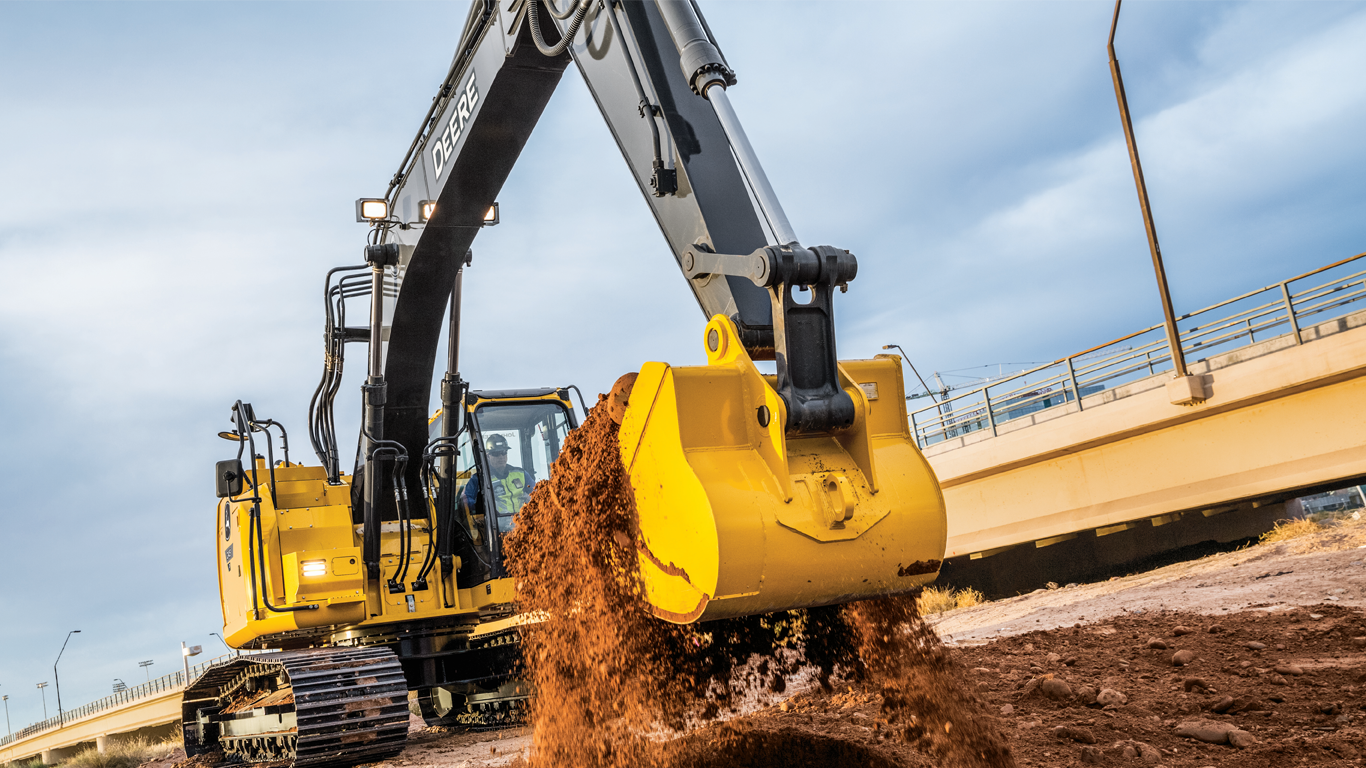 254G LC Excavator digging on a worksite.
What are common uses for excavators?
Some of the top excavator applications include:
Earthmoving

Property preparation & digging foundations

Landscaping

Excavating

Underground construction & tunneling

Dredging

Demolition & debris removal

Material handling

Handling forestry supplies & tasks
What makes John Deere excavators so popular?
With quality construction and quick, responsive hydraulics, John Deere excavators are rugged, reliable and dependable. They're the workhorses of any construction fleet, ready to tackle anything from site prep to trench digging and placing pipe. Plus, the expansive John Deere dealer network offers ironclad customer support teams. Each is equipped with service plans, telematics, parts and trained technicians.
Big performance in every size.
Choose from wheels or tracks, in compact, mid-size and large excavators.
Compact excavator: 6 models (3,800 - 13,500 lbs)

Mid-size excavator: 14 models (16,500 - 90,000 lbs)

Large excavator: 3 models (103,500 - 188,750 lbs)
Equipped with the latest innovations.
John Deere excavators feature capabilities like flexible grade management, virtual fencing and overdig protection. It's technology that's designed to minimize rework, maximize uptime and extend machine life.
Machines with grade control make it easier for operators of all levels to optimize efficiency and precision. Choose from several, factory-ready solutions:
Flexible 2D/3D Grade Management Solutions

Choose your solution based on whatever the job demands: 2D Grade Guidance, 2D Grade Control, 3D Grade Guidance or 3D Grade Control

Available as factory installed as well as upgrade kits to adapt at your own pace

Arms operators with elevation and position of bucket edge relative to target plane (2D) or design surface (3D)

Ideal for precision projects like pipe trenching, sloping or excavating foundations
SmartGrade™ for 3D Grade Control

Operators can set and hold the grade while controlling the arm

Machine automatically controls the boom and bucket

Virtual fence lets operators set boundaries and get alerts when the boom and bucket approach them
John Deere attachments help diggers do it all.
Swap out a John Deere construction bucket for one of many excavator attachments to do even more
Plate compactors - for trench-, slope- and excavation-compaction applications

Construction hammers

- for breaking concrete or rock; concrete flatwork; preparing dirt for concrete pads and fencing

Rotary cutters

- for clean cutting and maximum material shredding

Mulching heads

- knife-style cutting teeth in a spiral-tooth pattern for clearing felled trees and brush in hard-to-access areas

engcon® Tiltrotators - for tight spaces, enable attachments to rotate 360 degrees and tilt up to 45 degrees

Planetary drive augers

- for drilling and digging holes, great for mini excavators
How do you choose the right John Deere excavator for the job?
You'll want to size your excavator to the scope of the project. This will help get the work done quickly and cost-effectively. Some factors to consider:
Size of the workspace

Task(s): such as dig depth, required dump height and distance, bucket size vs bucket precision

Terrain: wheels are best for harder surfaces, tracks are for uneven or muddy surfaces
Whether you're acquiring your first machine or adding to a fleet, there's a John Deere excavator that's perfect for you. Here's a look at our full line of excavator models.
| COMPACT MODELS | NET POWER | MAX DIGGING DEPTH | OPERATING WEIGHT |
| --- | --- | --- | --- |
| | | | |
| | | | |
| | | | |
| | | | |
| | | | |
| | | | |
| MID-SIZE MODELS | NET POWER | MAX DIGGING DEPTH | OPERATING WEIGHT |
| --- | --- | --- | --- |
| | | | |
| | | | |
| | | | |
| | | | |
| | | | |
| | | | |
| | | | |
| | | | |
| | | | |
| | | | |
| | | | |
| | | | |
| | | | |
| | | | |
| LARGE MODELS | NET POWER | MAX DIGGING DEPTH | OPERATING WEIGHT |
| --- | --- | --- | --- |
| | | 7.77-8.27 m (25 ft. 6 in.–27 ft. 2 in.) | |
| | | | |
| | | 7.14–11.16 m (23 ft. 5 in.–36 ft. 7 in.) | |
Intelligent machines that enable lives to leap forward.

Deere & Company (www.JohnDeere.com) is a global leader in the delivery of agricultural, construction and forestry equipment. We help our customers push the boundaries of what's possible in ways that are more productive and sustainable to help life leap forward. Our technology-enabled products including John Deere Autonomous 8R Tractor, See & Spray™, and E-Power Backhoe are just some of the ways we help meet the world's increasing need for food, shelter and infrastructure. Deere & Company also provides financial services through John Deere Financial.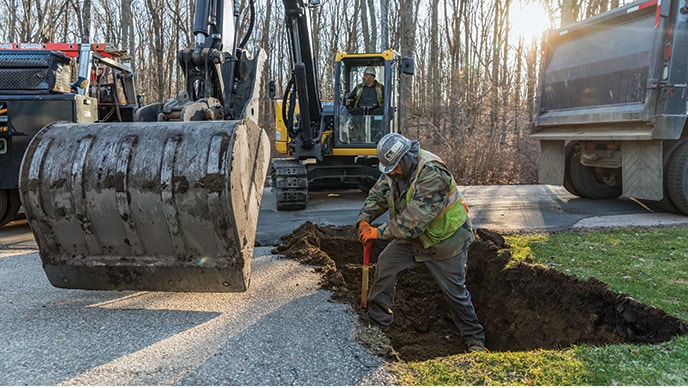 Winning the Day
For a small excavating business, attention to the little things is netting big results.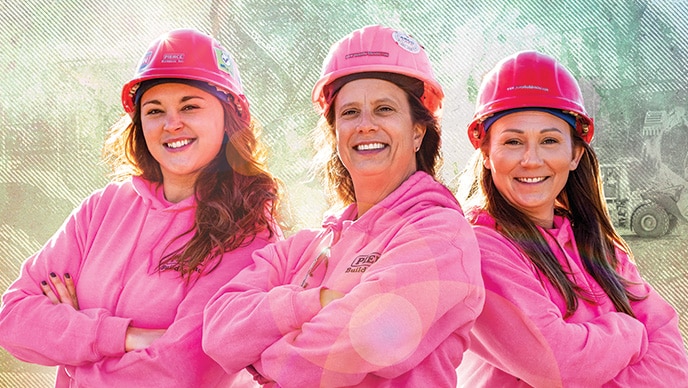 Together We Shine
The women at Pierce Builders spend their workdays moving earth and making things happen.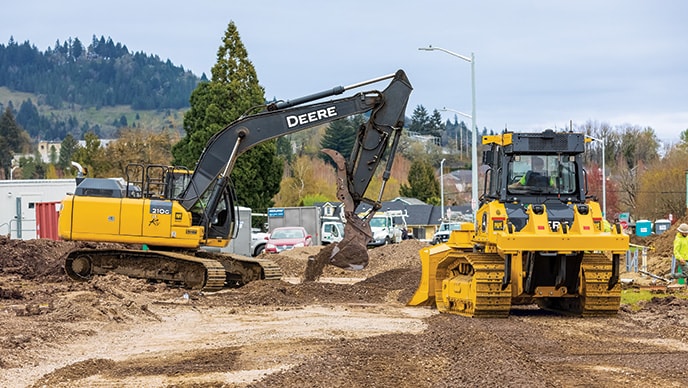 Part and Parcel
Kipco Construction is a small company tackling big site-preparation projects in bustling Eugene, Oregon.
Features and specifications are based on published information at the time of publication. Features and specifications are subject to change without notice.