Together We Shine
These experienced female operators live in a material world — and love it.
Sitework for new Amazon facilities demands earthmoving on a massive scale. On a recently completed project, Pierce Builders, Granby, Connecticut, moved one million yards. For the current Amazon Fulfillment Center, they are working on — the company's seventh such project — they've moved over half-a-million yards. In addition to mass earthwork, the company also performs water/sewer pipework and utility work.
To complete these projects, Pierce Builders runs a huge fleet of John Deere machines, including wheel loaders, excavators, dozers, and articulated dump trucks (ADTs). "Because we do every phase of the job, we need equipment ranging from small to large," says Hal Pierce, president. "We own every size Deere loader except the 944K."

". . . When they learn I have a female boss and female coworkers, that's the real shock-and-awe factor."
Watch Video
"We belong"
Operator Erin McFague runs the Deere 844L Wheel Loader, which she and her female coworkers have dubbed "The Material Girl." "That's mainly what we use her for — material work," she says. "I love everything about this machine — the joystick control and the spacious cab. It has crazy amounts of power, easily outperforming any of the larger machines we have. With the L-Series, Deere really stepped it up."
McFague typically starts her day at 6 a.m. "What gets me through long days is coffee, number one," she says, "and a comfortable machine. As long as you have coffee and comfort, you're going to have a good day, am I right (laughs)? I'm lucky to work for a company that provides newer machines that are kept up really well."
McFague began working for Pierce Builders eight years ago after working as a bartender for ten years. "They were looking for someone to work in the scale house. I had absolutely no idea what I was doing. None. Zero. Never worked in construction or on big machines."
Pierce's wife Alescia showed her how to run a loader and ADT. "She told me, 'Just do it. Don't be afraid of it.' I did it, and here I am. I wasn't sure I belonged in construction, but she proved me wrong."
McFague enjoys working with Alescia Pierce and another female coworker, Fleet Maintenance Coordinator Missy Madden. "We're like sisters. We really rely on each other and get along. There are days we can't believe it's already four o'clock because we've been laughing so much. It's great."
People are often surprised to learn McFague works in construction. "They assume I use a hammer and a nail or a shovel. When they realize I run big yellow equipment and move dirt for a living, the reaction I get is, 'You do what?' Then when they learn I have a female boss and female coworkers, that's the real shock-and-awe factor."
McFague has had a difficult time persuading her other female friends to give the career a chance. "They don't seem to be interested. To be honest, I don't think I would have been interested either. Never in a million years would I have imagined I would be doing this. I knew nothing. I was scared.
"But once I learned what to do, I discovered that it's really fun. Now I can only say good things about it. And I see only good things from this company. The employees are great, and the owners are great. Alescia and Hal are the two nicest people I've ever worked for. Anything we need, we just ask and they are so willing to help us. I'm here for the long haul."

"We can get dirty. We're strong. We can take it and give it right back."
"We're strong"
Like McFague, Madden really enjoys her job. "Every day is different. That's what I love about it. I'm not a girl who likes to sit behind a desk and answer phones. And it's just a great work environment. It's fun. We have a great time together."
Madden is responsible for maintaining the company's 160 pieces of equipment, including more than 70 John Deere machines. The company has been running Deere equipment since the 1980s, when it had only four or five employees. In the past few years, the company has grown exponentially. "We just fell in love with the Deere product and today most of our large construction machines are Deere," says Hal Pierce.
Pierce hired Madden when she was working at a car auction. "Hal had built the building we worked in," she recalls. "He reached out to a friend and asked if anyone was interested in running parts. I interviewed with him and Alescia, and started that week."
Every morning when Madden arrives at the shop, she meets with the mechanic and checks maintenance schedules on JDLink™. She then hits the road to obtain filters, fluids, and any parts needed for repairs.
"Some days I go to 11 places, including our dealership, W.I. Clark," she says. "I don't know what we'd do without W.I. Clark. I am always welcome there. The staff is great and make it easy for us. Anything we need, they are 100-percent there for us."
When she's not helping keep everything running, Madden runs the Deere 300D ADT. "One day we put her in an ADT and realized right away that she could run that, too," says Pierce. "We turned her loose and she was immediately capable of doing everything an operator can do in that machine."
When people ask why she works in construction, Madden answers, "'Why not? It's badass.' It's not for everyone. You are surrounded by men, and at times, you'll come across someone who will assume you don't know anything. But I have never left here upset. I'm very happy here."
Madden is proud to be a woman working at a construction company. "It's an honor, really, so props to Hal for hiring women. It's something that could open the eyes of other companies. We can get dirty. We're strong. We can take it and give it right back."

"It's very exciting working with women, and we need more women in this business."
"We need more women"
Ten years ago, his future wife Alescia became the first woman Hal Pierce hired. "She came to me and told me she wanted to try running a loader," he remembers. "She picked up on it very fast — she was a natural. We moved her up to larger loaders and she performed even better. She ran the largest loader we had and she was incredible."
"I'm passionate about my 844K-II Loader," says Alescia. "I really enjoy spending the day running it. I spend more time in it than I do in my own bed (laughs). I was never a morning person, but now I don't mind coming to work at 6 a.m."
And she encourages other women to run equipment. "It's fun. You're outside, doing your own thing. It's very exciting working with women, and we need more women in this business. And we have a wonderful group of other employees who work for us. It makes the day very enjoyable."
Alescia is excited about the future of Pierce Builders. "Every day Hal and I joke that we're never going to retire because we just keep getting bigger and bigger, with larger projects, more employees, and more John Deere. We're very blessed. I'm just really proud of how far we've grown from a small company to where we are now — a great group of people and great machines."
Pierce Builders, Inc. is serviced by W.I. Clark, Wallingford, Connecticut.
In Swift Succession
From the jobsite to the C-suite, women are playing a pivotal role at Russell.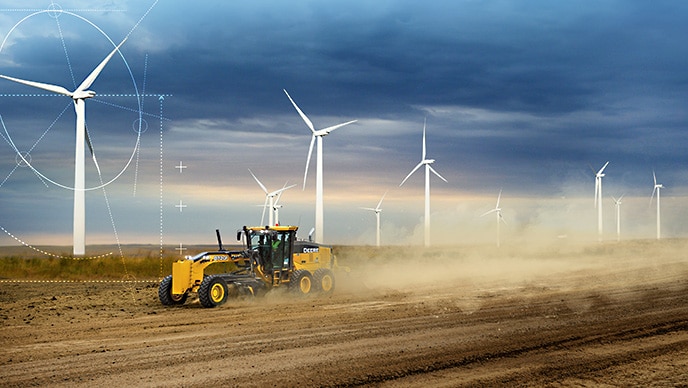 Big Opportunity in Big Sky Country
Experience meets innovation as Blattner Energy transforms renewable-energy projects.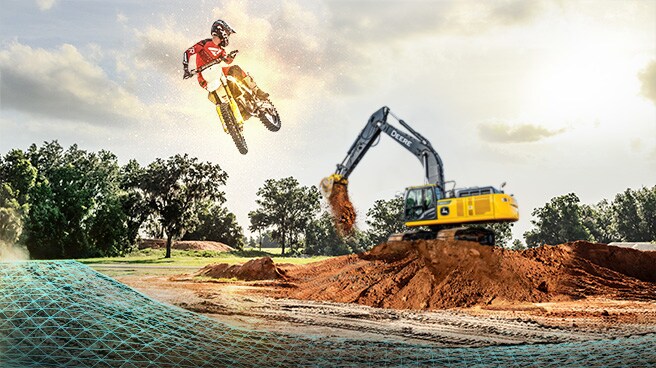 Pushing Potential
A former pro motocross athlete is now helping other racers find their next gear.
Ready to inspire others
We are always looking for opportunities to feature women and advocates for women in construction in future editions of The Dirt. To be considered, share your story or someone else's by filling out this form.