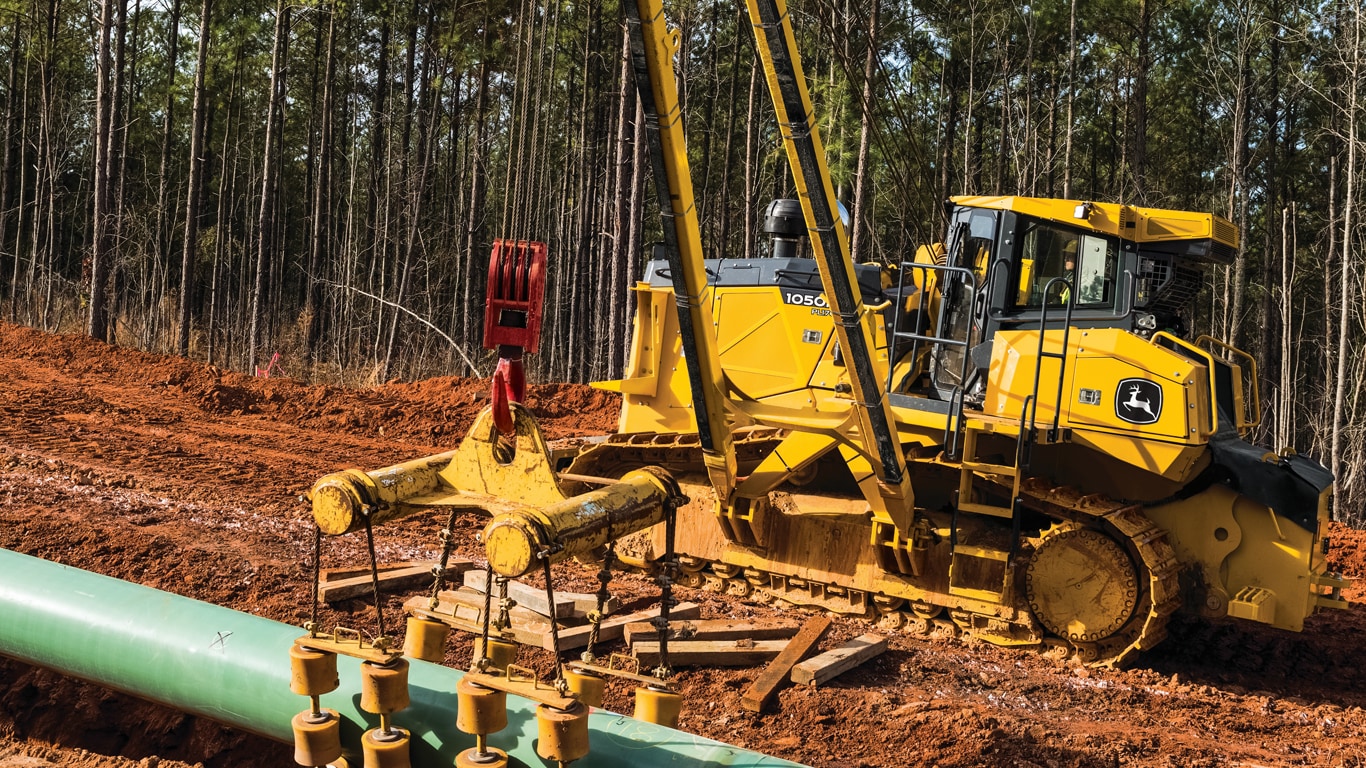 Pipe Laying with John Deere Equipment
They're often hidden from sight, underground or underwater. But pipelines play a critical role in our infrastructure. They're part of complex systems that impact our everyday lives.
They keep our homes heated and powered. Our faucets flowing with clean water. And our computers connected to the Internet. Let's take a closer look at these marvels of engineering — and the John Deere pipeline equipment that can help you with your next pipe laying project.
Pipelines are used to transport materials such as water, oil, and natural gas. They're also a prominent part of sanitary sewer systems. In addition, pipelines are used for electricity and fiber-optic cable for Internet and telecommunications. Like any capital construction project, pipe laying is a multi-step process. It involves planning, the core project and various finishing tasks — all of which require construction equipment. Here's a brief overview of a typical pipe laying project.
What are the stages of a pipeline project?
PLANNING
This initial stage covers everything from the size/type of pipes that will be needed, the soil conditions at the site, and any potential hazards or obstacles such as adjacent structures or existing utilities. This stage also includes developing budgets, construction plans and schedules, as well as permitting for rail crossings, environmental considerations, Stormwater Pollution Prevention Plan (SWPPP) and the Environmental Protection Agency (EPA).
Site Layout

The location of the job site will have a major impact on completing the job. Obstacles such as hills, overhead power lines and trees can slow progress. Others important considerations include the size, terrain and amount of time needed to do the work. These impact the size of the crew and the number of required machines. Is the soil dry or wet? Hard or soft? Is the ground primarily soil, sand or clay? These are additional considerations for the trench digging phase.

Staking

Grade stakes on an underground job site provide key information on the location of your pipes. The hub provides a known location and elevation relative to the job site. Different sets of numbers on the stakes identify the distance from the start of the pipe, the horizontal offset, the cut or fill and the grade of the pipe.
DID YOU KNOW?
John Deere SmartGrade Excavators use advanced 2D and 3D technology to help prevent overdigging and rework — freeing you from labor intensive stakes and strings. Learn more about features like automatic boom and bucket control, virtual fencing and real-time distance-to-grade readouts.
Staging

The staging area is where crews gather all materials (such as the pipes) and equipment. This area serves as the central location to orchestrate all movements of machines and materials to maximize efficiencies.

Earthworks & Clearing

This phase begins with site preparation to clear dirt, trees, and other vegetation. Silt fencing is installed to prevent soil runoff and plan for stormwater management. Some of the dirt that is removed may be retained onsite to be used for backfill.
EXCAVATION
Once the planning and staging is complete, the next phase requires excavation and trench digging to create the space for laying the pipe. Using a pipeline trencher is typically faster and less expensive than excavating and blasting rock. The size and overall structure of your trench helps determine what machinery is needed.
Trench Safety

Most trench work happens in segments with a "cut and cover" approach. Portions of the trench are dug, pipes are installed, then the trench is backfilled and covered. A trench box is commonly used at underground sites and typically consists of spreader bars and side shields to keep the walls of the trench intact, which protects the workers and the pipe from dangerous cave-ins. This is why planning and proper methods are essential.
Export (or Spoils)

Some of the material that is excavated will be set aside and reused and backfill. However, there may be excess that will need to be hauled away. The excavator may load this "export" or "spoils" material directly onto dump trucks that will haul it away.
Assembly
This is a crucial portion of any underground project. So, it's important to know the lifting capabilities of the machinery. An efficient pipe laying operation requires careful planning and coordination.
Footage and Elevation

Crews need to determine the footage they expect to construct each day. This will help determine the number of workers needed to shore, grade, set manholes and lay pipe. To maintain proper elevation, a pipe laser is placed inside the start of the pipe to ensure that the line is straight.
Rigging

This is the process of using chain, cable, nylon straps, D-rings and swivels to lift and place pipe or manholes. Depending on what kind of pipe is being installed, rigging can be performed with or without a bucket. When rigging with a bucket, a lifting eye and swivel make it easier to set and align larger materials, such as manholes and heavy concrete pipes. If no bucket is needed, couplers make removing a bucket faster and easier. Plus, by removing the weight of the bucket, the equipment can pick up heavier loads. During rigging, it's also important that the pipe layer and equipment operator maintain close communication.
Manholes and Vaults

The base, which can be poured or precast, is the bottom of the manhole (sewer application) or vault (utility or telecommunications application). The middle portion is called the section. Sections can come in different sizes and can be stacked together. The cone is the top portion that is visible at the surface.
Assembly

One of the most common ways to assemble iron or PVC pipe is to use flange or compression fittings. Compression fittings use a compression nut and a ring that press into place to form a seal. Other types of fittings include threaded and glue. Glue fittings are simple to assemble and are used to connect plastic pipe.

Compression gaskets are mechanically compressed and commonly used in flanges, mechanical joints, water service fittings, and pressure sewer lines. Rubber gaskets, or O-rings, are used on large diameter concrete pipes to ensure proper seal on pipe joints. Proper cleaning and lubrication prevents pipes from leaking, gaskets from tearing, and other potential issues.

Welding is another process that is often used in pipelines that carry oil, drinking water and more over hundreds of miles. There are several widely used welding processes such as these:

Shielded metal arc
Gas metal arc
Flux-cored arc
Submerged arc
Gas tungsten arc

High density polyethylene pipe (HDPE), which can be used to transport low pressure natural gas, is commonly fused with a fusion machine. In this process, the ends of the pipes are stabilized. Then a blade trims the ends, and a heater plate is placed between them. The ends are fused together under pressure, then allowed to cool.
BACKFILL
Once the pipe is placed in the trench, it's often covered with a certain amount of backfill material. The trench may be filled to half the height of the pipe or the pipe may be covered entirely. Loose topsoil, sand, gravel, and fine stone may comprise the backfill mixture used to cover the pipe. There are different levels of backfill:
Foundation - only needed if the native soil is unstable or the trench was over excavated
Bedding - usually about 6 inches of compacted material to provide even support and bring the pipe to the proper grade
Haunching - extends from the bottom to the center of the pipe; helps provide resistance to pipe deflection
Initial backfill - extends from the center of the pipe to a specified point above the top; provides pipe support and helps prevent pipe damage during final backfill
Final backfill - extends from the top of the initial backfill to the top of the trench; important to the integrity of roads and structures that are above the pipeline
TESTING
Like any project, testing is an important final step. This is especially true with pipe laying given the potential dangers of leaks or pipe failure involving oil, sewage, water, gas and other substances. Here's a look at several common testing methods.
Mandrel testing - involves pulling a mandrel through the line. The mandrel has a slightly smaller
diameter than the inside diameter of the pipe and will get stuck if there is any deformation.
Visual testing - an independent inspector uses a powerful flashlight to determine if the pipe is straight and true on grade. Video cameras are often used, especially when there are curved sections between Manholes.
Hydrostatic testing - uses water pressure to test the strength of the line. The line is sealed off, pumped with water and monitored to see if it can hold a specified amount of pressure for a specified amount of time.
Air testing - the fastest, cleanest, least expensive, and most common way to pressure test lines. The pipe ends are capped and sealed before air is pumped into the line and monitored.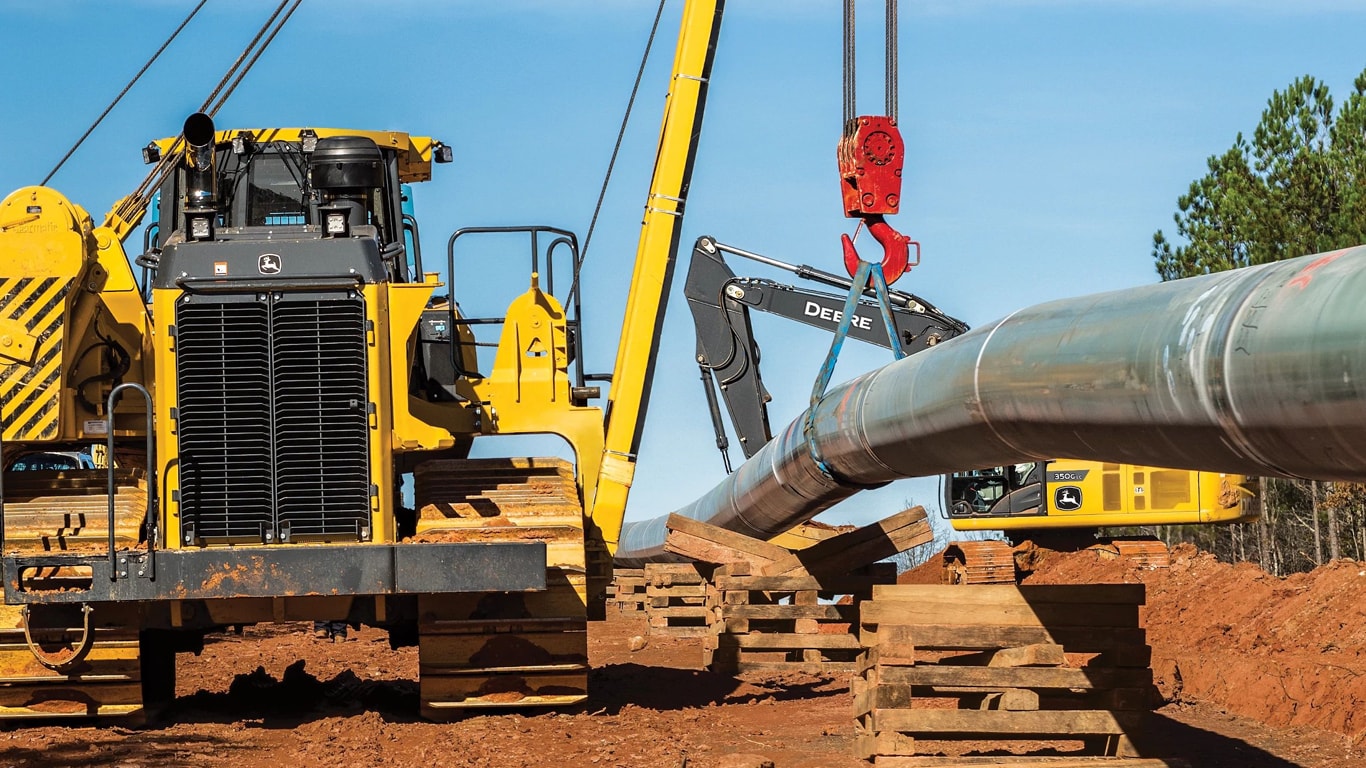 1050K Crawler Dozer laying a pipe on jobsite.
What are the common types of pipelines?
Pipelines have a wide variety of uses. Those impact the design of a pipeline including the material, laying techniques and maintenance requirements. Let's look at the most common types of pipeline materials and uses:
MLC concrete mortar-lined, coated steel - used to carry water across long distances
Ductile Iron - used for water, gas and sewage
Plastic - generally used for water; lightweight and easy to handle; susceptible to temperature fluctuations
Concrete - made from sheet steel and concrete; well-suited to large pipelines over great distances; commonly used to transport water
Waste water - can be made of PVC, cast iron or concrete
Gas - transmission lines are typically made of steel, whereas distribution lines are made of flexible plastic
Oil - made from steel with a coating to slow corrosion; used to transport crude oil and also refined gasoline
High density polyethylene (HDPE) - often used in mining and dredging applications to carry slurry (a mixture of solid material and liquid)
What type of equipment does John Deere have for Pipe Laying?
Now that we've discussed the process involved in pipe laying, and the different types of pipe, let's take a closer look at the equipment. Whether you need to clear the site, excavate a trench or backfill and seal, John Deere has you covered. We have earth moving machines and equipment for every pipe laying task. Let's take a look at all the options.
Intelligent machines that enable lives to leap forward.
Deere & Company (www.John Deere.com) is a global leader in the delivery of agricultural, construction and forestry equipment. We help our customers push the boundaries of what's possible in ways that are more productive and sustainable to help life leap forward. Our technology-enabled products including John Deere Autonomous 8R Tractor, See & Spray™, and E-Power Backhoe are just some of the ways we help meet the world's increasing need for food, shelter and infrastructure. Deere & Company also provides financial services through John Deere Financial.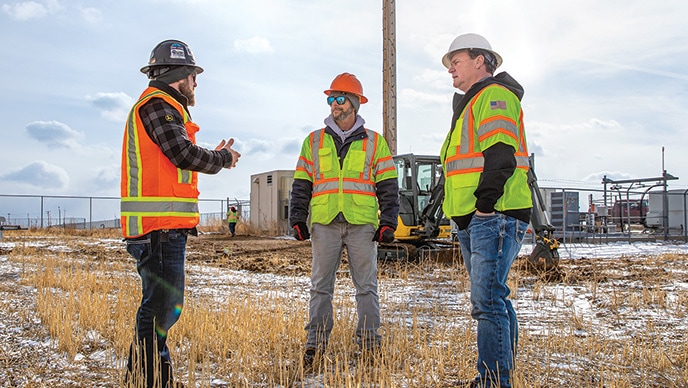 Building Connections
True to its name, Denver-based A to Z Field Services is capable of doing just about everything.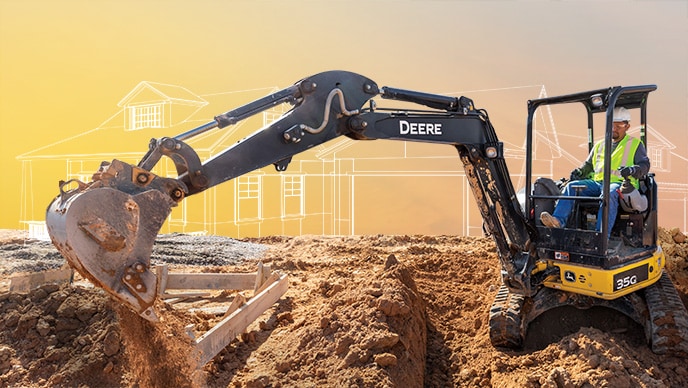 A Solid Framework
See how the underground work of Barbour Pourron Plumbing & Service is supporting new residential development in North Carolina.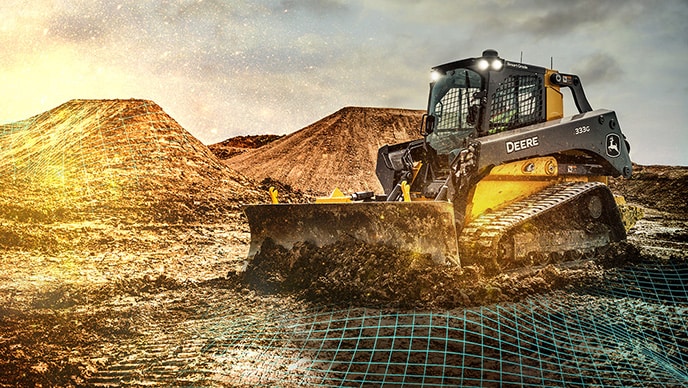 Dream Machine
A former motocross athlete used John Deere equipment to create an elite racing track in the heart of the Midwest.
Features and specifications are based on published information at the time of publication. Features and specifications are subject to change without notice.