Winning the Day
The big impact of the little details

4 MIN READ
Wiping a bead of sweat from his brow and assessing his surroundings, Blake Correia candidly summarizes the scope of the project at hand.
"There are 200 lots in this neighborhood," he says, pausing to reflect, "and we're replacing the entire water system."
The project requires digging trenches for an extensive network of piping, precisely placing new infrastructure, and backfilling all of the excavated areas. Further down the line, Correia Excavators will be responsible for the road reconstruction that ultimately ties a bow on the project.
Taken as a whole, the enormity of the undertaking could seem over-whelming for his tight-knit crew. But Correia exudes a calm practicality: Focus on the little things. Win the day. And the small victories will add up to something big.
"This is the type of business where you are always under the gun," Correia says, conveying a sense of confidence amid the chaos. "There's a certain amount you need to get done by the end of the day and you have to stay until the job's done. We've figured that out and we've become pretty good at it."
Aiming high
It's that type of mentality that helps a relatively small team bite off big chunks of business. Based in Manchester, Connecticut, Correia Excavators employs anywhere from 10 to 15 people, depending on the time of year, but the company is increasingly flexing its ability to take on large-scale work and see it through.
Correia isn't afraid to do the dirty work himself. "I do a little bit of everything," he says. "Everything from digging, to driving trucks, to the estimating and billing. I am kind of a jack-of-all-trades."
His diverse array of skills was honed over the course of decades. Correia's father Joe started Correia Excavators in 1987 with a focus on basic residential excavating and site work. "He started the company with a little loader and a six-wheeler and just built it from there," Correia recalls.
As a young child, however, an awestruck Correia didn't perceive his father's business as a modest operation. He first sat in an excavator at the age of six, amazed by the power of the machine and the enormity of its abilities. And over the course of his childhood, he tagged along with Dad on countless projects, absorbing the ins and outs of the industry like a sponge.
"I grew up working with my father, and we did all kinds of different things," he recalls. "We did site work, utility work … a little bit of everything."
A new chapter
Despite his early introduction to the industry, and a strong attachment to the family business, it wasn't always clear that Correia would fill his father's shoes. He left town to attend college and, after graduation, took a job with a public utility company. However, his heart never veered far from the family enterprise. "It was always in the back of my mind that I wanted to come back to the family business."
Correia bought the business from his father in 2017. As he took the reins, he was eager to forge his own path but was also grounded in many of the lessons his father had taught him over a lifetime in the business.
"We deal with many of the same issues that others in our industry face," Correia emphasizes. "It's not easy. If you want to stay competitive, there's a lot you must balance. You have to make sure that your employees are happy — and make sure they're doing the kind of work that keeps your customers happy."
One of his father's lessons on how to please customers still resonates today. Dependable equipment is key.

"...we just keep going from the time we get up in the morning 'til the time we go home at night.."
Always grinding
For Correia Excavators, the family name isn't the only thing that spans multiple generations. The same can be said for its relationship with its dealer, The W.I. Clark Company.
Founded in 1925, W.I. Clark has been serving clients in Connecticut for nearly a full century. And while the business has adapted to new technologies and evolving needs, its close-knit relationships with customers continue to drive its success.
"Our relationship with W.I. Clark goes way back," Correia says with a smile. "I have known Greg Hurlburt for a long time since he was working with my dad. When I went on my own, I had no hesitation to take the same route."
The combination of responsive service and reliable equipment is essential for Correia Excavators. The company tackles a wide variety of projects that present a laundry list of challenges — whether it's working in tight spaces or battling adverse weather conditions.
For a small company to meet big ambitions, everyone and everything have to be on the same page. From the machines in its fleet, to the workers on its payroll, it's all about reliability and a commitment to getting the job done right.
"We keep moving all day," Correia says, a look of rugged pride on his face. "I expect the same things from my machines and from my guys — we just keep going from the time we get up in the morning 'til the time we go home at night."
Correia Excavators Inc. is serviced by The W.I. Clark Company, Wallingford, Connecticut.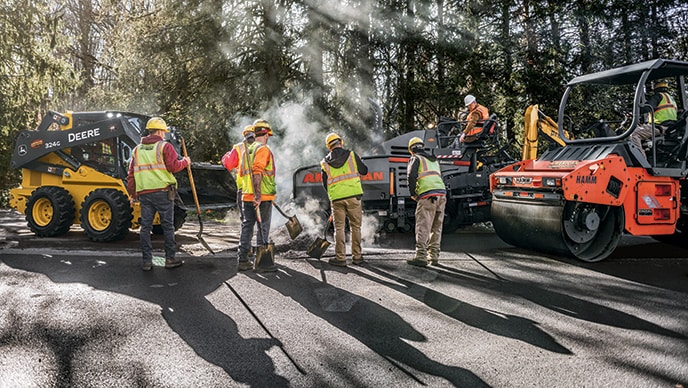 Raised on Blacktop
Reliable work and a captivating online presence have helped a Connecticut paving company expand.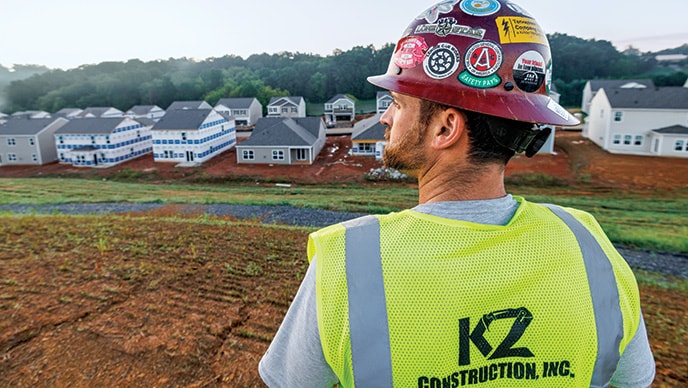 Next Frontier
KZ Construction is building a successful beast in East Tennessee.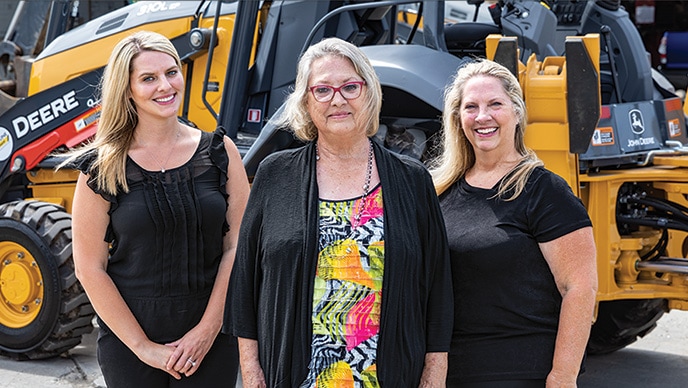 California Dream
Newman Backhoe Service has found success by putting people first.
Ready to inspire others
We are always looking for opportunities to feature women and advocates for women in construction in future editions of The Dirt. To be considered, share your story or someone else's by filling out this form.