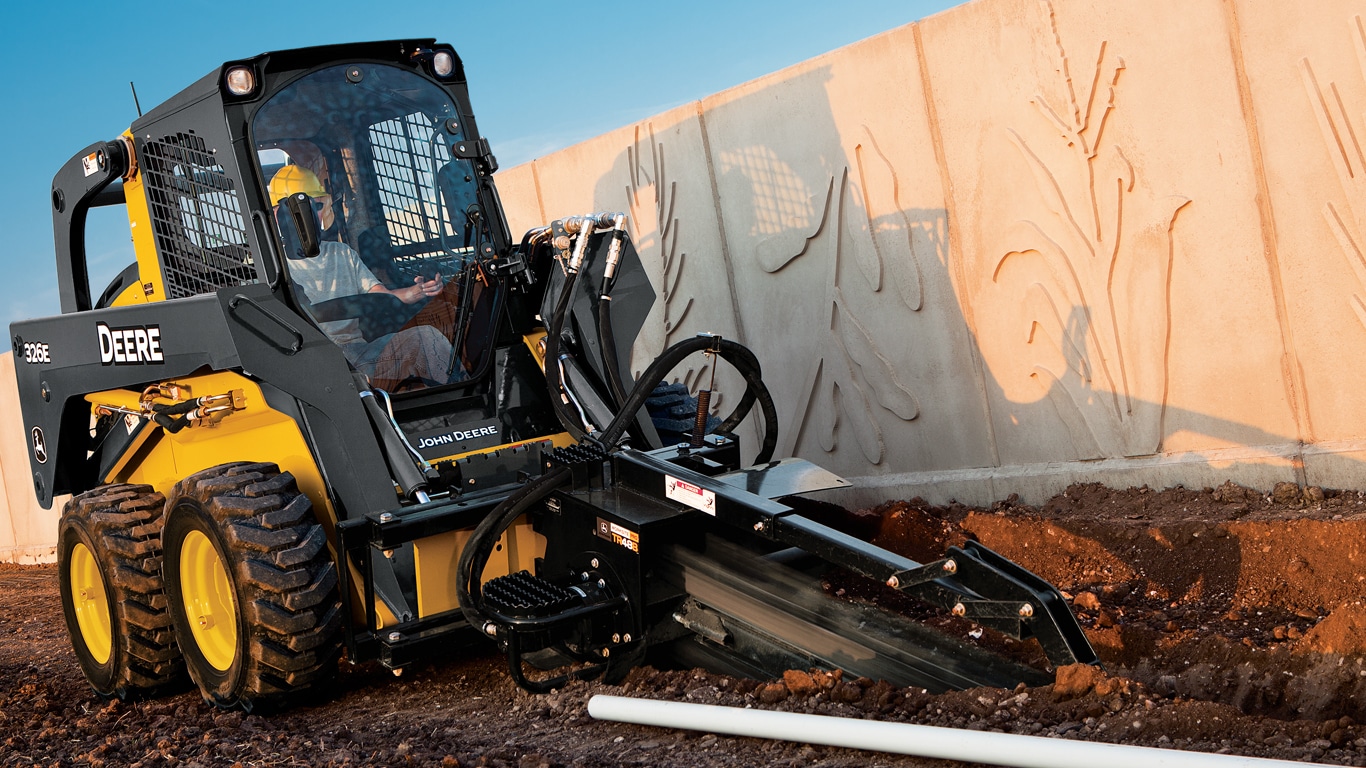 Heavy Trench Digging with John Deere Equipment
Trenches are essential for a variety of civil engineering and construction projects. Explore John Deere equipment for trenching in a variety of applications.
What's the difference between a trench and an excavation?
Simply stated, a construction trench is a narrow, below-ground channel that's deeper than it is wide. That makes trenches inherently different from excavations which can be any shape or size. That may seem like a basic, or even obvious distinction. But it's extremely important to your choice of equipment.
Common uses for trenches include:
electrical and telecom wires
sewage lines
For residential projects, trenches are often needed for:
electricity cables
irrigation & plumbing
HVAC pipes
Excavations, on the other hand, are used for different applications such as these:
foundations for buildings
drainage ditches
roads
reservoirs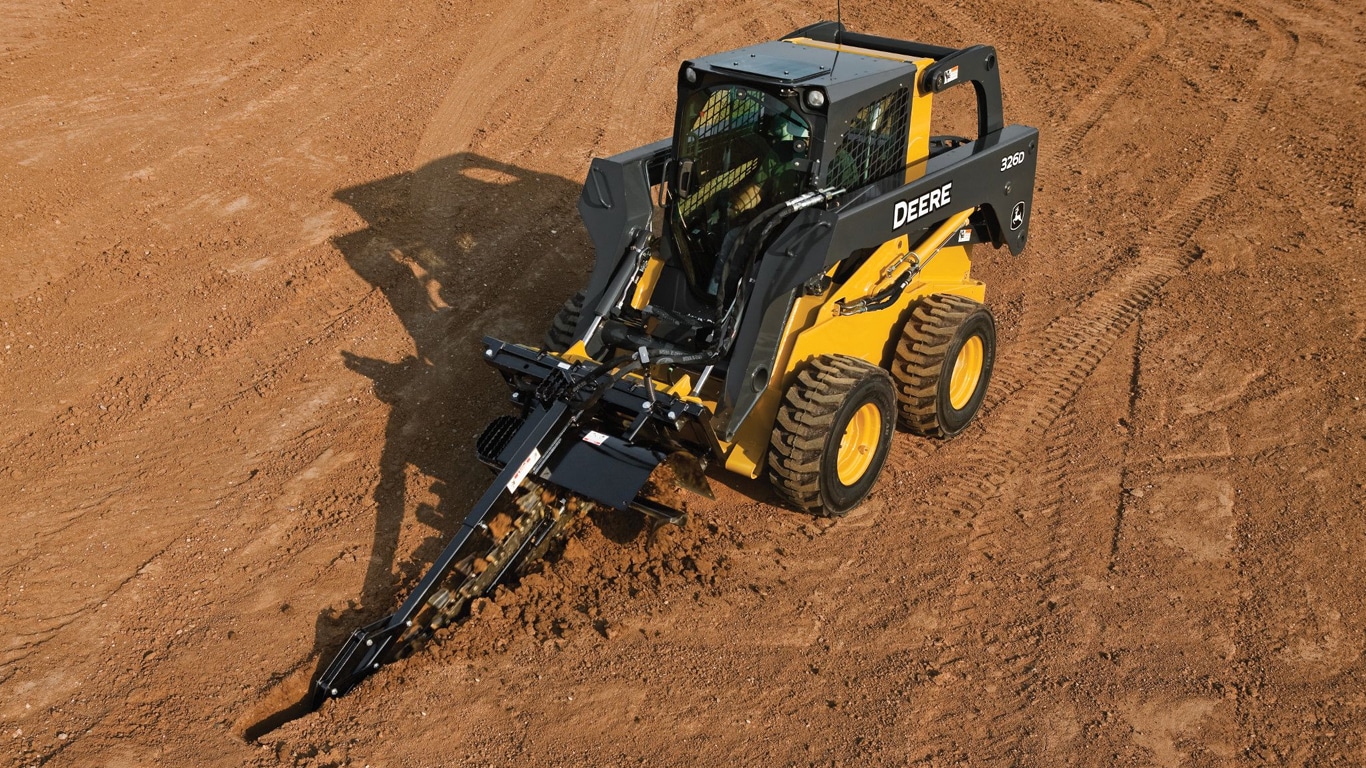 326D Skid Steer and trencher attachment digging on worksite.
Choosing your trenching equipment.
Size & shape of trench needed
You'll need to know the specs of your trench (linear feet plus the width/depth) as well as the required shape. The shape is typically determined by factors such as the size of the pipe being installed and the type of soil. Common shapes are straight, sloped, benched and bell-bottom.
The depth of your trench and the task are also important when you consider the time of year. In winter or during cold conditions, you'll need to know the frost line of your dig site and what you're installing. For example, water and sewer lines are sensitive to extreme cold.
Ground conditions / type of soil
The type of soil will impact the horsepower, chain type and drive system requirements of your machinery. You'll need to know if the soil is dry and loose or hard and rocky. You'll also want to consider if it's usually wet and muddy, or temporarily impacted by recent rain.
Job site / available space
You'll want to get a detailed assessment of the job site, including any natural or manmade obstacles such as trees, waterways, buildings and of course utilities (both above and below ground).
Equipment needs
Like any project, there's more to trenching than digging the actual trench. Whether you need to move excavated dirt, lift pipes into place, break up boulders or backfill, John Deere has you covered. We have earth-moving equipment and attachments for every task. Let's take a look at all the options.
The John Deere line of equipment is designed for maximum versatility, so you get more performance from every machine. With over 100 different attachments, you can ask your John Deere to do more — and it will deliver like nothing else can. Here's a look at some of the most popular attachments for trenching and other related tasks.
Explore attachment to machine compatibility
| | Skid Steer | Compact Track Loader | Compact Wheel Loader | Compact Excavator |
| --- | --- | --- | --- | --- |
| | | | | |
| | | | | |
| | | | | |
| | | | | |
| | | | | |
| | | | | |
| | | | | |
| | | | | |
| | | | | |
Intelligent machines that enable lives to leap forward.
Deere & Company (www.JohnDeere.com) is a global leader in the delivery of agricultural, construction and forestry equipment. We help our customers push the boundaries of what's possible in ways that are more productive and sustainable to help life leap forward. Our technology-enabled products including John Deere Autonomous 8R Tractor, See & Spray™, and E-Power Backhoe are just some of the ways we help meet the world's increasing need for food, shelter and infrastructure. Deere & Company also provides financial services through John Deere Financial.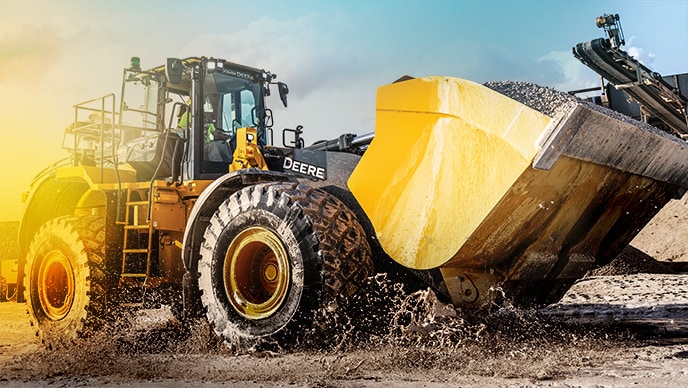 Grit and Grind
There's nothing easy about mining work. But with the help of John Deere equipment, the crew at Lago Verde Mine is up to the task.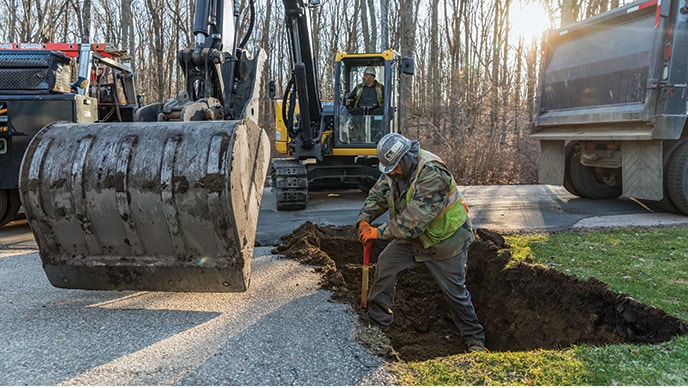 Winning the Day
For a small excavating business, attention to the little things is netting big results.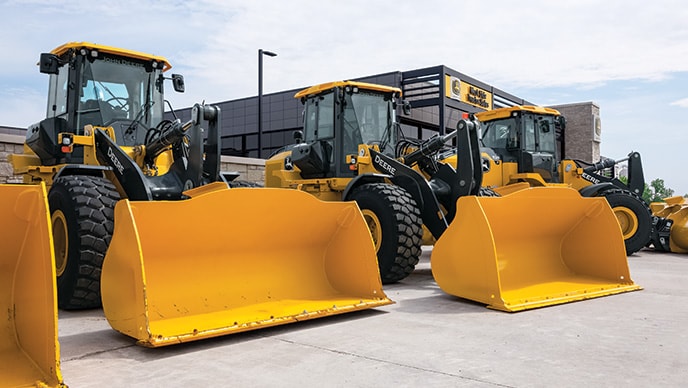 Recipe for Success
Family bonds and female leadership have fueled the success of a Midwest John Deere dealership.
Features and specifications are based on published information at the time of publication. Features and specifications are subject to change without notice.