"We Can Do Anything"
How close bonds help a Cape Cod business thrive

6 MIN READ
As the sun beats down on a scorching southern California morning, a tight-knit crew of seasoned construction veterans is fixing their attention on what lies below the surface.
Burtech Pipeline of Vista, California, has been tasked with removing and replacing about two miles of existing sewer and roughly a quarter-mile of water line. It's a highly specialized project that requires a depth of knowledge and the ability to work at major depths literally.
To maintain the water and sewer infrastructure that keeps San Diego flowing, crews must get dozens of feet below the surface. And do so in a way that prioritizes worker safety and avoids disruption to underground utilities. One misstep can have major ramifications.
For Burtech Pipeline, however, it's the sort of job that's become the company's calling card. It's the type of work that yields steady business and requires a strong network of support.
"We put 30, 40, 50 miles of sewer and water in the county and in the city every year," said Dominic Burtech, the founder and sure-footed leader of the company, as he peers across the jobsite. "The community realizes we're upgrading the sewer system, the water system, and other city infrastructure. People appreciate and support what we're doing."
The idea of support is one that lies at the center of everything the company does. Burtech Pipeline was founded in 1994 by Burtech and his wife, Julie.
In the three decades that have followed, the Burtechs' business and family have grown together. Dominic and Julie have three adult children, all of whom play an important role in the business.
In the rare moments when Dominic steps away from the tasks of the day and contemplates the broader purpose of what Burtech Pipeline is doing, he sheds light on how a family is about more than who is in your bloodline.
"My motivation is my family," he says, nodding as he recites the words. "I have my immediate family and, of course, they are my main motivation. But when I think of family, I think of everyone close to me, every employee we have. My motivation is to protect and support them all. Every day I wake up, I know I've got to go to work for them."

"My mantra is finding what people say we can't do and figuring it out."
From modest roots to major growth
For Dominic and Julie, it's amazing to look at what the company has accomplished and think back to how it all started.
Burtech Pipeline has completed over 200 public and private projects worth over $450 million in the greater San Diego area over the last two decades. Those figures are even more staggering when one thinks of how it all began.
Back when their youngest child was still in a bassinet, Dominic came to Julie with a wild idea.
"About 30 years ago, I remember coming home and telling her I wanted to start my own business," Dominic recalls. "I remember saying, 'Do you believe in me?'"
Julie not only gave Dominic her blessing, but she also took an active role in the company.
"I didn't want him to do it without me," Julie says with a laugh. "So I handled the computers and the financing. He ran the field."
The early days were a grind.
"Dominic would wake up about 3:30 every morning, get in his truck, and drive and find work," Julie says, pausing a moment to reflect on the chaos of those early days. "We operated out of an 800-square-foot home. We refurbished the attic and that became our bedroom. The living room and master bedroom became the office."
Eventually, the hard work led to jobs. And with each successfully completed project, Burtech's reputation grew a little bit more. Today, Burtech Pipeline is highly regarded as a company that can tackle all phases of underground construction projects. The company has redefined what's possible by refusing to accept limitations.
"Probably the biggest thing I live by is that we can do anything," Dominic says with a palpable sense of pride. "There's nobody who can tell us we can't do something. There's nothing we can't find. There's nothing we need that we can't get. My mantra is finding what people say we can't do and figuring it out. Because just to lay down and say we can't get that done is not in my vocabulary."
Critical support
This do-it-all mentality is balanced by the hardened realization that things don't always go as planned.
"To be a problem solver, I think, is fun," Dominic says, a smile stretching across his face. "People look up to me to be that problem solver, but I think a big part of it is really trying to get all our employees believing in themselves that they can do it."
Dominic pauses to watch the flurry of activity unfolding around the bustling jobsite, watching people and machines work together to move earth and place pipes. "In construction, there are always challenges," he continues. "What really matters is how two people come together to get through that challenge."
This notion lies at the heart of Burtech Pipeline's philosophy and shapes its relationship with its John Deere dealer, RDO Equipment Co.
"The number-one thing is we want to build a relationship. We want to be a family," Dominic says. "With John Deere, that's what we found. We have a great relationship because we're able to communicate, treat each other fairly, and be kind and loving to each other."
The strength of that relationship shines through even more in challenging times.
"Truly, we haven't had downtime very much, if any, with our equipment," he says. "And when something does go wrong, it's usually minor and it's usually fixed right away. The support system we have with RDO is just incredible."
Carrying on the tradition
For Dominic Burtech III, the youngest son of Dominic and Julie, each day on the job is influenced by the lessons he's learned from his parents. Dominic III now serves as a project superintendent for the company. As he pushes to complete projects on time, he knows the influence of his father is driving the entire crew.
"I think our guys work a lot harder and have a better work ethic because of how they view and respect my dad," he says. "They really don't want to let him down or disappoint him."
As they represent the next generation of the family business, Dominic III and his siblings feel the weight of that pressure as well.
"Our goal is to keep the business growing," he says. "To keep hiring more employees, keep bidding more jobs, and make sure this remains a great family business."
When Dominic III mentions family, he's talking about bonds that go beyond blood relations. Many Burtech Pipeline employees have been with the company for decades and share the familial bond that unites them all.
Nino Dominguez, a supervisor with more than 10 years of industry experience, is currently overseeing the replacement of a sizable stretch of water and sewer pipeline in San Diego County. The John Deere 470G LC Excavator and 544 P-Tier Mid-Size Wheel Loader are his tools of choice.
"We rely on this equipment every day," he says matter-of-factly. "Without it, we really cannot get through the project."
John Deere machines are a staple on Burtech Pipeline jobsites. According to Dominguez, these tools are an important worker-recruitment and -retention tool.
"They're smooth, they have a lot of power, and they aren't too noisy," he explains, pointing to the machines around him. "The guys really like them and that is important. You have to keep your operators happy."
For this particular project, crews must dig 32 feet below the surface. That kind of depth presents inherent risks.
"There are some difficulties we face when we're digging as deeply as we do," says Dominic III. "You have to think about the potential of cave-ins and all the utilities we have to deal with, such as water, electrical, gas, and more. Digging that deep, you really can't make mistakes. If you do, you're going to get somebody hurt or killed. But our guys are trained, and we have safety meetings every week. We train our guys to be skilled and safe."
Working on strict deadlines, navigating tough conditions, and delivering impressive results is something that requires a team, Dominic III emphasizes. And that's why support from John Deere and RDO has become so essential.
"They really became like our family," he says. "Working with RDO and Deere, they're always so accommodating. They're always quick to answer, always quick to help. They're always one phone call away. And when you have that team in place, it makes you feel like anything is possible."
Burtech Pipeline is serviced by RDO Equipment Co., Lakeside, California.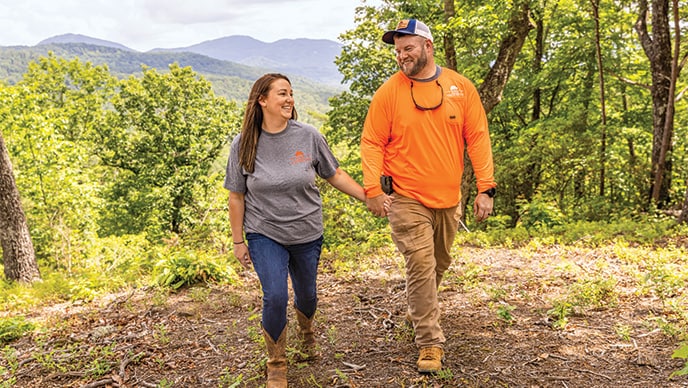 In a Heartbeat
Miles and Ashley Holden have watched their young business reach impressive heights.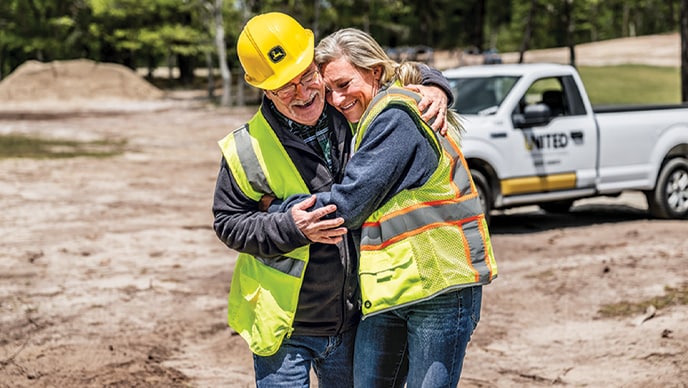 Pillar of Support
Reliable equipment and strong dealer support help GFM Enterprises make its mark in Cape Cod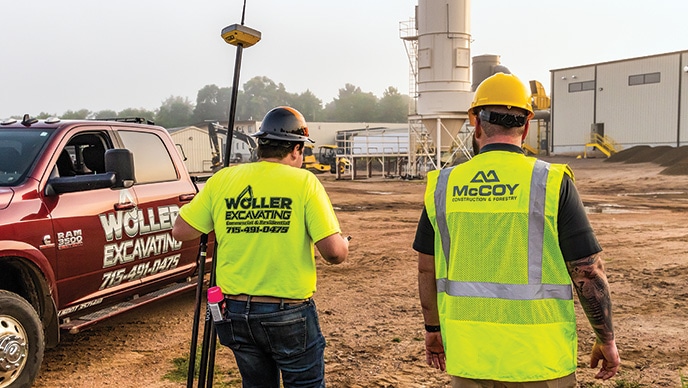 Every Step of the Way
For a company trying to maximize the value of its machines, John Deere Protect™ is the perfect fit.
Think readers would dig your story?
You could be featured in an upcoming edition of The Dirt. To be considered, just tell us a bit about yourself and your story idea by filling out this form.