Every Step of the Way
Backed by a local dealer and John Deere Protect™, Woller Excavating keeps a step ahead of the competition.

6 MIN READ
Small companies like Woller Excavating, Merrill, Wisconsin, need to be agile and efficient. Owner Brett Woller uses the latest technology and John Deere Protect to gain a competitive edge and manage total cost of ownership.
Woller grew up in Merrill, a small town in Central Wisconsin. His father was a homebuilder, but Woller had little interest in the family business. After receiving a political science degree at the University of Wisconsin, Stevens Point, he had ambitions of going into law and finance. But after working on two political campaigns as the "finance guy," Woller realized he didn't much like the work.
Around this time in 2016, Woller started doing stump-grinding jobs on weekends. Word spread among friends and family, and soon people were asking him to dig out driveways or do other odd dirt jobs. "I started to realize that playing in the dirt with a skid steer and excavator was even more fun than stump grinding," he recalls.
Woller had found his calling. He soon bought a John Deere 325G Skid Steer and began taking on more excavating work with builders in Merrill and nearby Wausau. Two years ago, he began adding commercial accounts.
The company's expanding workload demands serious iron, which Woller has been adding over the years. Today he employs four operators to run John Deere 200G, 210G LC SmartGrade™, and 245G LC Excavators; a 700K SmartGrade Dozer; a 624K Wheel Loader; and a 333G Compact Track Loader.
Tech-savvy
His accounting background and business acumen have served Brett Woller well as he has grown Woller Excavating: "I love technology, and I love numbers in the dirt world."
Technology such as John Deere SmartGrade and engcon® Tiltrotators allows Woller to compete on bids for projects against larger companies. "Grade control and other new technologies give us a competitive advantage against companies that don't use it," he says. "It's exciting to use some of these leading-edge products and be a part of this."
Woller Excavating runs SmartGrade on its 700K Dozer and 210G LC Excavator. "The accuracy is impeccable," says Woller. "Operators can get close to the final grade in fewer passes. We don't have to worry about over digging and wasting material. And we don't need surveyors or grade checkers, so we can rely on fewer workers. It just makes us more efficient than using machines not equipped with grade-control technology."

"John Deere Protect is more than a preventative maintenance program. It's an investment in our future and gives us peace of mind."
Protect and service
Woller carefully manages total cost of ownership, tracking his cost per hour on every machine. "I want to know exactly what each machine costs me down to the penny," he says. "It helps me see how close we can get to the competition in order to win a job. It also helps me determine our rate and know how tight we can set our margins."
His John Deere Protect Service Plan helps Woller keep total machine costs down. The program handles all aspects of his machines' service needs to help reduce the risk of unexpected downtime and repair costs. "John Deere Protect is more than a preventative maintenance program," explains Woller. "It's an investment in our future. It helps maximize our uptime and gives us peace of mind."
Every time a machine comes into the shop, a certified technician performs a thorough 56-point machine inspection. "Our technicians are more familiar with the machine than a typical operator," explains Taylor Long, product support technology representative with Woller's local dealership, McCoy Construction & Forestry. "They can find certain wear points that might otherwise be missed." The technician can also perform fluid sampling and analysis to proactively identify any major issues with a machine.
Woller's machines are continually monitored by McCoy for the entire term of the contract. McCoy lets Woller know through the John Deere Operations Center™ when a machine is due for service 100 hours ahead of time so he can plan accordingly. The dealer can also alert Woller if they see a machine issue, often before he even knows there is a problem. This proactive approach helps expedite problem resolution.
"With machine monitoring, we can see faults instantaneously," says Long. "If it's a small issue, I can call the customer and talk them through how to take care of it. If I need more information, I can connect right to the machine and remotely diagnose the issue. And if necessary, I can relay the issue to the service department, and we can send out a technician."
Woller purchases the John Deere Protect package along with an Extended Warranty whenever he buys a new machine. Services are provided every 500 hours by certified dealer technicians. "Having a fixed, predictable rate for maintenance for several years is phenomenal, especially the way the prices of filters and fluids have fluctuated the last two or three years," he says. "I know exactly what my costs will be, which helps us stay competitive. The program is worth its weight in gold."
McCoy performs all the service work, completes inspections, and takes oil samples. The program includes genuine John Deere preventative maintenance parts for initial service and subsequent 500-hour service intervals.
"I'm not a trained mechanic," says Woller. "I have limited time in my day, and we're a small crew. When I send my machine to our dealer, I know that service will be provided a lot faster than we could do it ourselves, and I know it's going to be done right. I'm a firm believer that when the dealer looks after our machines, they are going to run better and keep us moving."
Teamwork makes the dream work
John Deere Protect has enabled McCoy to engage Woller Excavating more closely throughout the product lifecycle, deepening their relationship. "It helps McCoy service us better," says Woller, "and it makes us all feel we're part of a bigger team."
Woller has always liked John Deere equipment, but dealer support truly sets Deere apart. "It's huge that Deere stands behind its machines," he says. "We're a small company, so we can't afford to have anything broken down for long periods of time. McCoy does everything it can to get us up and running right away. They have been with me every step of the way."
Woller Excavating is serviced by McCoy Construction & Forestry, Merrill, Wisconsin.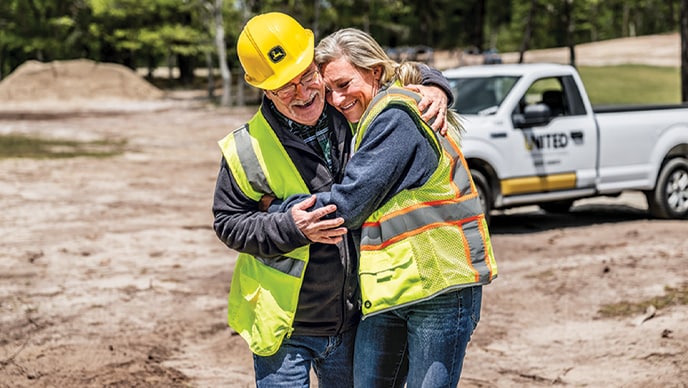 Pillar of Support
Reliable equipment and strong dealer support help GFM Enterprises make its mark in Cape Cod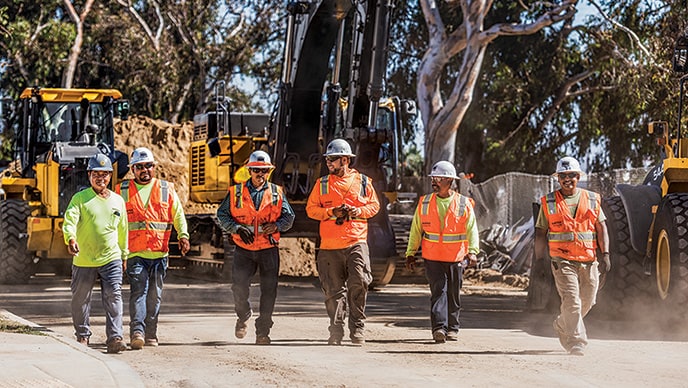 "We Can Do Anything"
Burtech Pipeline is driven by a commitment to family that extends beyond its bloodlines.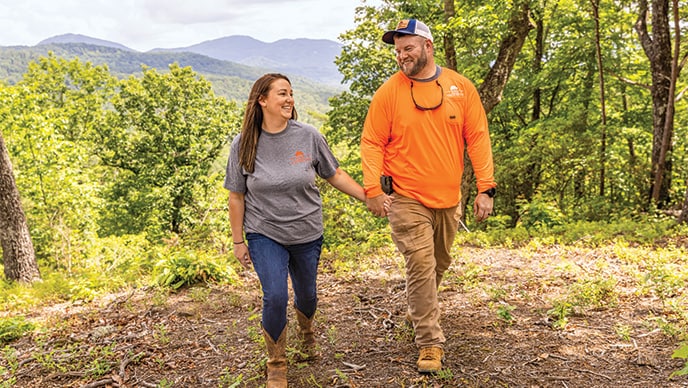 In a Heartbeat
Miles and Ashley Holden have watched their young business reach impressive heights.
Think readers would dig your story?
You could be featured in an upcoming edition of The Dirt. To be considered, just tell us a bit about yourself and your story idea by filling out this form.