In a Heartbeat
Miles and Ashley Holden do everything they can to help their employees and business succeed

6 MIN READ
Asheville, North Carolina, is nestled in the heart of the Blue Ridge Mountains, named for their hazy bluish color. A breathtaking panorama and a charming, historic downtown attract thousands of new visitors and residents every year. Ashley Holden, office manager of M.H.I., grew up on the city's outskirts and calls the rural area the "heartbeat of the country."
"We grew up in the middle of farmland in a small town where everybody knows each other," she says. "I couldn't imagine living anywhere else. It's home. It's just country to me."
M.H.I.'s office is in Mill River, about a half-hour drive from Asheville. Ashley greets visitors after getting off her cell phone. "That was our neighbor calling to let us know our boars had gotten out of their pen (laughs)," she says. Ashley raises chickens, too, and tends a large garden. "I always had a garden growing up. I love teaching our children where food comes from."
When her husband Miles arrives home, he is greeted by his two daughters. Emmarie, age 3, loves equipment. "She knows the name of every machine," says Ashley. "On the first day of school, they asked her what she wanted to be when she grew up and she said, 'I want to work with Daddy.' We're hoping she'll be an operator someday."
Ashley and Miles knew each other from high school, she was a cheerleader and he played football. But they didn't start seeing each other until later. After high school, Miles earned a degree in construction management from Western Carolina University. He then worked as an equipment operator in the North Dakota oil fields for a few years.
After returning to Asheville, Miles ran into Ashley at a local restaurant where she was working as a waitress. "I told her to stop Snapchatting at work," he remembers. "How could I resist his charm?" says Ashley (laughing).
A few months after they began dating, Miles started M.H.I. in 2016. "He really put his heart and soul into the business," says Ashley. "He's the kind of person who, when he says he will do something, makes things happen. I'm so proud of him.
"Here we are seven years later," she adds. "A successful business we built from the ground up and two little girls. I feel blessed every day."

"The running joke is that they're our adopted kids. They truly are our family. We'll take care of them, whatever it takes."
Breathtaking beauty, burgeoning business
Asheville has experienced rapid growth in the housing industry in recent years. New development has been a boon for M.H.I., a septic installation and grading company, although Ashley worries about the growth encroaching on their pastoral existence. But both she and Miles are grateful for job security.
M.H.I. serves western North Carolina and upstate South Carolina. Miles is currently working on two jobsites near Slater-Marietta, South Carolina, both offering stunning views of the Blue Ridge Mountains. One site includes a launch platform for hang-glider pilots, who plunge off the mountainside from a dizzying height.
"You can't beat this view," says Miles. "I love coming to work every day and experiencing the changing of the seasons. I enjoy running the machines and even getting down in the ditches."
Many of his employees have worked for M.H.I. for years. That says a lot about Miles and Ashley, who spend time with the crew after hours at cookouts or doing other outdoor activities. "Sometimes we'll hear them still hanging out in our equipment yard long after work and wonder if they'll ever go home (laughs)," Miles says. "The running joke is that they're our adopted kids. They truly are our family. We'll take care of them, whatever it takes."
Man with a plan
Today, M.H.I. works hard to keep up with a growing backlog of projects. But the company had its share of growing pains. Miles started with two other employees and bought a John Deere 50G Compact Excavator and 323E Skid Steer. Ashley quit her job to come work with Miles, shoveling ditches and cutting tree roots. She learned the business literally from the ground up before becoming office manager. Today she handles accounts receivable and payable, scheduling, invoicing, and employee paperwork.
M.H.I. eventually got its foot in the door with a local building contractor and the business took off, enabling the company to hire more employees and buy more equipment. Today, the crew of 11 completes five to seven jobs a week. The company runs a fleet of John Deere machines, including a skid steer, compact and mid-size excavators, and a dozer for land clearing, erosion control, and septic system installation.
"We travel long distances through the mountains," says Miles. "Most of our jobs are in tough terrain with steep slopes. We have a lot of good customers that send a lot of work, and our Deere machines help us take care of them."
The 30G and 35G Compact Excavators are the go-to machines on confined septic lots. "They are phenomenal for getting into tight spaces and eliminating much of the work we did by hand," says Miles. "Our 50G and 85G Excavators are good, versatile machines that can also get into tight areas and move a lot of dirt. Our 135G Excavator is great for bigger tasks, such as commercial, land-clearing, and dirt jobs."
Unlimited opportunity
The service and support that M.H.I. receives from its local John Deere dealer, James River Equipment, is a key reason the company runs only John Deere. "We've built a great relationship with them over the years based on trust and loyalty," says Ashley. "They've been phenomenal. They take really good care of us and their response time is superb. We know when they come out, the repair will be done right, and we'll be up and running in no time."
"Our business is based on volume," adds Miles. "To keep prices fair, we need to stay running and get as much work done as we can. The customer service and relationship I have with James River is unsurpassed. I prefer not to go anywhere else."
Miles has ambitions of going nationwide. "My long-term goal is to be licensed in all 50 states," he says. "But right now, my goal is to establish a solid foundation in North and South Carolina."
People will always need septic systems, observes Miles. With an excellent track record supported by a local dealer and productive John Deere machines, M.H.I.'s potential for growth is limitless.
M.H.I. is serviced by James River Equipment, Asheville, North Carolina.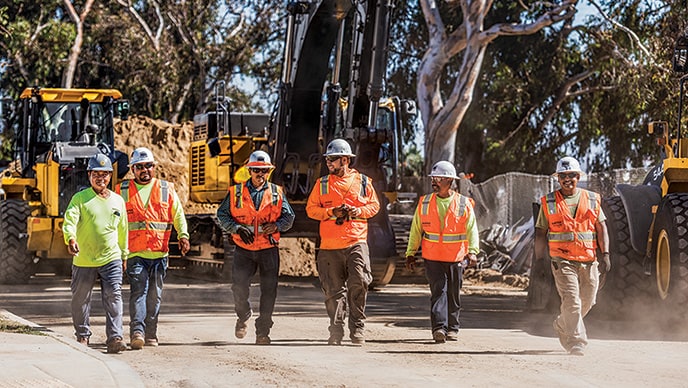 "We Can Do Anything"
Burtech Pipeline is driven by a commitment to family that extends beyond its bloodlines.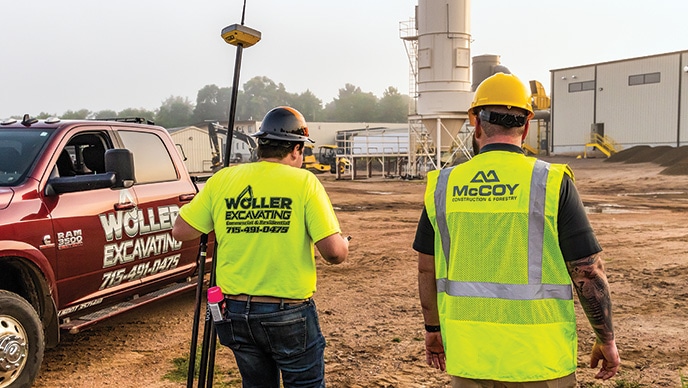 Every Step of the Way
For a company trying to maximize the value of its machines, John Deere Protect™ is the perfect fit.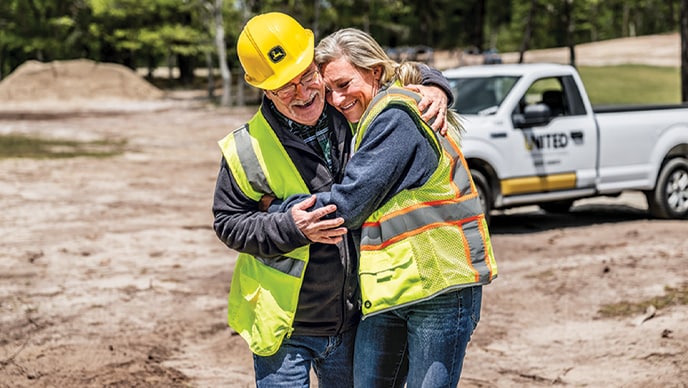 Strong relationships fuel growth in Cape Cod

7 MIN READ
Think readers would dig your story?
You could be featured in an upcoming edition of The Dirt. To be considered, just tell us a bit about yourself and your story idea by filling out this form.