Pillar of Support
How close bonds help a Cape Cod business thrive

7 MIN READ
To watch Greg Morris, owner of GFM Enterprises of South Dennis, Massachusetts, and Joe Huber, his John Deere dealer contact, interact with each other is like watching two brothers squabble.
There are jokes about a safety vest that looks "too clean." One pokes fun at the other's dancing skills. And there are complaints about eating habits.
But beyond the surface, it's apparent there is mutual respect between both men. They've been friends for nearly two decades. They've shared dinners. They know each other's families. They talk … a lot.
This shared history and admiration have carried Morris and Huber through 17 years of highs and lows in the construction industry on Cape Cod.
"He doesn't make you feel pressured to buy machines," says Morris of Huber. "He works with you. He talks to you. He gives you different options. To me, that is someone you trust. And trust and family are big things for me."
The connection has also substantially impacted Morris' ability to grow GFM Enterprises with his wife Jennifer from a small startup to the 30-person operation it is today.
"Quite frankly, Greg and Jennifer are my friends," says Huber, sales representative and territory manager for United Construction & Forestry of Massachusetts. "I know that if I had a problem at my house, I could call up Greg and say, 'Hey, can you come over and give me a hand?' I know Greg would turn around and send a machine out to help me."

"We pride ourselves on being a family-oriented company where employees are more than just a number."
Small office, big dreams
As a lifelong Cape Cod resident, Morris knows the peninsula like the back of his hand.
When he drives up and down the narrow roads, he has memories of his childhood and school days. And after years of operating GFM Enterprises, he realizes the lasting impact his family business is having on the Cape. Morris and his crew have completed countless excavating, water, sewer, and drainage projects throughout the region, from Provincetown to Bourne to Sagamore and beyond.
It all started in the laundry room of the Morris' first home. When Morris decided to break out on his own, the young couple juggled work and family to make things happen.
"We started with a little office in our laundry room," says Morris. "I'd work all day with my sole employee. We'd go home, do estimates, and do billing at night just to get up and do the same thing over again."
The couple's work philosophy was to make their clients happy and satisfied by delivering high-quality work on time and at a reasonable price. This proved to be a winning formula, and before long, they found themselves running a small business with multiple employees, including a growing number of women.
"We pride ourselves on being a family-oriented company where employees are more than just a number. We know their wives, we know their husbands, we know their children," says Jennifer Morris, who is now the CEO of GFM Enterprises.
Next-level support
Huber has played a role in GFM Enterprises from the very beginning. When Morris reminisces about the early days of the company, he still remembers the conversations he had with Huber about his first machine purchase, a John Deere 50G Compact Excavator.
"We demoed it. Within two or three days, we were signing papers," says Morris. "Now everything I own is Deere. From our 245G LC, to our 135Gs with the rubber tracks for roadwork, to our 300G LC Excavators, I mean, they just outperform anything I've ever been in."
For Morris, much of that allegiance ties back to his relationship with Huber.
"He's a little crazy. He likes to talk. But he's a great guy," says Morris. "He loves his job, he loves what he does, and he loves Deere. He knows everything about them."
His wife agrees. "It's nice not just to have a cut-and-dried relationship about a piece of steel," she says.
Huber's 28-year career with John Deere has given him the expertise to provide valuable insights to Morris regarding managing and growing his fleet, which includes compact and mid-size excavators, compact track loaders, dozers, and articulated dump trucks.
"I think our relationship grew and blossomed that way because I was always considerate and I always wanted to know what he wanted to do," says Huber. "Sometimes I would say, 'Are you sure you want that size?' or 'Are you sure you don't want to go this way?' It was a very good working relationship where I understood his business and where he was going, and he knew where he wanted to go."
Prioritizing uptime, all the time
Both Huber and Morris share a sense of gratitude for the support around them.
Morris values the emphasis the United Construction & Forestry support team places on being responsive and proactive.
"I love the people at Deere. My parts guy, Jason, and my service guy, Vinny, they pick up the phone instantly," he says. "If they don't, they send me a text saying, 'I'll call you back within 10 or 15 minutes.' It's all about communication."
For Huber, it's all about dealer readiness. That's where having a full team of support staff around him to service GFM Enterprises and other customers is key.
"Anybody can drive around, throw out business cards, and try to sell equipment. But we're second to none in support for parts and service," says Huber. "I wouldn't sell as much equipment as I do on the Cape without the support of my team."
Part of that team is Vinny Govani, service manager for United Construction & Forestry. He works with his product support specialists and certified technicians to ensure Morris and his team are as productive as possible.
"Greg always treats us with the utmost respect and is thankful we're here to help," says Govani. "The support team we have in Plymouth, I would say, is a family. We're a pretty special group, and we try to make sure our customers feel that way."

"They take care of the guy who's just trying to make a living, to put food on the table. That's huge to me… ."
More than a number
Beyond the support Morris receives from the United Construction & Forestry team, he's thankful for the attention he's gotten from the broader John Deere family over the years.
He recalls an experience at CONEXPO-CON/AGG when a Deere executive approached him asking for feedback on the equipment. Morris responded truthfully, sharing that the equipment was running well, but the salty Cape Cod air created issues with the paint flaking on his machines.
Two days after leaving Las Vegas, he received a phone call notifying him that a Deere crew was flying out to repaint his machines.
"I didn't expect anything to happen," says Morris. "We're not a huge company, but they were here. They take care of the family guy, the guy who's just trying to make a living, to put food on the table. That's huge to me, and that's why I continue buying Deere."
GFM Enterprises, Inc. is serviced by United Construction & Forestry, Plymouth, Massachusetts.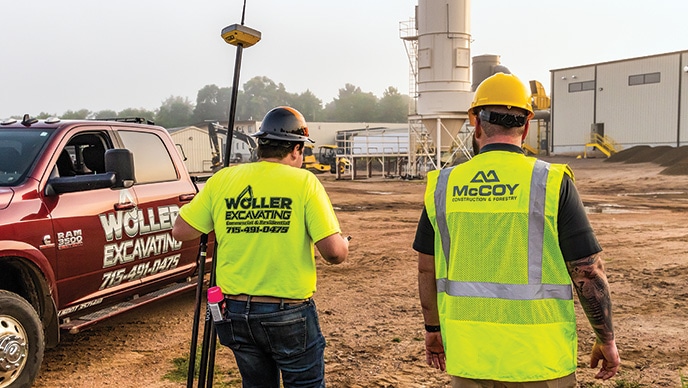 Every Step of the Way
For a company trying to maximize the value of its machines, John Deere Protect™ is the perfect fit.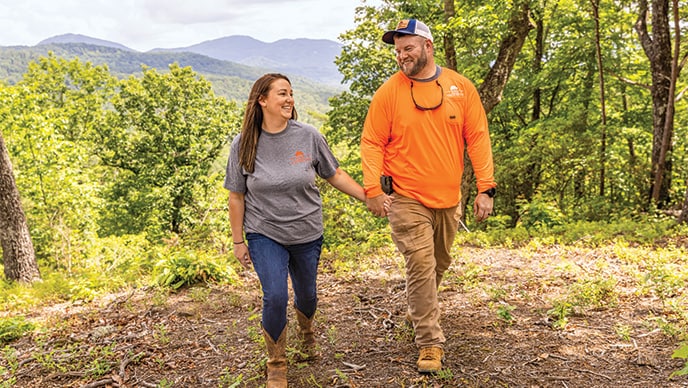 In a Heartbeat
Miles and Ashley Holden have watched their young business reach impressive heights.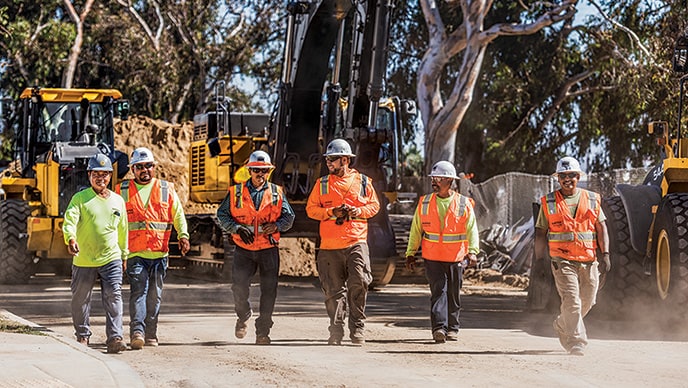 "We Can Do Anything"
Burtech Pipeline is driven by a commitment to family that extends beyond its bloodlines.
Think readers would dig your story?
You could be featured in an upcoming edition of The Dirt. To be considered, just tell us a bit about yourself and your story idea by filling out this form.