Rural Living
June 01, 2023
Founded in Faith
A roadside business in Kansas ministers with food.
While two-year-old Everett Pride bounds back and forth between displays of fresh apples and bananas at The Fork in the Road, his mom, Katelin, scans a freezer filled with frozen food selections, all made from scratch. Casseroles, lasagnas, soups, and desserts—even locally grown meats—abound at this roadside stand near Riley, Kansas. The mother of two is grateful for the selection.
With a population of about 950, and more than 20 miles from the nearest grocery store, Riley is considered a "food desert" by the U.S. Department of Agriculture. The Fork in the Road—with its array of fresh and homemade frozen foods—is a vital resource for the community.
"She has all this stuff, and it is amazing," says Pride. "She's got a lot of things going on. This whole town supports her."
The Fork in the Road is more than a food lifeline for locals, however. To owner and founder Valerie Visser, it is a ministry. Inside the small building where the Pride family explores the food options, customers are welcome to take a bible, free of charge. Bible verses are tastefully displayed on the walls, alongside some locally made utensils and trinkets. Outside, in-season, shoppers can peruse a huge selection of bedding and ornamental plants, potting soil and pottery. All payment is via the honor system, in both cash and online credit forms.
This business—still evolving after five hard years—is a testament to that faith.
When God spoke. It wasn't always going to be like this. Valerie was an education major at Kansas State University, down the road some 25 miles in Manhattan. She remembers driving home from classes when the epiphany came: she felt a calling from Jesus that it was okay to leave college, and start her own business.
At first, she started preparing cookie dough, an extension of her parents' business near Selden, Kansas.
She built a commercial kitchen in her home and made cookie dough. Soon, she established a successful catering business. Still, she felt unsettled. A few years passed and one day at Bible Study, she prayed. "We were married and had two baby boys, and from the outside, we were successful. But internally, it was a huge struggle for me," she recalls. "I think we all have expectations of what life will be like and then it's just…not. When I finally asked God about it, I knew I needed to quit the business."
So she did.
"It felt like failure, but I had complete peace that it was right. Our current business sort of bloomed from that decision. Home full-time, I planted a garden, which did really well, and after one hot, miserable farmers' market attempt with two tiny boys, we decided to try creating our own market."
The Vissers live just off Highway 24 as it curves through Riley. It's a primary route for commuters to Manhattan, and is especially heavily trafficked during college football season.
In August of 2013, she and Justin moved an old pickup truck adjacent to an intersection of the highway and a county road leading to Riley. They filled the truck with produce, left a cashbox and asked people to pay via the honor system.
"People in the community just came out, everything would disappear and there would always be money in the box," she says. "It just kind of grew from there."
By 2016, she was catering, and the shop offered homegrown produce and meat.
In 2019, Valerie built a small building that serves as the shop. When COVID-19 hit, the business became immensely popular. Folks from miles away shopped for garden supplies, plants and her food selections. The pandemic ended the catering business, but the shop had become all she could handle.
It's a short walk from the shop to her commercial kitchen, where she works a few days a week with her colleague and friend, Alana Peterson.
"They'll be in the kitchen just giggling and trying different stuff," says Justin, who is busy running the family's sixth generation farm with his father, Vinton. "Well, I'm quality control," he quips.
Food selections change with the season. In cold weather, shoppers will find heartier fare like casseroles, soups, freezer meals and the like. During the summer, fresh fruit and vegetables, salads, herbs and casseroles line the freezer shelves. She always keeps pies, cakes and other sweet treats in stock, too.
Frenzied Fridays. She has become locally famous for cinnamon rolls, which she has on the shelves every Friday by 7 a.m. She prepares four batches—112 pans— every week. They are especially popular around the holidays; she prepared 500 pans of cinnamon rolls one Christmas.
Cinnamon roll aficionados have to get up pretty early to get a plate of them; they're usually gone within an hour.
"I had been to town and as I'm pulling into our yard I see a farmer in a pickup with a bale bed, and mud on the side. The driver had a huge grin on his face, and he is unashamedly just munching on a cinnamon roll as he's pulling out of the driveway," she says, smiling. "That just makes me so happy." ‡
Read More
SPECIALTY/NICHE
Outdoor Cooking
The humble outdoor barbecue is going upscale.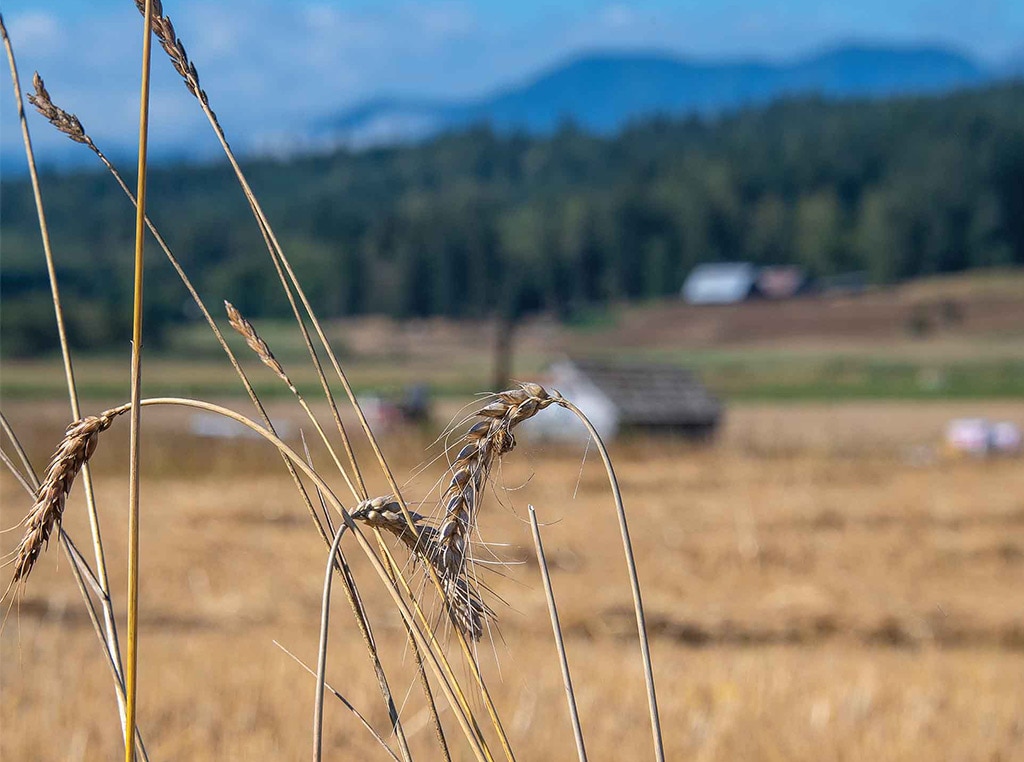 AGRICULTURE, SPECIALTY/NICHE
Past Meets Future
Ancient grains and new varieties meet on Washington farm.