Specialty / Niche
September 01, 2023
At a Canter
Mounted archery is the ultimate team sport.
The thadathump-thadathump of hooves is steady as a heartbeat. Copy knows what to do, running down a 90-meter track in an even, level canter pushing 20 mph. Elizabeth Tinnan's body seems to float over the horse's back as she stands in her stirrups and aims her bow.
Thwack!
As the first arrow hits the target, Tinnan swings smoothly in the saddle, mentally calculating how far behind the bullseye she needs to aim to allow her arrow to drift on its path to the center of the target.
Thwack!
Another arrow appears in her bow as Tinnan turns backwards to catch a third target before Copy canters past the electric eye at the end of the track.
Thwack!
"That is poetry in motion," marvels Dan Hansen, who traveled from Kenai, Alaska, to compete with Tinnan and 21 other mounted archers at the Mayhem on the Mountain meet at Hidden Creek Ranch near Maricopa, California.
Tinnan leaves little doubt why she's the top-ranked mounted archer in the United States. Her skills as a horsewoman and archer land her leading scores, while her role as a teacher and promoter of the sport are helping spread excitement about a discipline that is gaining ground across North America.
Today, the Mounted Archery Association of the Americas counts more than 600 members, and renowned mounted archer and coach TJ Marshall figures there are probably 2,000 enthusiasts around the country. About 200 of them compete in national ranking competitions.
At Mayhem on the Mountain, men and women, ranging in age from their 20s to their 70s, competed head-to-head while swapping tips and encouragement.
"This is the most supportive equestrian sport I've done," says Heather Lomax, a horse skills teacher, coach, and nationally ranked archer who hosted the Mayhem meet with her husband Ken. "Everybody cheers for everyone."
Sierra Stammen, a recent college graduate who relocated with her horses from Texas to California and now trains at Marshall's stable, agrees.
"I've done a couple of things in the equine industry and I've never seen anything like this kind of community," she says. "Everybody's super-supportive of each other. In my first competition my bow broke and I never missed a run—I had people lending me their bows throughout the weekend."
Lomax adds an anecdote: at a meet in Michigan, Tinnan's top competitor, Bethany Flick, lent Tinnan her best horse and rode a less experienced mount for her own runs at the targets.
Skills. Mounted archery requires a very particular set of skills: hands-off-the-reins teamwork with a horse, coupled with precision shooting. Even at a walk, it's not easy.
"It's not archery for your analytical side, because you're moving," notes Hansen. "It's your intuitive side.
There's still plenty to analyze, including gait, gear, and grip. Throughout the Mayhem competition, Chris Heffernan of Utah experimented with a range of finger positions and strategies to raise his firing rate.
Long-time ground archer Benson Ng of Los Angeles is similarly analytical.
"I like the complexity," Ng says. "You've got the horses, you've got speed, you've got so many factors, and you have only one job—and this tiny window of opportunity to take a shot."
For all the action and mechanics, Bethany Flick concentrates on calm. She points out that the world's best mounted archer, Mihai Cozmei, used to be a Zen monk. (Before that, Cozmei was an engineer.)
"It's almost like a meditation, like golf," Flick explains. "Some sports feed off of adrenaline, like soccer. Archery is all about form, so if you get nervous, your form falls apart. The horses feel that energy."
Partners. Every competitor emphasized that mounted archery is a team sport, a close collaboration in which the horse is an equal player.
"Horse and man, they are not master and servant—it is a relationship of partners," says Greg Chung, who traveled from Taiwan to compete at Mayhem.
Whether they started out as riders looking for a new way to work with their horses or ground archers seeking a bigger challenge, most mounted archers describe their start with, "I saw an exhibition and knew I had to do that," or "I took a class and I was hooked."
Tinnan, whose demonstrations and clinics have pulled in many new participants, says mounted archery is very accessible for an equestrian sport.
"There's a lot of self-development you can do without a trainer," Tinnan points out. "There are people out there that are independents that don't have a chapter or club to train with, but they can practice alone at home." ‡
Read More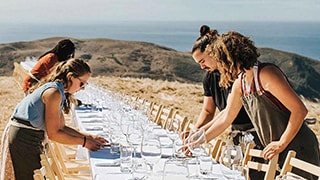 AGRICULTURE, SPECIALTY / NICHE
Reset Farm to Table Dining
The newest way to connect to communities and consumers.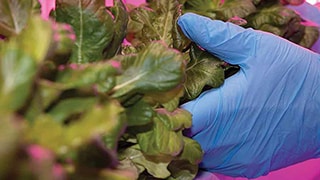 AGRICULTURE, SPECIALTY / NICHE
Green on the Walls
Vertical farming takes off at Leafy Greens Farms.