Rural Living, Specialty/Niche
June 01, 2021
Pucker Up!
Rhubarb goes straight to the tart.
A satisfying crackle precedes the snick of a knife hitting the cutting board as 8-year-old Lachlan Woods chops through the stiff, cortical ribs of a crimson rhubarb stem in her Nana's sunny kitchen. If a sound can be "heritage" this one would surely qualify as it's been heard in this Miles City, Montana, family's kitchens for generations.
Lachlan and her sister, Wren (10), love rhubarb. A love fostered by their mother, Keely Perkins, and their Nana, Pat Perkins. A passion shared by so many who live in cold, often harsh, northern climates where the large, showy plant thrives.
Its name may originate from southern Siberia where it was grown along the banks of the Rha (now Volga) river. A perennial, it can withstand winter temperatures dipping deep into negative territory. Rhubarb is, in a word, hardy.
Wren bravely nibbles on a raw hunk of stalk, quickly encounters the acidic bite that gives rhubarb its signature pucker. The acid is even more concentrated in the leaves, making them toxic. A fact some unfortunate English discovered when they first tried eating the plant in the 1600s.
Extreme stomach upset and even death pushed back culinary progress for quite some time. It did, however, maintain its literal thousands of years of popularity as a medicinal herb.
Rhubarb root was a highly valued cure-all and a staple trade item moving along the Silk Road and other ancient trade routes.
Eventually the stems were determined to not only be edible, but tasty by adventurous European chefs. The rest is history.
Simply put. Rhubarb is easy. It's easy to grow, easy to pick, easy to process and easy to turn into tasty treats.
For all those reasons, it's easy to see why the "pie plant" can be found on nearly every abandoned farmstead, nearly every modern farmstead and a good number of backyards in the northern climates — including Alaska — where it thrives.
"If you plant it, it will grow," Keely says, who has planted, moved, divided and shared many rhubarb plants over the years. She was proud when given their choice of plants at a greenhouse, a rhubarb plant made the cut for her daughters.
Though best known for pies, hence the pie plant nickname, Keely and her daughters have a whole summer's worth of recipes to make use of the prolific producers found on their Nana's acreage.
Pie is, of course, still a standing favorite. Due to its famed tartness, rhubarb rarely stands alone in a pie. Strawberry rhubarb, apple rhubarb, raspberry rhubarb, peach rhubarb, pineapple rhubarb and even banana rhubarb pie are some of many combinations listed on a rhubarb enthusiast's web site: rhubarb-central.com.
For the Perkins family, rhubarb custard pie is the standing favorite.
"My mom taught me to make it and her mom taught her, and so on," Keely says. She explains it's the complete package when it comes to rhubarb desserts.
"It's a sweet pie. Most rhubarb pies need ice cream or whipped cream to cut the tartness, even when mixed with other fruits. The custard pie has more eggs and more sugar. We top it with a crust because we love homemade pie crust."
Part of the fun is how involved the kids can be in the process from start to finish.
Wren and Lachlan are expert rhubarb pickers. They find the stems that aren't too small to be picked or too large and woody. They take a firm hold and pull, grinning at the pop when the stem releases intact from the plant's crown.
After fanning each other like Egyptian queens with the massive leaves, they expertly snap the sprawling greenery from the top of the stem. Within minutes, they have enough stems to make at least two pies and some rhubarb bread.
Back in the kitchen the girls set to work chopping the washed stems into 1-inch pieces.
"They can help cut it, they can easily tell if a part is bad or not, and there's not much waste. It's just easy," Keely says.
The recipes are generally as straightforward as the harvest and processing.
"It's stuff you have around the kitchen all the time and is inexpensive," Pat says, noting that nutmeg is a critical component.
"Nutmeg is our family's secret ingredient," Keely laughs. "We put it in everything. It smells so good and it just makes me happy."
Their rhubarb custard pie recipe, found in a well-worn and aged cookbook, calls for 3 eggs, 2 cups sugar, 3 tablespoons milk, 1/4 cup flour, 1/2 teaspoon nutmeg, and 4 cups diced rhubarb. Beat the eggs, add the rest of the ingredients, pour into a crust and dot with a tablespoon of butter. Roughly an hour in a 400-degree oven and you have a tasty dessert.
Mixing it up. If that recipe sounds too involved, there are even easier — but competitively delicious — rhubarb treats to be had from the girls' kitchen.
"One of the kids' favorites is rhubarb cake. The recipe sounds horrible, but it's delicious and super simple," Keely says.
In a cake pan, layer a prepared box of yellow cake mix, 4 cups diced rhubarb, 2 cups heavy cream, 2 cups sugar and bake using the instructions on the box. "You can use any fruit, but rhubarb is so good in it because of the tartness," Keely says.
Rhubarb is a good starter plant and ingredient for Keely's daughters, but they've quickly moved on to more advanced culinary and horticultural adventures.
Three generations work together to harvest apples, plums, elderberries, cherries and more to make canned apples, jams and jellies, even spruce tip jelly made from the spring buds of their spruce trees.
Keely is an extremely talented artist producing fine art pieces from painting to pottery. It's genetic. Pat, Wren and Lachlan decorate chicken coops, garden sheds and pathways with artistic flair. Included among painted rocks and signs are rhubarb leaf-imprinted stepping stones. A fitting choice for a plant that serves as a foundation for their passions.
Read More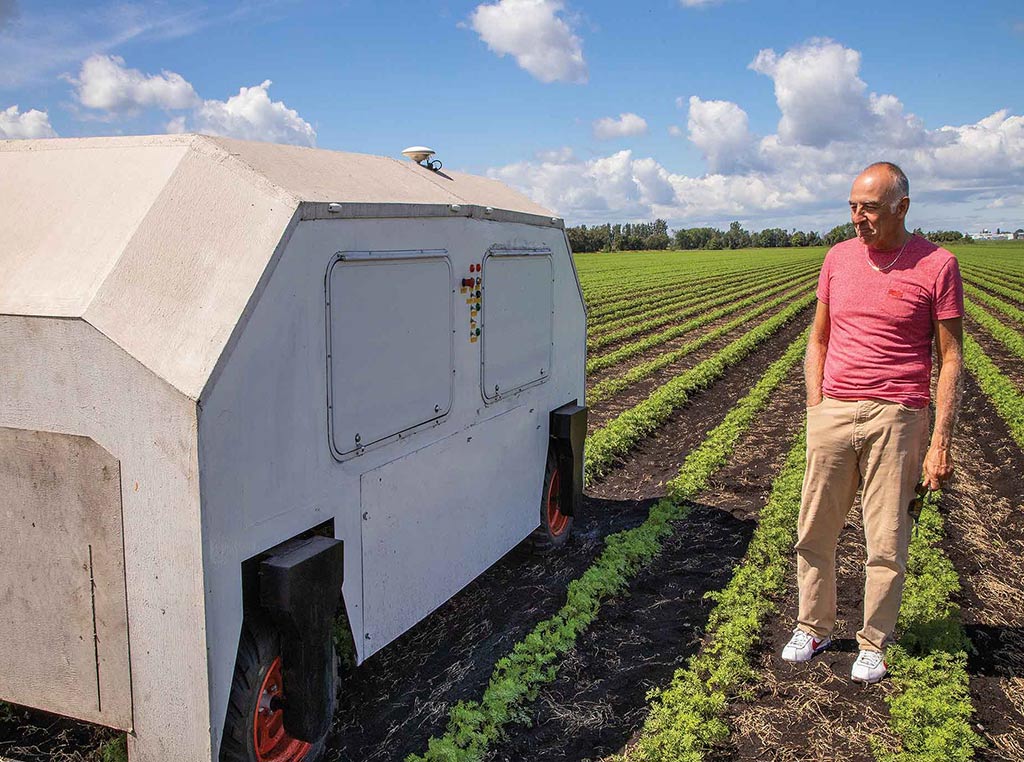 AGRICULTURE, AG TECH
Robots In The Rows
Technology is poised to reduce horticulture's reliance on human resources.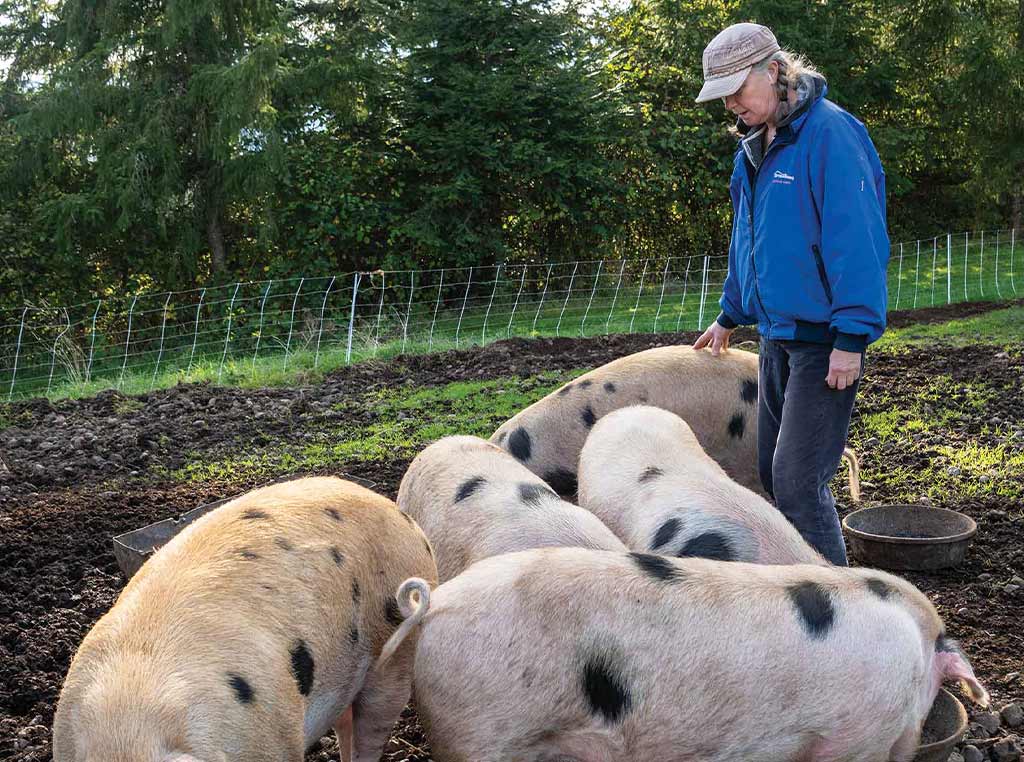 AGRICULTURE, LIVESTOCK/POULTRY
A Touch Of Iceland
Selma Bjarnadottir lives her dream in western Washington.