Rural Living
March 01, 2021
New Wave of Rural Migration
Farm stay vacations on the rise.
Rural America got due time in the sun during the COVID-19 pandemic when city dwellers and those who work in skyscrapers packed up and headed to the countryside for fresh air and elbow room.
"Travelers are looking for places that are self-contained where they can relax safely, but they are also looking for a unique experience," says Diane Van Wyngarden, Iowa State University Extension and Outreach tourism specialist. She has been watching how travel trends have changed recently, and believes it could be at least four years before traditional hotel stays fully rebound. But she also thinks the rise of rural travel is here to stay.
"I believe this is going to be a new trend in tourism. It's going to be more about what kind of unique experiences we can provide to attract visitors. And once people sample what rural life has to offer, they won't want to give it up. They are going to tell others about it. It's just going to continue," she says.
Analysts at Airbnb agree with Van Wyngarden's predictions. The company reported bookings went down 80 percent when the pandemic hit, and by late summer they were back to 2019 numbers in the United States. There was one big caveat though: the reservations were in different locations. Americans were opting for rural places instead of the usual cities. Airbnb guests say they want "authentic experiences away from crowds."
Airbnb data proves it. Reservations to stay in barns were up 60 percent year over year in July, and rural destinations accounted for 30 percent of Labor Day 2020 bookings, which were double 2019's numbers.
River views. Farms of all types and sizes across the country have benefited from this new wave of rural migration. One is outside Magnolia, Ill., and has been owned by the Stunkel family since the middle of the 1950s.
Harold and Herta Stunkel moved from Chicago to Magnolia at that time to raise their family on a small farm perched on a bluff above the Illinois River. After Herta passed away in 2016, their grandson Josh couldn't bare to let the farm leave the family. "There's something special about this place to me. There's very few places I go in the world that I feel as connected," says Josh with a smile on his face. "I grew up going to the farm and would go hunting with my dad. And then when my grandma passed, I just kind of always assumed we were going to keep the farm in the family, that it would just always be here."
Two months after he and his wife Anna married in 2017 and on the heels of purchasing a home in Chicago, they offered his dad and uncles the amount the family had hoped to earn from selling the farm on auction.
"They actually were really receptive to the idea," says Josh. "They said they would love to keep it in the family if we could make it happen."
Josh's dad Paul is pleased the farmhouse he grew up in has new life within their family. "It was exciting, but scary to watch them go in debt. He has such a rooted connection here, but what you see here now is Josh and Anna."
"Our original thought was to paint, put some beds up, and use it as a retreat. It is a really wonderful thing escaping the city and just being the two of us most of the time, " Josh says naively.
They quickly discovered the house needed much more work. For two years, they spent most weekends fixing it up.
They took walls down and flooring up. They lined remaining walls with shiplap, added 'industrial farmhouse' décor, and eventually listed it as a vacation rental when they were not using it themselves. But they left special touches like murals his grandmother had painted on bedroom walls.
"It's not the same farm anymore," says Josh. "I really think my grandma's spirit is still there, but now that it's fully rehabbed, you don't feel like you're walking into the same place." Anna says she has an extra connection to the farm now that they have made it their own and used inheritance from her grandfather to help fund it.
"It feels really special to have this connection between both of our families in this magical place. It feels like they knew each other just because we're connecting them through different things here."
Cow moos. Another farm stay that opened just before the pandemic hit is that of Dan and Lynn Bolin outside Clarksville, Iowa.
They saw an opportunity to offer the public a view of their 120-cow commercial dairy farm in a different way when they designed a new freestall barn to accommodate robotic milkers in 2015.
Where a traditional parlor would have been, they built living quarters.
"On a super basic level, we needed a place to live as a family," Lynn says about the practicality of building an apartment in the barn. They were building the new barn in part because they were coming back to help run Dan's family's farm. "But then we decided to design it to eventually become an Airbnb."
This added revenue stream looked promising for the family because it would help mitigate the risk of expanding their herd during a time of low milk prices. And they loved the prospect of sharing their space and cows with the public on a more intimate level. Overnight guests could experience so much more than people who just stop by for a short tour.
"I tell my clients location is important. The setting you provide is important. But, your personality as business owners is equally important," says tourism specialist Diane Van Wyngarden. "You need to love to host people, and you need to teach people about modern agriculture."
This was a natural diversification route for the Bolins because they love travel, having already been around the world.
"We look at travel as something that is enriching to life, not just an escape," explains Lynn. "Hospitality fits the strengths we bring to the table."
Once they had settled back on the farm and built their own, separate farmhouse a couple years later, Bolins prepared to welcome guests by late 2019.
They worked with Iowa State University Extension and other tourism organizations to make sure all their Ts were crossed and Is dotted with things like zoning regulations, fire code, and proper insurance.
They decorated all three en suite bedrooms with bright, crisp décor and filled the loft overlooking the pens and robot with modern agriculture and dairy information.
Broader horizons. These two farm stays couldn't be more opposite: one is in a family relic just scratching at its hobby farm potential and the other is in newly built accommodations overlooking a custom-built barn with robotic milkers. But both are situated down long country roads far from everything else and offer guests new perspective.
Both farms are also in relative "lodging deserts" with few other places to stay nearby.
"Overnight visitors typically spend three times as much as single-day visitors, so farm stays are true assets for their communities. When hosts recommend other area businesses to try during a stay, guests and local economies all benefit," says Van Wyngarden.
"One of the coolest things that's happened from us going to the farm so much—having never lived in a small town before—is getting to understand different people's opinions, why they have them, and in a lot of ways get past their opinions because they're still just human," Josh reflects.
That new perspective and change in scenery is what travelers seem to be looking for, especially during a pandemic.
Both places have had a steady stream of guests since stay-at-home orders were lifted in the summer of 2020. "We think it is such a special place and we hoped others would want to come," says Josh. They were right.
Their farmhouse was booked every weekend before the pandemic hit and then was booked nearly every day in July and fully through the fall.
Lynn says similar things about their guest barn. They had originally hoped to reach 30 percent occupancy in 2020, but starting in about June they have been busy with guests from coast to coast coming to "sleep with the cows."
"I want as many people as possible to experience this, to learn about dairy," she says, acknowledging that she—having grown up in the suburbs—didn't know much about the industry until she married into it.
Their guests spend hours gazing out the picture windows into the barn, watching the family do chores and developing deep curiosity about the cows.
"One guest asked me about the cows' eyesight and another about their thyroids," says Lynn.
Read More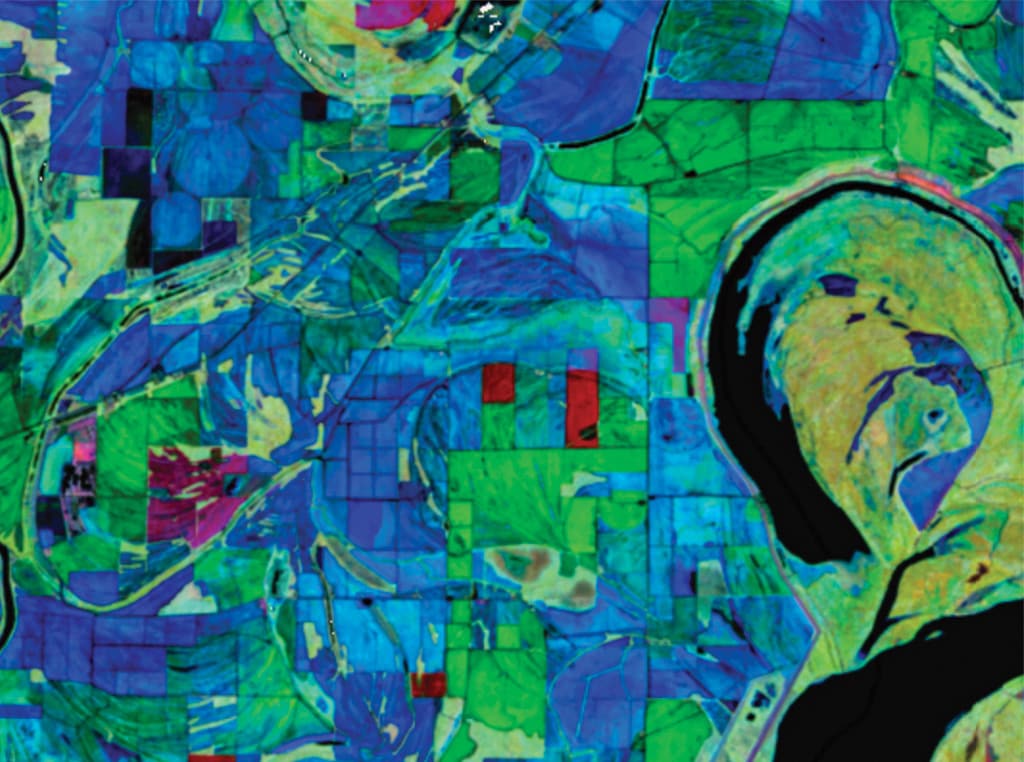 Agriculture, Ag Tech
Ag Data Is Beautiful
Digital sattellite data paints farm masterpieces.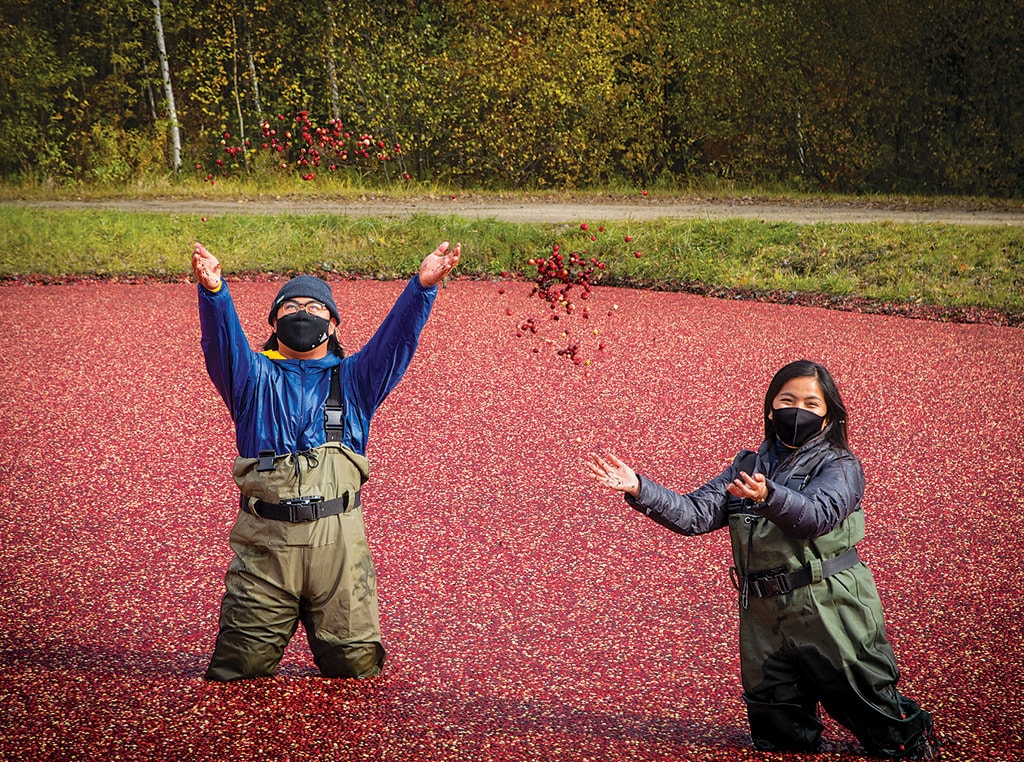 Agriculture, Specialty/Niche
Year-round Tourism
Muskoka farm develops innovative ways to incorporate four-season tourism attractions.