Specialty/Niche
March 01, 2021
A Family Affair
Agritourism blooms for generations.
Much like mighty oaks spring from tiny acorns, the Gaeddert family's regional sweet corn dynasty sprang from a makeshift sidewalk stand that school-age sisters Julie, Tonya and their cousins set up in their grandparents' yard more than 35 years ago. Intent on selling a few dozen ears of extra produce from their family's garden, the fledgling entrepreneurs unknowingly launched a direct marketing and agritourism business destined to span four generations of their Buhler, Kansas, family.
"As ten and twelve-year old kids we were just happy to sell a few dozen ears a day," says Tonya (now Tonya Martisko). "Now, as Gaeddert Farms Sweet Corn we send truck loads of fresh sweet corn and other produce to retail stands in seven cities every day during the summer growing season. And we've also leveraged our reputation for quality and integrity into various agritourism ventures under the banner of Kansas Maze Inc."
From their first retail sweet corn stand in 1996, the family's network has grown to 12 stands and two farmers' markets today. "Each stand is unique and every day is different, but we deliver from 100 to 400 dozen ears to each of them daily during a six to eight week season. We usually sell out, but if we don't the leftovers are donated to a food pantry—we only sell fresh corn that's harvested the same day," adds Julie (now Julie Ball).
The sisters' nearly 100-year old family farm expanded into agritourism and on-farm entertainment (agritainment) ventures in 1999 with a 5-acre corn maze—the first in the state of Kansas. A year later they added a pumpkin patch, a fall festival and a playground with games and activities for kids.
"The playground activities have evolved over the years and we've added new things from time to time, but the one constant is the jumping pillow—it's permanently installed and we've had to replace it twice in 20 years—but it is the most popular. The duck race is also a big hit. It's made from a water tank, three hand pumps and a u-shaped track made from PVC pipe that we cut in half. The kids love it, especially on hot, summer days," says Tonya.
The now expanding family kept the corn maze and pumpkin patch going for twenty years, each year with a unique theme that ranged from Noah's Ark to the Statue of Liberty and a kaleidoscope to a celebration of the national parks. Aerial views of all the mazes are on the website www.kansasmaze.com.
"Our typical maze would squeeze about two miles of trails into the five-acre field, depending of course on how many times people got lost. We entertained thousands and thousands of families, but after twenty years we decided to try something different," says Tonya. That change revolved around the 20-acre field of sunflowers featured here. "There had gotten to be a lot of other corn mazes and pumpkin patches so we were looking for something different. A corn maze requires a lot of late nights and long weekends, while the sunflowers allow more flexibility," adds Tonya.
"We had seen a few people plant small patches of sunflowers to pick or for family photo ops. We had grown sunflowers on the farm in the past so thought why not create a Sunflower Festival with 600,000 stunning blooms as the drawing card," adds Julie.
Side-by-side patches of flowers were planted ten days apart to stretch the blooming period. Walking trails through the flowers included several photo stations and served as the 'track' for the Sunflower Trail Run­—a 5K/1 mile event that has runners and walkers winding their way through the scenic field.
"We've had as many as 400 runners a year in the trail run and more than 5,000 visitors at the festival and 1,300 to a craft and art market held on the closing weekend," says Julie.
Sweet on corn. The ten family members of the operation have fine-tuned their sweet corn production with decades of practice—and with the help of nearly 50 part -time employees. They have 100 acres of irrigated corn production that's planted with three to five hybrids at varying planting dates.
"We use hybrids with different relative maturities to ensure we have a fresh supply over a six to eight-week period (hybrid numbers are a trade secret). It's critical that we have corn ready by July 4th and we hope to stretch the season to late summer," says Julie.
The day's anticipated need is harvested with a four-row picker beginning at 3:00 a.m. A dozen employees pick undersized ears off a conveyor as the corn makes its way to trucks which are on the road to the various stands by 7:00 a.m. At the end of the day, any unsold corn is donated to the area food bank, which last year nominated the farm for its Ag Hero award for 'donating 454,000 pounds of fresh produce over a 12-year period'.
The Gaeddert Farms Sweet Corn website (www.gaeddertfarms.com) includes a list of other fresh produce often available at the sweet corn stands and now through on-line ordering. "We saw a huge demand for these products last summer because of the COVID-19 pandemic. These fruits and vegetables come to us fresh from other local producers, but the supply was not consistent, so we've decided to launch an on-line system so customers can order produce to be picked up at the sweet corn stands," explains Julie.
Impact of pandemic. Julie and Tonya are quick to credit the North American Farmers' Direct Marketing Association (NAFDMA) for some of the ideas behind their businesses. NAFDMA (nafdma.com) connects agritourism operators from across the globe to advance the industry through shared knowledge and experience.
Much of the association's efforts the past year have been in helping agritourism business owners navigate the challenges presented by the pandemic. Member farms that usually host hundreds or thousands of people at a time at their pumpkin patches, corn mazes and fall festivals, were left to decide how to navigate business during the pandemic while following the safety protocols.
Participants in several on-line roundtables the association hosted generally indicated that while their operations changed dramatically, their overall business was still largely successful. "We just tried to make the best of a bad situation," said Michelle Brown, who shared thoughts from Brown Hill Farm in Tunkhannock, Pennsylvania, which offers tulips, sunflowers, pumpkins and produce.
Also a multi-generational 'family affair', Brown Hill Farms had to alter their u-pick approach and ask customers to drive through their tulip field and pickup a bouquet curbside. "We were actually busier than ever and people were just thrilled to have a family friendly place to go," says Michelle. "We also started on-line ordering for our produce and it was a huge success. With the pandemic, people are concerned about how often their food gets touched in a traditional grocery store," she said.
Julie Ball says Gaeddert Farms had a similar experience marketing fresh produce. "The pandemic really spurred the shop local movement and that had a positive impact on our sweet corn and produce sales. People want to know where their food is grown and who is producing it."
"This year more than ever we felt like we were filling a need. To do that while working as a family, seeing our kids want to be involved in a business started in our parents' garden, is truly a blessing."
Read More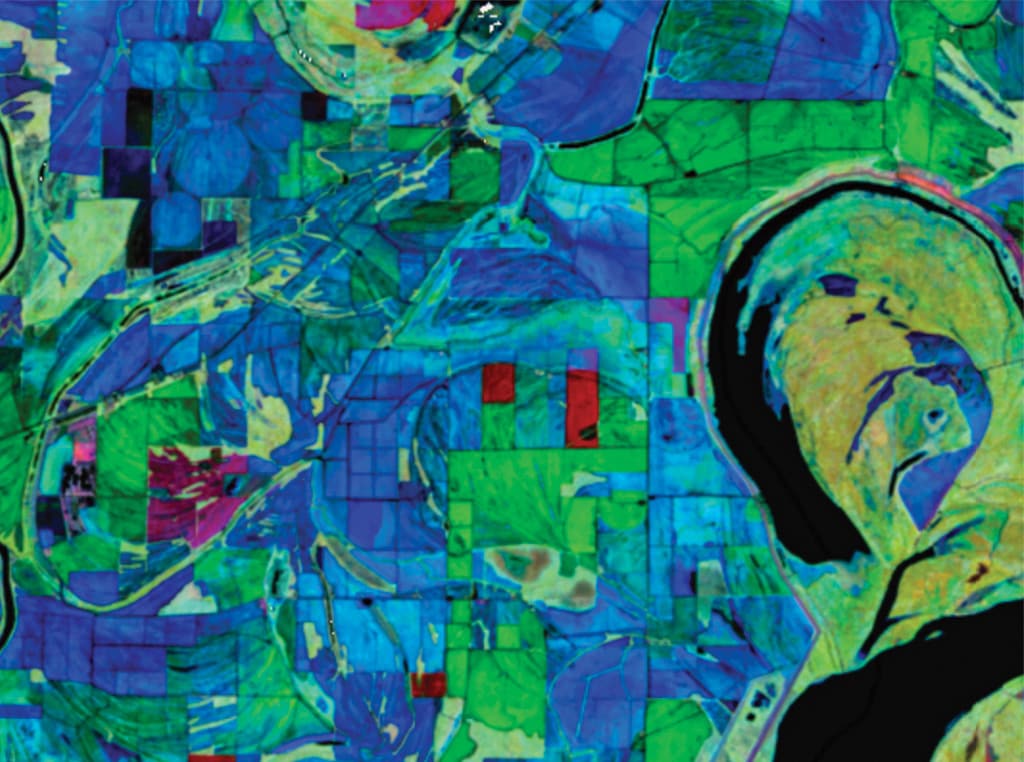 Agriculture, Ag Tech
Ag Data Is Beautiful
Digital sattellite data paints farm masterpieces.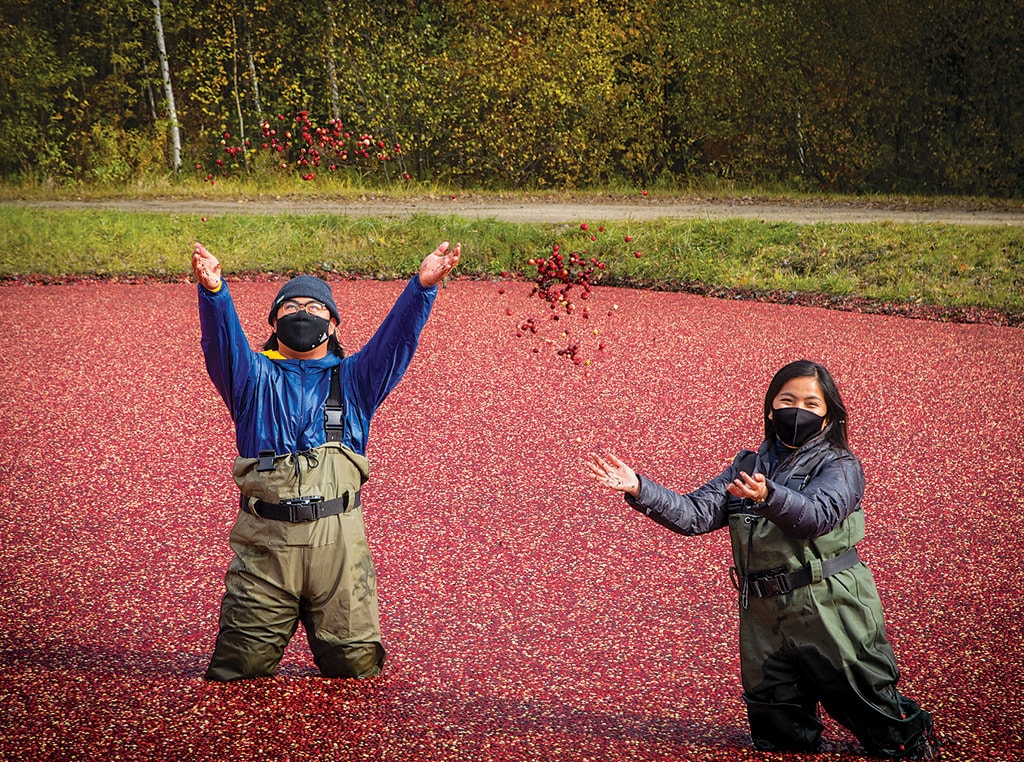 Agriculture, Specialty/Niche
Year-round Tourism
Muskoka farm develops innovative ways to incorporate four-season tourism attractions.