Speaking Up and Speaking Out
How one man's journey is reshaping mental health in construction

8 MIN READ
A short walk from the Ajax Paving offices in North Venice, Florida, an unassuming path leads to a heavily wooded portion of the company's expansive property.
A sign reading "Thousand Pines" stretches above the roadway. Towering trees provide ample shade from the hot Florida sun as a makeshift trail winds back and forth before coming to a stop at a welcoming log cabin.
Nicknamed "The Barn," the building is used for company gatherings, celebrations, and conversations. The simple structure exudes a sense of calm. A pair of acoustic guitars rests next to an ornate fireplace. A broken-in leather couch and a pair of antique rocking chairs sit nearby. The setting sends a subtle yet essential message: Things are different here. The way employees talk to each other. How they listen. The sense of support every employee feels.
The tone is set by Ajax President Vince Hafeli, a man who ascended to rare professional heights even amid personal turmoil. Hafeli's own struggles compelled him to research mental health in the construction industry, and what he discovered was jarring: Suicide rates for construction workers are about 4.5 times higher than the general population. This striking statistic has traditionally been explained by a long list of factors.
"It's a tough industry," Hafeli explains. "You work long days and some nights, which can lead to sleep deprivation, which is part of it. There are a fair number of injuries in the business. So, there are all these documented reasons."
But the more Hafeli explored the issue, and the more he reflected on his personal experience, the more he believed the issue was rooted in what wasn't happening.
"I think the real reason is there's a lack of awareness about these issues in construction and a lack of addressing them," Hafeli says. "These aren't easy things to talk about, and it's easier for leaders to avoid them."
In construction, trails aren't blazed by accident.
With Hafeli guiding the way, Ajax is committed to changing the course of an entire industry.

"These aren't easy things to talk about, and it's easier for leaders to avoid them."
A double life
Hafeli started working in the construction industry in 1985 when he landed a gig with a materials-testing group. He worked just two hours a day and made roughly $45 per week.
But with his foot in the door, he quickly ascended the ranks, becoming a field technician and then a lab manager. He was hired by Ajax in 2002, took over as general manager two years later, and was promoted to vice president in 2007.
"Professionally, from '85 until today, my career has been that of a rock star," Hafeli laughs, sitting within the comfortable confines of the company's quaint log cabin.
He credits his ascent to a few defining factors: a dedicated work ethic, a willingness to ask questions and a support system that had been in place since childhood. That structure eroded suddenly when Hafeli lost his mother, father, and brother to illnesses within the span of a few short years.
"All that support in my family, all the people I could go talk to, to bounce ideas off of, to talk about my struggles, were gone," he recalls.
A decade later, Hafeli's marriage began to falter, an issue that continued to worsen as the years passed. One day in 2007, Hafeli made the decision that he didn't want to live anymore. He had written farewell letters to loved ones. He had chosen the precise location where he wanted to take his life.
On the drive to what he thought would be his final destination, Hafeli received a timely phone call that convinced him to turn around and come home.
"I went home, went to bed, got up the next day, and went into work like any other day," he recalls.
Starting a conversation
Hafeli reacted to that fateful day the same way many of his construction colleagues would, which is to say, he didn't react. He buried the memory, hid the feelings, and pressed on.
But a major turning point came in 2022 when Hafeli was attending a peer-group meeting in West Palm Beach. After one colleague had shared a story about a pair of employees who took their own lives, another attendee leaned over and whispered to Hafeli that anyone who contemplated suicide was "wired wrong" and had "something wrong with them."
The statement hit Hafeli hard. And in that moment, he decided to stop being silent.
"I said, 'Time out, I'm going to stop the meeting,' and I said, 'I'm going to tell you all a story'," he recalls.
Hafeli told the crowd about his personal struggles and the day in 2007 when he'd decided to end it all. Weeks before this meeting, he had shared the same story with his co-workers at Ajax, leaving his colleagues in a state of stunned silence.
"I could have dropped a feather, and you could have heard it hit the floor," Hafeli recalls.
As time passed, the feedback started to trickle in: the co-worker who struggled with anxiety, the colleague who lost a loved one to suicide. This included a comment from Matt Ohley, a construction lifer who now serves as operations manager for Ajax. For Ohley, his boss's comments hit home in a big way.
"I know all too well what it's like to wake up every morning to racing thoughts and to all the things you have to do that day and be riddled with anxiety trying to plan all that out," Ohley says, pausing to take a deep breath. "Vince helped me realize I had reached a breaking point where I needed to address some things."
Ohley has prioritized mental health in his daily routine and encourages his staff to do the same. Each day at Ajax starts with a morning huddle. As the sun rises in the background, the group discusses safety protocols and daily goals. They also use the daily gathering to check in with each other.
"I don't think it can be overstated how important it is to truly connect with the people you work with," Ohley says. "And that takes a bit of vulnerability, it takes the willingness to risk putting yourself out there so that they see the humanity in you, and, in turn, they can feel seen and heard. And that's where genuine connection is built."

"I know all too well what it's like to wake up every morning to racing thoughts and to all the things you have to do that day and be riddled with anxiety to plan all that out."
Spreading the message
At Ajax, mental health is viewed as a team effort. Everyone has a role to play. Everyone has a voice.
Marketing Manager Cassie Rubio is tasked with spreading that message beyond the walls of Ajax. By sharing how her company emphasizes mental health, it can compel others to take similar steps.
"The more likes you get, the more shares, it's just raising more awareness," Rubio says as she sits beneath a stately forest of pines. "We're putting the conversation in front of people, and it's really starting to catch on."
Hafeli has also taken it upon himself to spread the message about mental health. He's spoken at numerous industry events, delivered a TEDx Talk, and appeared on multiple podcasts. Each appearance moves the conversation another step forward, making the topic less taboo and more mainstream.
"I thought that sharing my story would be the end of my career," Hafeli says. "What I have found is that the opposite has happened. I've seen the good that can come from it. We're all humans, and we all want to help and learn. There's no bad in sharing."
Want to join the movement?
In February of this year, Vince Hafeli of Ajax Paving raised awareness and spurred action by presenting the Suicide in Construction Awareness Proclamation. The document encourages construction business owners, material providers, trade associations, manufacturers of heavy equipment and production facilities, and others to act and encourage open conversations about mental health and suicide awareness within the construction industry. It has since been signed by a wide range of industry professionals and companies, including John Deere Vice President of Earthmoving Sales and Marketing Jason Daly.
Sign the Suicide in Construction Awareness Proclamation
A difficult journey
Statistics from the U.S. Centers for Disease Control and Prevention underscore the mental health struggles experienced by construction industry workers. The numbers show construction workers are four times more likely to die by suicide than the general population, with over 5,500 construction workers lost to suicide each year. Construction workers are five times more likely to die by suicide versus a jobsite accident. On average, 10 to 15 construction workers die per day by suicide.
NEED HELP? DIAL 988
The 988 Suicide & Crisis Lifeline can be reached 24/7. It offers free and confidential support and resources for you or your loved ones — and can educate you on best practices for professionals in the construction industry.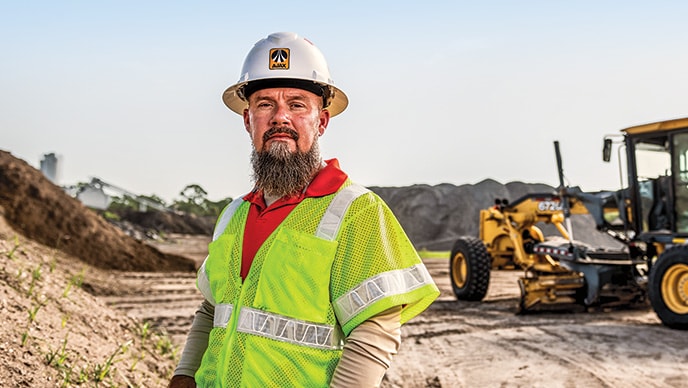 Coordinating the Chaos
By supporting its people and perfecting its processes, Ajax Paving has become a road-building force.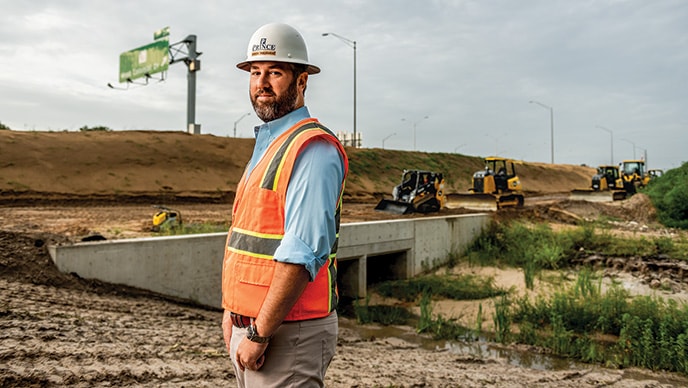 Born to Do This
Prince Contracting is building roads and supporting growth in the Sunshine State.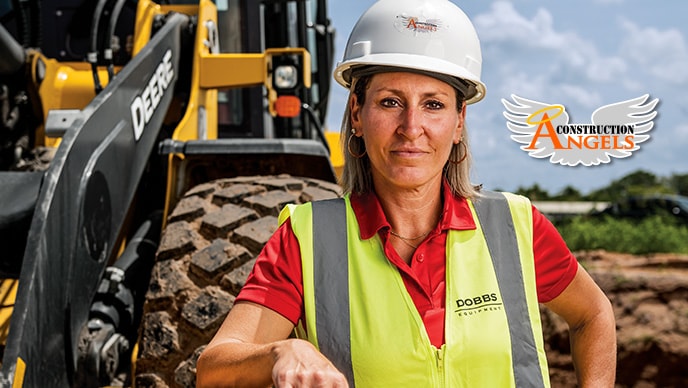 Support in the Toughest Times
Construction Angels is committed to helping families when they need it most.
Think readers would dig your story?
You could be featured in an upcoming edition of The Dirt. To be considered, just tell us a bit about yourself and your story idea by filling out this form.