Coordinating the Chaos
A Florida contractor rises above by building resilience

4 MIN READ
As the operations manager at Ajax Paving, Matthew Ohley always has his finger on the pulse of the company's expansive Florida footprint. With numerous projects varying in scope and location, he uses a common industry barometer to surmise how an impending day might play out. It's all about the cell phone.
"If there are multiple phone calls before 7 a.m., that's probably how the day's going to go," Ohley says, raising his voice above the steady hum of machines hauling materials and leveling land in the background. "I jokingly tell people I'm a firefighter. My role is really when problems arise on jobsites. It's my job to solve them."

"You need support from the people who will keep your machines up and running, and we have that with John Deere."
Shaping the Sunshine State
Ajax has spent over four decades tackling major challenges and finding ways to solve them.
Founded in 1981 and with locations throughout the Sunshine State, the company has established itself as a leader in developing Florida's robust infrastructure network. It's done so by becoming an expert on virtually every phase of roadbuilding projects, from making asphalt and concrete to designing road projects to actually building the infrastructure that connects communities.
On a sweltering summer morning in North Venice, the constant motion of the Ajax operation is on full display. Massive wheel loaders dig into piles of sand, rock, and asphalt, then swiftly unload the materials into the beds of waiting dump trucks, creating a rugged commotion that fills the thick summer air. The trucks depart as quickly as they come, bound for jobsites up and down the western coast of Florida.
To keep up with demand, Ajax relies on a massive fleet of machines, including multiple John Deere motor graders and wheel loaders. Fleet Manager Dan Maitland is responsible for making sure all machines can answer the call.
"One thing about working in Florida is you have to be nimble," says Maitland. "Weather here changes on the fly. It might rain at two o'clock and be done by three. So, the demands can change and the conditions can change a lot. Our machines must get the job done, even when it's wet and muddy."
With so much at stake, reliability is paramount.
"For us, uptime is everything," Maitland explains. "It starts with having machines that are built right, but it's also important to have that dealer relationship. You need support from the people who will keep your machines up and running, and we have that with John Deere."
Focusing on people
An elite fleet will only take you so far, though.
And for President Vince Hafeli, the true difference maker for Ajax is the employees. Before the company can build Florida's roads, he must first make sure the internal infrastructure at Ajax is sound.
"It's about our people, their attitude, their efforts … we encourage them to think outside of the box," Hafeli says. "We look for employees who want to be innovative and go beyond the status quo. And all those things end up helping us do a better job for our customers."
Inspired by his own personal journey, Hafeli is bringing out the best in his employees by putting their well-being at the center of what Ajax does. That means prioritizing mental health in an industry that has traditionally put such concerns on the back burner.
"Once you start caring for your people in a comprehensive way and focusing on their total health instead of just their physical health, I think it can take your company to a higher level," Hafeli says, pausing briefly to let the gravity of his words sink in. "It can create a higher level of culture."
Ajax Paving is serviced by Dobbs Equipment, Sarasota, Florida.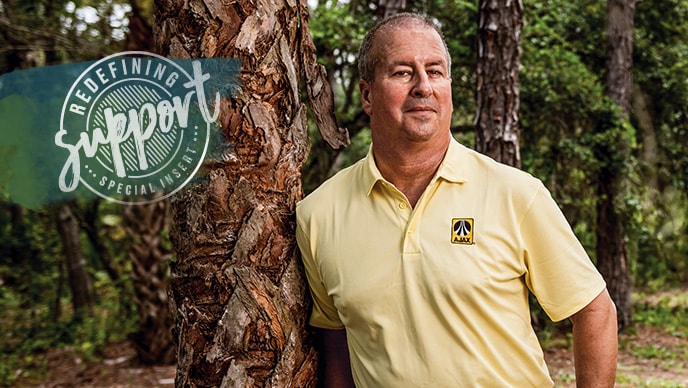 Speaking Up and Speaking Out
A Florida construction company has elevated its employee experience by emphasizing mental health.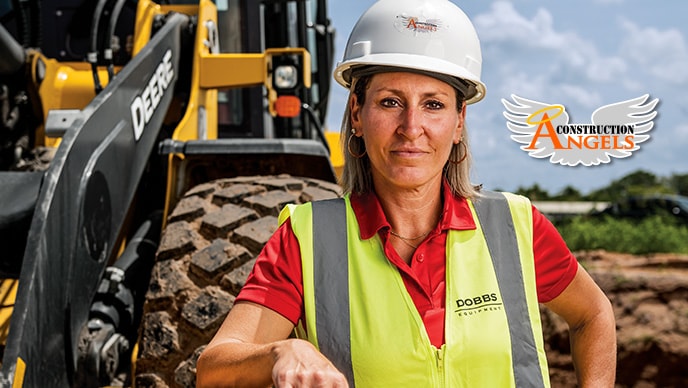 Support in the Toughest Times
Construction Angels is committed to helping families when they need it most.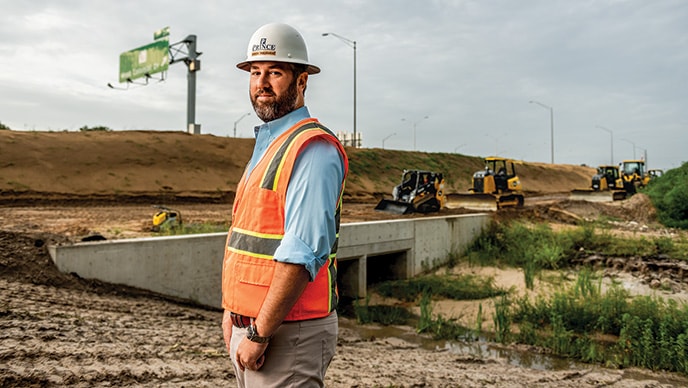 Born to Do This
Prince Contracting is building roads and supporting growth in the Sunshine State.
Think readers would dig your story?
You could be featured in an upcoming edition of The Dirt. To be considered, just tell us a bit about yourself and your story idea by filling out this form.