The Legacy We Leave
Pierce Timber Company has built a successful name for itself through teamwork
Years ago, a pro football team with the motto "40 for 60" won a championship. Forty players gave their all as one unit for 60 minutes of game time. "50 for 30" would be a good motto for Pierce Timber Company, Blackshear, Georgia, where 50 people work together to support 30 crews.
Unsung heroes
Hugh Thompson, owner of Pierce Timber Company, knows how to be a team player. He was the quarterback of his high school football team and also played football in college. "I played sports all my life," he says. "As I got older, I got to wondering why I was able to be on all these successful teams. It's always revolved around having good people around you. You need to work as a team to win championships."
At Pierce Timber, everyone from the front office to the logging site understands the company's goals and how it does things. "We're all one team," says Thompson. "We've got great people who really care about the company. And I was lucky to learn early on to delegate to people and help them grow. I've had so many people who have really come along to help build the business with me."
Chad Nimmer, forester, manages Pierce Timber's western area. "Mr. Thompson always says we have the best team in the world, some of the hardest-working people. It takes a lot of effort to get a tree from the stump to the mill. There are a lot of unsung heroes making it happen."
The company has its priorities straight, according to Nimmer — safety, then maintenance, then production. "When I wake up every day, my goal is to make sure everyone goes home safe. That's number one. If we're safe and we maintain everything well, production will be there."
Real-life Mayberry
Thompson grew up in Blackshear. "It's like Mayberry from The Andy Griffith Show. Everyone says hello and is courteous," he says. "It's a blessing to live here. It really is."
Hugh's father Mac Thompson moved to Pierce County in 1955 and started working for John Shackleford, owner of Pierce County Timber Company. In 1962, Mac bought the company. "My dad was always the kind of guy who could pull things together and make it happen if there was a need," says Thompson. "He didn't mind trying something."
When Thompson started working for the company in 1987 after receiving his business degree, Pierce Timber was running three logging crews and contracting with two others. "My father wanted me to get a degree first before learning the family business. I spent the first few years training with our foresters and learning procurement before entering logging and managing crews."
Over the years until the time he purchased the company from his father in 2010, Thompson became intimately familiar with it. "My father wanted me to dive into the weeds of the business and learn what made us money and what did not. That's when we really made strides in becoming more efficient and doing what needs to be done to be profitable. To be a good logger nowadays, you need to be a good businessman. You've got to be able to manage your costs."
Our business is their business
Today Pierce Timber runs one of the largest logging operations in the region, with over 30 crews. Half are company crews and half are contracted. The company covers southeast Georgia and northeast Florida, primarily harvesting loblolly pine as well as a variety of hardwoods.
Pierce Timber began converting to John Deere forestry equipment in 2000 when Deere bought Timberjack. Today the company runs over 30 Deere construction and forestry machines, including skidders and feller bunchers. "They're great machines," says Thompson. "We've been getting a good return on investment from them. Extended warranties and maintenance programs through our local dealer help us manage costs."
A major key to improving efficiency and profitability, Thompson has learned, is maintaining equipment. "Uptime is critical," he says. "As a company we try to eliminate as much downtime as possible."
Using JDLink™, Pierce Timber can easily track machine health, maintenance schedules, fuel consumption, and idle time. "JDLink is a great tool," says Thompson. "It helps make sure our machines are working properly and to their utmost productivity and efficiency."
The company's local dealer, Flint Equipment Company, can remotely monitor machines and diagnose issues before they become bigger problems. Thompson believes that having a high level of support from its dealer has been critical to the company's success.
"Our local dealer, Flint Equipment, helps us, number one, by treating our business like their own business," says Thompson. "We joke that our John Deere salesman has an office here at Pierce Timber. Flint Equipment stays on top of our business and our needs. They know our company almost as well as we do and help us get better. That's a big deal. It really is."
Thompson is optimistic about Pierce Timber's future. His son Trey has been working with the company for six years. "Like me, Trey really wanted to get into the business right away. But it isn't for the faint of heart. It's constantly changing and nothing is simple. You always have to be growing and getting better. Every day is a new problem."
But problem-solving is one of the things Thompson enjoys most about the industry. "I look forward to waking up in the morning and figuring things out. What I really love most about this industry is the people, especially the people I work with. We've built this together. Pierce Timber isn't just a name. It's a brand that we all have ownership in, going from generation to generation. What's most important is the legacy we leave, and our people get that."
Pierce Timber Company is serviced by Flint Equipment Company, Brunswick, Georgia.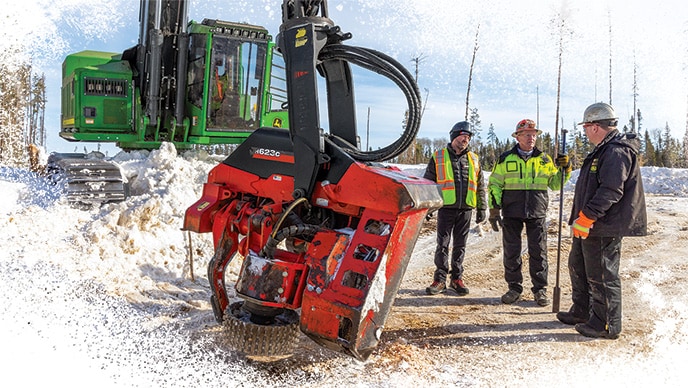 Hired Hand to Wanted Man
A.R. Williams Logging is using the latest John Deere technology to grow the business and move forward.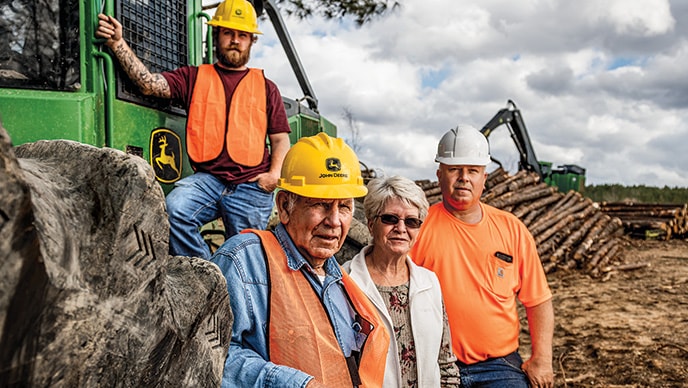 Family Time
Three generations work together building a highly successful logging business.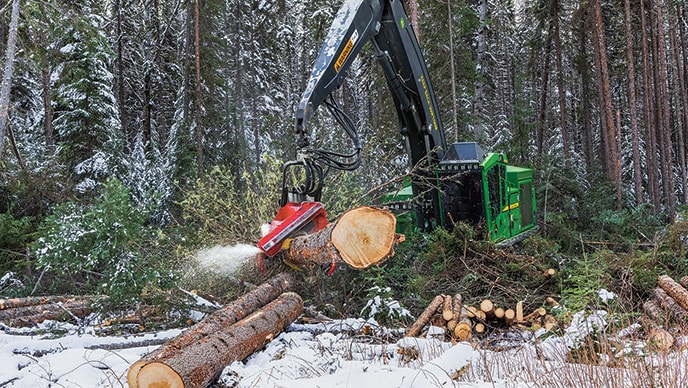 Logging Through It All
A family logging operation in northern Ontario delivers successful results.
Share your journey
Do you think your company's story would resonate with others in the logging industry? To be considered for a future edition of The Landing, tell us about your journey by filling out this form.