Agriculture, Education
December 01, 2021
Sunshine Strategies
Crop configurations that capture more sunlight.
In its most basic form, farming is simply the process of harvesting sunlight. Through photosynthesis, that solar energy is combined with water and carbon dioxide to form the sugar and starch that feeds the plants that ultimately feed the world.
Logically, the best way to increase production in an effort to improve profitability is to collect more sunlight. That thought process has innovative farmers and researchers experimenting with a host of new cropping strategies including relay-cropping, strip-cropping, interseeding, and utilizing solar corridors with wide-row corn and other crops.
Relay reasons. Relay-cropping isn't new—it's long been a method to move double-crop soybean production further north. However, Jason Mauck has many more reasons to consider adopting the practice.
"I believe in letting Mother Nature work for me," says the Gaston, Indiana, farmer. "One way we do that is by leaving 22 1/2-inch blank strips in our fall planted wheat, then planting two 20-inch soybean rows in that gap in the spring. The outside rows in each block of wheat tiller like crazy—we've counted up to 19 tillers on these plants."
Mauck explains that by the time the soybeans are planted in early April, the wheat has expanded well beyond its original 37 1/2-inch strip of five 7 1/2-inch rows. 'The outside rows grow out at roughly a 30 degree angle, so the wheat strip may now be 45 inches wide. And, its canopy is shaped like a dome, so there's more surface area to absorb sunlight than the flat canopy of a solid-seeded field."
Using some geometry, Mauck calculates the circumference of the resulting 'solar dome' formed by the wheat canopy to be roughly 70 inches—much greater than the wheat's original area of 37 1/2-inches.
After wheat harvest, it's the soybeans' turn to spread their branches into the area where only wheat stubble remains. "Removing the wheat canopy provides the soybeans with a burst of sunlight that reaches even the lowest branches. Since they are daylight sensitive, soybeans are tricked into thinking the season is longer so they set more nodes and more pods," says Mauck.
Mauck explains that this allows him to plant longer maturity varieties—group 4 rather than the group 2 that are standard in his area. "Because they're held back by the wheat canopy we don't get the lodging that would otherwise occur with the fuller season types." Like the wheat, the relay-cropped soybeans spread out to form an oversized crop canopy. "Together, the two crops give us a significantly larger surface area to intercept sunlight," says Mauck.
The two crops work together in other ways as well. "The strip of wheat dries out our often wet spring-time soils to help soybean planting conditions. Also, the wheat roots provide a favorable place for soybean roots to develop and the wheat residue helps control weeds." "Our primary focus is producing high yielding soybeans and we use the wheat to do it," says Mauck, who set the Indiana state soybean yield record of 108 bushels with his 'solar dome' system in 2018.
"Our relay-crop wheat yields take a bit of a hit—it made 85 bushels per acre this season. I'm sure I could grow better solid-seeded wheat by using fungicides and other inputs, but it would delay soybean planting which would hurt yields and reduce my bottom line. With the yield from both crops and the input costs we save by growing them together (hog manure is injected at wheat seeding), we think relay-cropping will make an additional $300 per acre."
"Another factor to consider is that our wheat ripens in late June and photosynthesis stops at least two weeks earlier. So, without relay-cropping all the solar energy during summers' longest days goes to waste."
Hutchinson, Kansas, farmer Connor Peirce took note of Mauck's efforts and is testing their feasibility on his operation. "We think relay-cropping could improve our efficiency over traditional double crop soybeans and have been testing it on a small plot for the past two years," says Peirce. Peirce explains that he blocks four of the 7 1/2-inch spaced rows on his air drill when planting wheat to leave 30-inch gaps for twin-row 15-inch soybeans. "In the past two years the relay wheat has made 56 and 80 bushels per acre while the solid-seeded wheat in the rest of the field made 80 and 100 bushels. However, the relay soybeans made 30 bushels per acre compared to only 9 bushels with our traditional double crop approach."
"We figure the relay beans need to make about 8 bushels per acre more than our regular approach to offset the lost wheat yield and so far they've done it," adds Peirce.
Outside advantage. Planting corn and soybeans in 8-row strips is helping Underwood, Iowa, farmer and crop consultant Steve Killpack, and he's utilizing sunlight to maximize photosynthesis. "We've all seen where the rows on the outside fields yield the best, so we take advantage of this edge effect by literally making more outside rows. Our corn yields are 50 to 70 bushels per acre higher on strip-cropped fields. Soybean yields are four to five bushels less, but we're working to minimize that loss," says Killpack.
Killpack plants with a 16-row planter with electric drives. "We plant corn with the center eight rows and soybeans with the outside four so it's really pretty simple to do. The edge effect tapers off three to four rows deep so we adjust seeding rate accordingly."
Bob Recker, who boasts the title of 'Sunlight Advocate' studied strip-cropping extensively until his attention was recently drawn to the solar corridor concept—an approach that has corn rows spaced 60 to 90 inches apart.
"I'm intrigued by the opportunity to use the area between the rows to grow cover crops for grazing or to build soil health," says Recker, who conducts on-farm research with cooperating growers through Cedar Valley Innovations in Waterloo, Iowa (cedarvalleyinnovation.com).
"Our studies find that 60-inch corn only suffers a 5% yield loss compared to corn in 30-inch rows, but the potential benefits offered by the cover crop are a major factor," adds Recker.
Recker explains that the wide rows benefit from the edge effect he found in his strip-cropping research, while cover crops planted between the rows produced up to ten times more biomass than when planted between 30-inch rows.
"I'm also intrigued by twin-row corn on a 90-inch spacing, but I don't have any data on it yet," adds Recker. ‡
Read More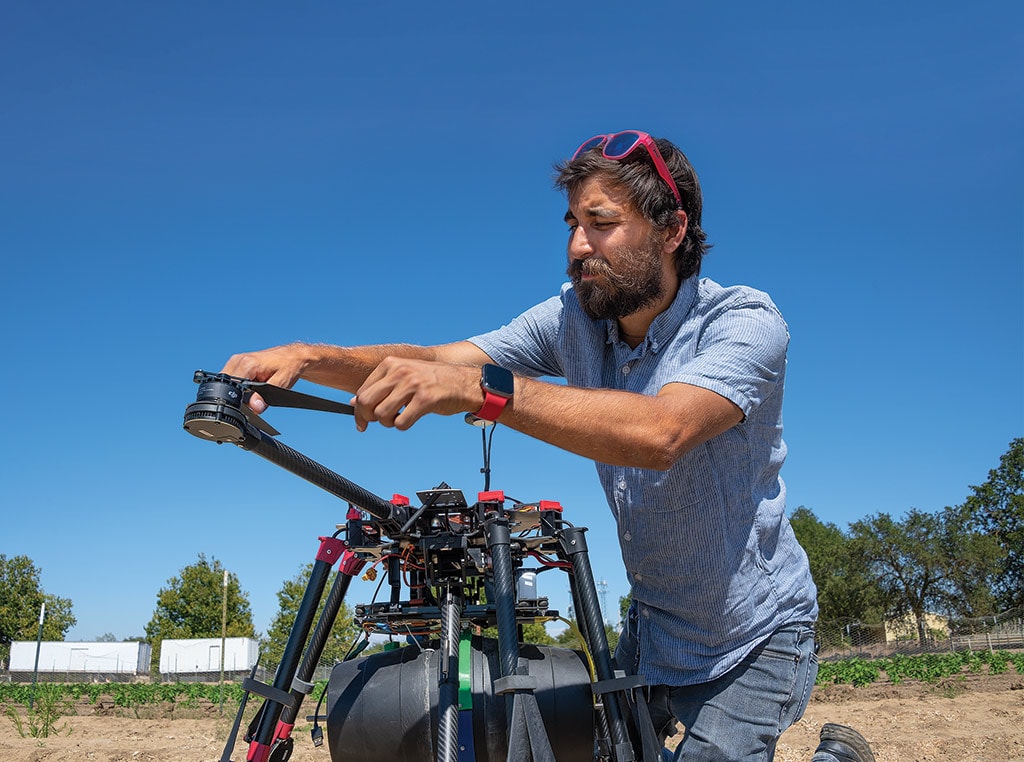 AGRICULTURE, AG TECH
Propellered Protectors
New aerial recon and precision application tech could protect crops soon.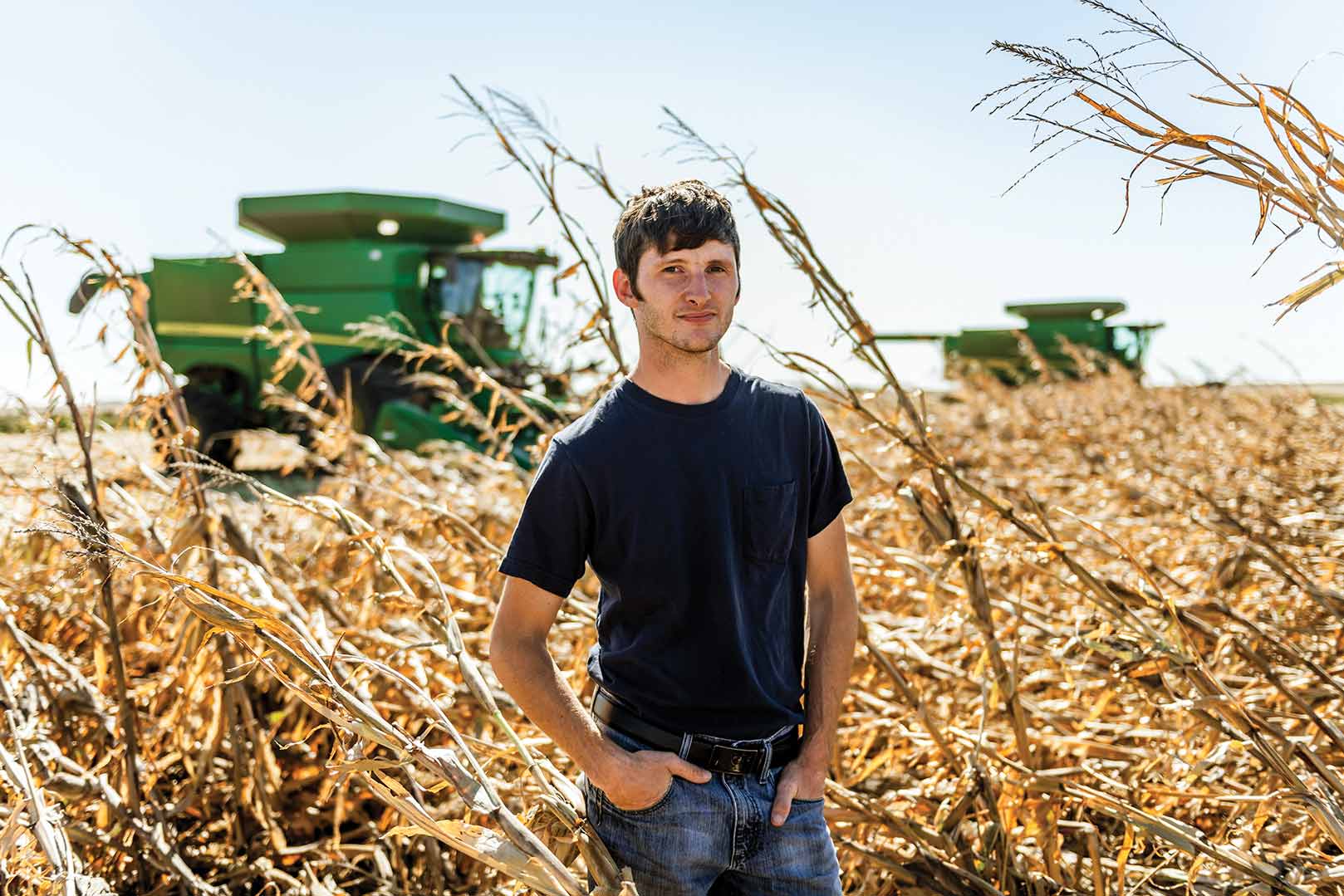 AGRICULTURE, AG TECH
Tech@Work - AutoPath
AutoPath™ saves the day.