California Dream
Four generations at Newman Backhoe Service have built a successful business by putting people first

5 MIN READ
Until the 1950s, Los Angeles County was the top agricultural county in the United States. When Herbert Newman arrived in the county in the early 1950s, he saw an opportunity. "Back then it was all dairies," says Nikki Worden, vice president, Newman Backhoe Service. "My grandfather saw a need for construction equipment at these dairies, so he purchased a Ford backhoe. After a while he thought, 'You know what? I can make a business of this.'"
The dream became a reality in 1954 when Herbert and his wife Swanna founded Newman Backhoe. Newman bought additional machines and enticed a few of his cousins from Oklahoma to run them. "He was probably the first in Southern California to offer operated equipment services," says Worden.
And Newman always put his employees first. "So many people have said that if it wasn't for Herbert, they don't know how they could have supported their families," says Worden. "He helped so many operators and employees."

"For over 65 years, Newman Backhoe has played an important role in shaping our area."
Putting the company on the map
After World War II, real estate began replacing agriculture as Southern California's principal industry. Los Angeles grew rapidly, sprawling into the San Fernando Valley. The baby boom and the expansion of interstate highways in the 1950s and '60s fueled suburban growth. Over the years the company has been involved in some of the largest projects in Southern California, including expansions for Disneyland® and Knott's Berry Farm®, numerous highway projects, the Los Angeles River, Los Angeles International Airport (LAX), the Port of Long Beach, and SoFi Stadium, new home of the Los Angeles Rams.
"If you look at a map of Southern California in the 1950s and today, it's completely different," says Worden. "For over 65 years, Newman Backhoe has played an important role in shaping our area."
The goal has always been to earn customer loyalty by providing quality equipment run by highly skilled union operators. "Companies call us because they know we will provide what they need to do the job right," says Worden.
Many operators have been with the company for a long time. Recently Worden had two employees tell her they've never had a boss who cared for them as a person as she does. Like her grandfather, she treats employees like one big family. "If you treat your employees like family, you are going to have a better team and more success," she says. "When they go out there with a smile on their face and do a good job, the customer is happy."
Good equipment also contributes to having happy employees and customers. Newman Backhoe added a John Deere 710 Backhoe to its fleet in 2011. "It was the most powerful backhoe on the market at the time, and it was a game changer for us," says Worden. Since then, the company has converted its fleet to mostly John Deere machines, including backhoes, skid steers, and compact excavators.
"Over the years we've used different brands of equipment," she explains. "At one point my grandfather was not happy with the service we were receiving from a manufacturer, so we switched to John Deere. We want someone who will stand behind their product, and we've had nothing but good experiences with John Deere. If we ever have an issue, I can call our local dealer, Coastline Equipment, and they will take care of it right away."
Lasting legacy
Today, Newman Backhoe is a 100-percent woman-owned business. Worden and her mother, President Janet Newman Ferguson, continue to run the company with a focus on both the client and the operator. "I was raised in this business by my family, so I have a bit of my grandfather's beliefs, a bit of my grandmother's, and a bit of my mother's. I'm a mix of all of them, which is a pretty good place to be."
Worden's daughter, Amanda Matson, also works for the company, helping ensure the ideals of her grandparents continue on to future generations. "My daughter brings a fresh perspective from the younger generation," says Worden. "She's encouraged us to adopt the latest innovations that have helped streamline our operations."
Much has changed about women's role in construction over the three decades Worden has been in the industry. "Thirty years ago, I remember telling my grandfather that I'd like to learn how to run a backhoe. Today I wouldn't hesitate to hire a female operator, but back then he wouldn't hear of it."
Like her grandmother, Worden started out working in the office. "My grandmother literally came up with the office procedures. She was very good at it. My grandfather handled the outside part of the business. That was very much his mindset — that men do this, and women do that."
That perception changed when her mom bought her uncle out. "Then it was just us girls. I was told I should hire a guy to manage the outside business, but I thought, 'No, I can figure this out. Just because I'm a woman, I won't be deterred. I will make this happen.'"
Today whether Worden and her mother go to a jobsite or a big meeting at LAX, it's still mostly men. "But they know that we run the company and that they can depend on us to get what they need," she says.
"My grandparents started this company," she adds. "They began a legacy that I'm going to continue with my kids and grandkids. Hopefully they're looking down and they're very proud."
Newman Backhoe Service, Inc. is serviced by Coastline Equipment, Long Beach, California.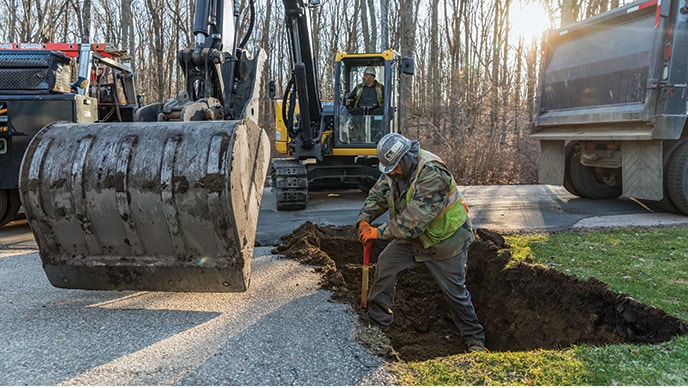 Winning the Day
For a small excavating business, attention to the little things is netting big results.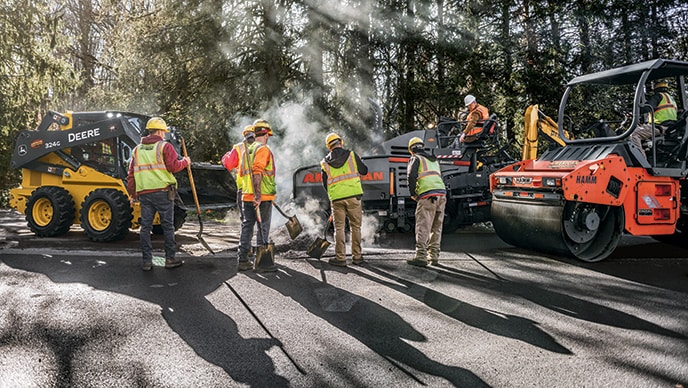 Raised on Blacktop
Reliable work and a captivating online presence have helped a Connecticut paving company expand.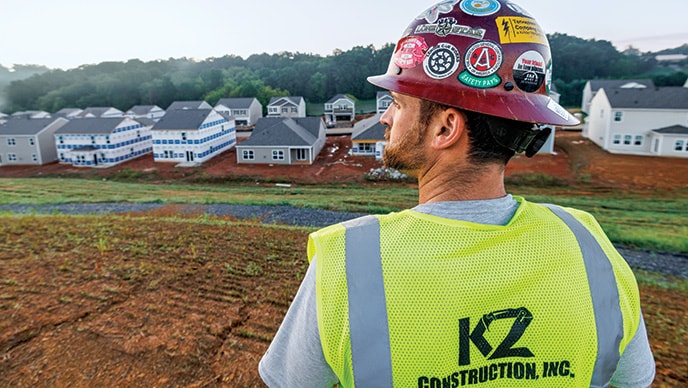 Next Frontier
KZ Construction is building a successful beast in East Tennessee.
Ready to inspire others
We are always looking for opportunities to feature women and advocates for women in construction in future editions of The Dirt. To be considered, share your story or someone else's by filling out this form.