John Deere Electronics continues to provide innovation to the hybrid electric bus market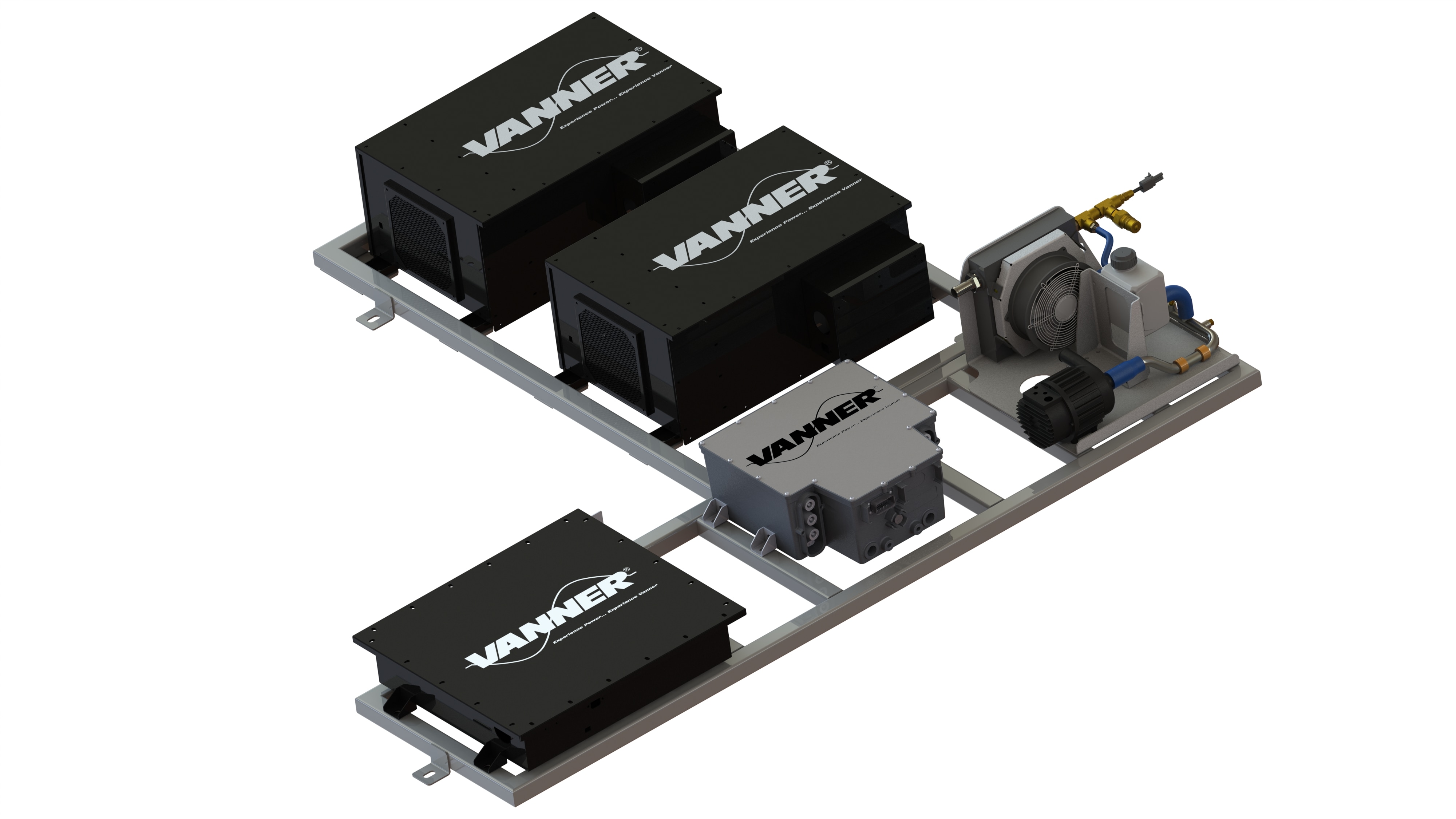 Fargo, ND – The flexibility of John Deere Electronics PD300 power inverter shines in yet another application. In Vanner Inc.'s Increased Accessory Power (IAP II™) system the PD300 powers accessory components like electric air conditioning systems, electric air compressors, electric heat, and electric power steering systems. The PD300 accomplishes this by converting high voltage DC power from the Allison H 40/50 EP™ hybrid systems to high voltage commercial 230V AC power.
So what's so great about this approach? Coupled with the Allison H 40/50 EP™ parallel hybrid propulsion system, this integrated system allows accessories to be driven electrically at a single high efficiency point rather than operating at a wide range of speeds with varying efficiencies. The conventional rubber belt drives are eliminated. "Removal of hydraulic loads that have to operate in the engine speed range are generally going to be less efficient," said David Loken, Senior Electronic Design Engineer at JDE. "In the automotive world, electric vs. hydraulic steering assist, electric water pumps, electric AC, etc. are replacing belt-driven loads." At a system level, better fuel economy, reduced emissions and lower maintenance costs are attractive benefits to automotive and bus industries.
"Adding IAP II™ powers all electrical accessories providing large bus maintenance saving and additional fuel savings. Full accessory electrification of a transit is the single most advantageous option a transit authority can realize that will improve fuel economy, reduce emissions and lower maintenance costs," said Steve Funk, president of Vanner. "The Allison H 40/50 EP™ hybrid already has a proven track record as a reliable sustainability solution. JDE and Vanner brought together their best engineering talent to develop IAP II™ for the Allison H 40/50 EP™. IAP II™ improves on the hybrid's efficiency by distributing the hybrid electrical power throughout the entire bus's accessory system. Vanner is proud to partner with JDE."
About John Deere Electronics
John Deere Electronics (JDE) strives to further John Deere's global business by developing rugged and reliable electronic components and systems that thrive in the most extreme environments. To enhance innovation, expertise and competitiveness, JDE provides custom and off-the-shelf electronics and power electronics for original equipment manufacturers worldwide.
About Vanner Incorporated
Vanner Incorporated is a privately held company producing commercial vehicle energy management systems since 1977. The Allison and Vanner relationship began in 1984 when Vanner invented the Vanner Equalizer for Allison's Commercial Electronic Controlled Automatic Transmissions. Vanner is a leader in developing energy solutions for transit and coach buses, ambulances, trucks, mobile office and military vehicles. Vanner continues to solve operational, fuel efficiency and emission challenges for commercial transportation with award winning engineering and innovation. Vanner's products are proven, road-tested, rugged, reliable and safe. Visit www.vanner.com or call 1-800-227-6937.