Hiring our heroes: Deere's enduring commitment to military veterans
Deere and the U.S. Department of Defense are helping veterans build rewarding careers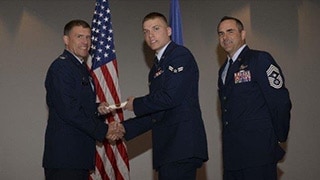 John Boggs grew up in a small farm town in rural Illinois.
"My dad and all my grandpas served in the military," he explained. "I wanted to step up and do my part to defend our country and continue my family's military heritage."
Andrew Foster was born and raised in Waterloo, Iowa.
"I joined the Army because I wanted to serve in a way that I felt would be interesting and fulfilling," he said. "I was excited about the experience of being a junior officer and leading soldiers."
Both men served their country with honor, loyalty, and bravery. And thanks to an innovative program that matches the unique skills of servicemembers with companies passionate about hiring and investing in veterans, they are beginning a new mission as John Deere employees.
The civilian transition
Foster, a 2016 graduate of the United States Military Academy at West Point, was an officer with the 555th Engineer Brigade and spent the final years of his Army career working in the acquisition of human resource software at Fort Knox, Kentucky.
"As some of my peers left the military, I noticed they were utilizing a corporate internship program in hopes of becoming managers, consultants, and engineers," Foster said. "That's when I learned about SkillBridge, an initiative that helps soon-to-be veterans connect with companies that value our expertise, talents, and service."
SkillBridge is a U.S. Department of Defense (DoD) program that provides comprehensive resources and opportunities for servicemembers to participate in training and development with companies in industries such as manufacturing, energy, and transportation.
"I was interested in software engineering, so I reached out to a colleague who told me about John Deere's SkillBridge connection," Boggs said.
Boggs successfully applied to participate in the SkillBridge program at Deere and completed his internship a few months later. He was hired through the company's Information Technology Development Program and works as a software engineer focusing on network automation.
Foster applied for a software engineer position during his internship and joined the Machine Product & Analytics Warehouse team in August.
A hire purpose
Deere leaders worked with DoD officials to become an authorized SkillBridge partner in 2020. Since then, we've hosted or hired more than 300 active servicemembers and veterans in factory, dealership, and professional positions throughout the company.
"John Deere wants to help those who have served, and this is our way of giving back," said David Ottavianelli, director, Workforce and Community Growth. "We know that the transition from military service to private industry can be tough, and we work to make it easier for those that have served our nation."
The next leap
Boggs is looking forward to building a long and rewarding career at Deere in large part because the company celebrates veterans' contributions and honors their collective service.
"Deere's support of SkillBridge shows how much the company appreciates military members and the sacrifices we made on behalf of our great country," he said. "Here, everyone places so much value on the diverse skills we bring to the table. It's a wonderful fit for me and my family."
For Foster, the future is as bright as an Iowa sunrise. He's thriving on a new team, rapidly developing business knowledge and technical acumen, and loves the highly collaborative workplace culture.
"John Deere gave me a chance to prove that I could be a productive member of an engineering team," he said. "From day one, it was clear to me that my previous experience was valued even if it wasn't directly related to the type of work that I do now. I'm very thankful for that."