Recruiting Diverse Talent
Proactively pursuing top tech talent to transform our world
It takes the very best people to grow and build a better world. But these days, with industry competitors and tech companies vying for top-tier talent, we must proactively pursue the brightest minds.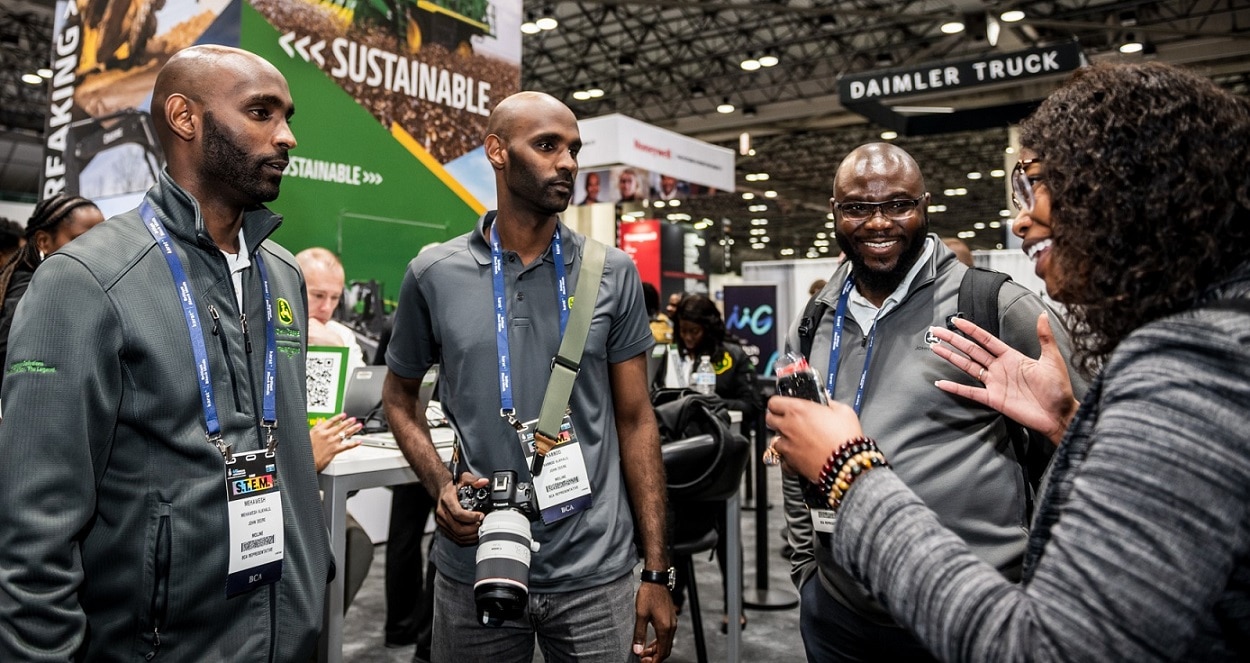 Recently, Mehawesh Alkhalil, software delivery supervisor, Intelligent Solutions Group (ISG), spoke with students and young professionals at AFROTECH™, a conference held annually in Austin that connects Black tech innovators with companies like Deere who are serious about recruiting diverse talent.
"Attendees were curious to know what a tractor manufacturer was doing at a tech conference because they still view Deere as a pure hardware, or mechanical, company," Alkhalil said. "However, when I explained to them all the technology our machines have such as autonomous tillage, precise satellite guidance features, and See & Spray™, they were very surprised. Telling our story, especially why we do what we do, really resonated with them."
Telling our story, especially why we do what we do, really resonated with (young professionals).
Recognizing a change
Alkhalil's twin brother, Kabbod, also works for Deere as a software test supervisor. He's passionate about recruiting tech talent as well as showcasing Deere's great workplace culture.
As an active member of National Society of Black Engineers (NSBE), Kabbod attends events like AFROTECH with the goal to build a pipeline of diverse talent. In the future, the NSBE team will share ongoing updates with these individuals throughout the year. Updates range from a video about the day in the life of a software engineer to a webinar about Deere's See & Spray™ technology.
"Recruiting diverse tech talent is a marathon not a sprint," says Kabbod. "We might not see the ROI at these conferences directly, but we need to put in the legwork afterwards - dripping on these potential recruits and demonstrating our commitment to diversity, equity and inclusion (DEI), technology, and innovation."
Kabbod is also part of a team kickstarting the Black Engineer Accelerator Program, an initiative that strives to increase the number of Black engineers at higher levels.
First impressions
Deere's presence at AFROTECH made a big first impression on Darian "DJ" Jones and Chinaecherem "CeCe" Eze.
DJ felt a deep connection and "sense of belonging" by John Deere employees in Austin and was eager to accept an analytics role at the Chicago office this last month. CeCe joined the company in December of 2022.
"Deere brought its unique culture to life at the conference and was the only company that provided me an unforgettable experience," she said. "Today, I'm a data engineer at John Deere Financial. I love my role, I love my team, and nothing brings me more joy than being in a dynamic, productive environment where you can learn and love what you're doing."
The world is counting on Deere to meet a rapidly growing global need for food, housing, and infrastructure. And the company recognizes that strengthening the diversity of its workforce can give everyone, everywhere, their chance to leap forward.
"While we may have different backgrounds and stories, what brings us together is our passion for technology," Eze said. "That's what unites us and makes us unique. I believe if we focus on what we have in common instead of focusing on our differences, we will continually make progress for our customers, our company, and our world."