java.lang.RuntimeException: Failed to get data //teamsite.deere.com/default/main/deere/us/en/WORKAREA/shared/templatedata/deere/quick-tool-ribbon/data at deployment.iw-preview.war//com.interwoven.livesite.file.impl.CsFileDal.read(CsFileDal.java:183) at deployment.iw-preview.war//com.interwoven.livesite.file.impl.CsFileDal.read(CsFileDal.java:149) at deployment.iw-preview.war//com.interwoven.livesite.model.property.DCRProperty.fetchDCRXML(DCRProperty.java:405) at deployment.iw-preview.war//com.interwoven.livesite.runtime.model.page.RuntimeComponent.buildComponentTransformData(RuntimeComponent.java:355) at deployment.iw-preview.war//com.interwoven.livesite.runtime.model.page.RuntimeComponent.transform(RuntimeComponent.java:421) at deployment.iw-preview.war//com.interwoven.livesite.runtime.model.page.RuntimeComponent.transform(RuntimeComponent.java:380) at deployment.iw-preview.war//com.interwoven.livesite.runtime.page.PageTokenVariableComponent.transformComponent(PageTokenVariableComponent.java:321) at deployment.iw-preview.war//com.interwoven.livesite.runtime.page.PageTokenVariableComponent.renderNoCache(PageTokenVariableComponent.java:214) at deployment.iw-preview.war//com.interwoven.livesite.runtime.page.PageTokenVariableComponent.preRender(PageTokenVariableComponent.java:109) at deployment.iw-preview.war//com.interwoven.livesite.runtime.page.PageTokenContainer.preRenderPage(PageTokenContainer.java:522) at deployment.iw-preview.war//com.interwoven.livesite.runtime.page.PageTokenContainer.preRender(PageTokenContainer.java:389) at deployment.iw-preview.war//com.interwoven.livesite.runtime.model.page.RuntimePage.transform(RuntimePage.java:515) at deployment.iw-preview.war//com.interwoven.livesite.model.page.PreviewPage.getBaseTransform(PreviewPage.java:241) at deployment.iw-preview.war//com.interwoven.livesite.model.page.PreviewPage.transform(PreviewPage.java:229) at deployment.iw-preview.war//com.interwoven.livesite.iw.servlet.preview.rendering.IntermediateRenderingManager.doOutputPage(IntermediateRenderingManager.java:287) at deployment.iw-preview.war//com.interwoven.livesite.runtime.rendering.RenderingManager.renderPageGoal(RenderingManager.java:403) at deployment.iw-preview.war//com.interwoven.livesite.runtime.rendering.RenderingManager.render(RenderingManager.java:273) at deployment.iw-preview.war//com.interwoven.livesite.iw.servlet.preview.generate.GenerateFilter.generatePage(GenerateFilter.java:134) at deployment.iw-preview.war//com.interwoven.livesite.iw.servlet.preview.generate.GenerateFilter.doFilter(GenerateFilter.java:77) at deployment.iw-preview.war//org.springframework.web.filter.DelegatingFilterProxy.invokeDelegate(DelegatingFilterProxy.java:357) at deployment.iw-preview.war//org.springframework.web.filter.DelegatingFilterProxy.doFilter(DelegatingFilterProxy.java:270) at io.undertow.servlet@2.0.21.Final//io.undertow.servlet.core.ManagedFilter.doFilter(ManagedFilter.java:61) at io.undertow.servlet@2.0.21.Final//io.undertow.servlet.handlers.FilterHandler$FilterChainImpl.doFilter(FilterHandler.java:131) at io.undertow.servlet@2.0.21.Final//io.undertow.servlet.handlers.FilterHandler.handleRequest(FilterHandler.java:84) at io.undertow.servlet@2.0.21.Final//io.undertow.servlet.handlers.security.ServletSecurityRoleHandler.handleRequest(ServletSecurityRoleHandler.java:62) at io.undertow.servlet@2.0.21.Final//io.undertow.servlet.handlers.ServletChain$1.handleRequest(ServletChain.java:68) at io.undertow.servlet@2.0.21.Final//io.undertow.servlet.handlers.ServletDispatchingHandler.handleRequest(ServletDispatchingHandler.java:36) at org.wildfly.extension.undertow@17.0.0.Final//org.wildfly.extension.undertow.security.SecurityContextAssociationHandler.handleRequest(SecurityContextAssociationHandler.java:78) at io.undertow.core@2.0.21.Final//io.undertow.server.handlers.PredicateHandler.handleRequest(PredicateHandler.java:43) at io.undertow.servlet@2.0.21.Final//io.undertow.servlet.handlers.security.SSLInformationAssociationHandler.handleRequest(SSLInformationAssociationHandler.java:132) at io.undertow.servlet@2.0.21.Final//io.undertow.servlet.handlers.security.ServletAuthenticationCallHandler.handleRequest(ServletAuthenticationCallHandler.java:57) at io.undertow.core@2.0.21.Final//io.undertow.server.handlers.PredicateHandler.handleRequest(PredicateHandler.java:43) at io.undertow.core@2.0.21.Final//io.undertow.security.handlers.AbstractConfidentialityHandler.handleRequest(AbstractConfidentialityHandler.java:46) at io.undertow.servlet@2.0.21.Final//io.undertow.servlet.handlers.security.ServletConfidentialityConstraintHandler.handleRequest(ServletConfidentialityConstraintHandler.java:64) at io.undertow.core@2.0.21.Final//io.undertow.security.handlers.AuthenticationMechanismsHandler.handleRequest(AuthenticationMechanismsHandler.java:60) at io.undertow.servlet@2.0.21.Final//io.undertow.servlet.handlers.security.CachedAuthenticatedSessionHandler.handleRequest(CachedAuthenticatedSessionHandler.java:77) at io.undertow.core@2.0.21.Final//io.undertow.security.handlers.NotificationReceiverHandler.handleRequest(NotificationReceiverHandler.java:50) at io.undertow.core@2.0.21.Final//io.undertow.security.handlers.AbstractSecurityContextAssociationHandler.handleRequest(AbstractSecurityContextAssociationHandler.java:43) at io.undertow.core@2.0.21.Final//io.undertow.server.handlers.PredicateHandler.handleRequest(PredicateHandler.java:43) at org.wildfly.extension.undertow@17.0.0.Final//org.wildfly.extension.undertow.security.jacc.JACCContextIdHandler.handleRequest(JACCContextIdHandler.java:61) at io.undertow.core@2.0.21.Final//io.undertow.server.handlers.PredicateHandler.handleRequest(PredicateHandler.java:43) at org.wildfly.extension.undertow@17.0.0.Final//org.wildfly.extension.undertow.deployment.GlobalRequestControllerHandler.handleRequest(GlobalRequestControllerHandler.java:68) at io.undertow.core@2.0.21.Final//io.undertow.server.handlers.PredicateHandler.handleRequest(PredicateHandler.java:43) at io.undertow.servlet@2.0.21.Final//io.undertow.servlet.handlers.ServletInitialHandler.handleFirstRequest(ServletInitialHandler.java:292) at io.undertow.servlet@2.0.21.Final//io.undertow.servlet.handlers.ServletInitialHandler.access$100(ServletInitialHandler.java:81) at io.undertow.servlet@2.0.21.Final//io.undertow.servlet.handlers.ServletInitialHandler$2.call(ServletInitialHandler.java:138) at io.undertow.servlet@2.0.21.Final//io.undertow.servlet.handlers.ServletInitialHandler$2.call(ServletInitialHandler.java:135) at io.undertow.servlet@2.0.21.Final//io.undertow.servlet.core.ServletRequestContextThreadSetupAction$1.call(ServletRequestContextThreadSetupAction.java:48) at io.undertow.servlet@2.0.21.Final//io.undertow.servlet.core.ContextClassLoaderSetupAction$1.call(ContextClassLoaderSetupAction.java:43) at org.wildfly.extension.undertow@17.0.0.Final//org.wildfly.extension.undertow.security.SecurityContextThreadSetupAction.lambda$create$0(SecurityContextThreadSetupAction.java:105) at org.wildfly.extension.undertow@17.0.0.Final//org.wildfly.extension.undertow.deployment.UndertowDeploymentInfoService$UndertowThreadSetupAction.lambda$create$0(UndertowDeploymentInfoService.java:1502) at org.wildfly.extension.undertow@17.0.0.Final//org.wildfly.extension.undertow.deployment.UndertowDeploymentInfoService$UndertowThreadSetupAction.lambda$create$0(UndertowDeploymentInfoService.java:1502) at org.wildfly.extension.undertow@17.0.0.Final//org.wildfly.extension.undertow.deployment.UndertowDeploymentInfoService$UndertowThreadSetupAction.lambda$create$0(UndertowDeploymentInfoService.java:1502) at org.wildfly.extension.undertow@17.0.0.Final//org.wildfly.extension.undertow.deployment.UndertowDeploymentInfoService$UndertowThreadSetupAction.lambda$create$0(UndertowDeploymentInfoService.java:1502) at io.undertow.servlet@2.0.21.Final//io.undertow.servlet.handlers.ServletInitialHandler.dispatchRequest(ServletInitialHandler.java:272) at io.undertow.servlet@2.0.21.Final//io.undertow.servlet.handlers.ServletInitialHandler.access$000(ServletInitialHandler.java:81) at io.undertow.servlet@2.0.21.Final//io.undertow.servlet.handlers.ServletInitialHandler$1.handleRequest(ServletInitialHandler.java:104) at io.undertow.core@2.0.21.Final//io.undertow.server.Connectors.executeRootHandler(Connectors.java:364) at io.undertow.core@2.0.21.Final//io.undertow.server.HttpServerExchange$1.run(HttpServerExchange.java:830) at org.jboss.threads@2.3.3.Final//org.jboss.threads.ContextClassLoaderSavingRunnable.run(ContextClassLoaderSavingRunnable.java:35) at org.jboss.threads@2.3.3.Final//org.jboss.threads.EnhancedQueueExecutor.safeRun(EnhancedQueueExecutor.java:1982) at org.jboss.threads@2.3.3.Final//org.jboss.threads.EnhancedQueueExecutor$ThreadBody.doRunTask(EnhancedQueueExecutor.java:1486) at org.jboss.threads@2.3.3.Final//org.jboss.threads.EnhancedQueueExecutor$ThreadBody.run(EnhancedQueueExecutor.java:1377) at java.base/java.lang.Thread.run(Thread.java:834) Caused by: java.lang.ClassCastException: class com.interwoven.cssdk.filesys.impl.CSDirImpl cannot be cast to class com.interwoven.cssdk.filesys.CSSimpleFile (com.interwoven.cssdk.filesys.impl.CSDirImpl and com.interwoven.cssdk.filesys.CSSimpleFile are in unnamed module of loader 'deployment.iw-preview.war' @2f3c8726) at deployment.iw-preview.war//com.interwoven.livesite.file.impl.CsFileDal.read(CsFileDal.java:159) ... 63 more
Gator Wars Gets Technical-Minded Students into Ag
FFA competition is geared for students with a mechanical background
For Walker Workman, getting a job at a John Deere dealership near home was all about exposure. He remembers as a kid driving to the beach and passing a Blanchard store in Waynesboro, Ga.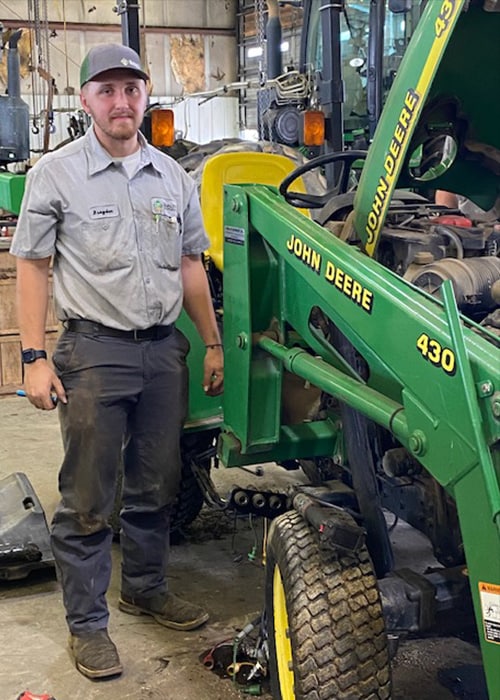 "It's always been a dream of mine to do something with my hands and be able to say I work for a big company," Workman said. "Gator Wars and Blanchard gave me both."
Started about a decade ago, the Gator Wars program was created by the FFA and John Deere to provide competition for high school students with a mechanical background, while also forging an outlet to kids who didn't mind getting their hands dirty and weren't necessarily farmers.
Over the years the Gator Wars competition has evolved, but basically consists of team competitions by chapters. Members go to workstations and diagnose "problems" presented by way of "technician-like" issues. Those can range from gapping spark plugs to setting torque wrenches to understanding electrical issues. Stations cover power train, engine, and electronics. Participants are graded on their abilities to identify and solve those problems.
Helping make it happen
Workman was involved in FFA in high school because he was drawn to agriculture. He liked working on equipment and solving problems. Gator Wars got his attention and when he found out he could get a job doing what the competition just showed him, he was hooked.
"When they talk about agriculture in school sometimes it's just about growing plants and not as much as the side that helps make that happen," he said. "Gator Wars showed me how I could help make that happen."
Richard Kershner, corporate service manager at Blanchard, said the need from the dealership side made the partnership a natural fit.
"There's a lot that factors into this," Kershner said. "There is simply the demand – more and more equipment being sold year over year. We have an aging workforce or long-time techs looking for new opportunities at the dealership. Plus, the current generation is not intimidated by all the technology. They've grown up with it. They certainly relate to all the bits and bytes."
John Arthur, president of Deere's FFA Alumni & Supporters chapter and production systems and product business manager in Cary, N.C., said Gator Wars focuses on a list of objectives.
"We want to offer a competition for the ag mechanic-minded members and connect members with our dealers, showing them real opportunities in real dealerships," Arthur said. "The goal remains about identifying talent and helping fill open technician spots at those dealerships. The events raise awareness for FFA overall and they provide an excellent volunteer opportunity for our alumni and supporter members."