Learn How We're Getting Faster with Fintech
Fintech is helping unlock new value for customers, dealers, and employees
For the better part of two centuries, our company has invented and reinvented machines of legend by embracing an innovative spirit. For us, continuous improvement is more than a slogan, it's part of our DNA.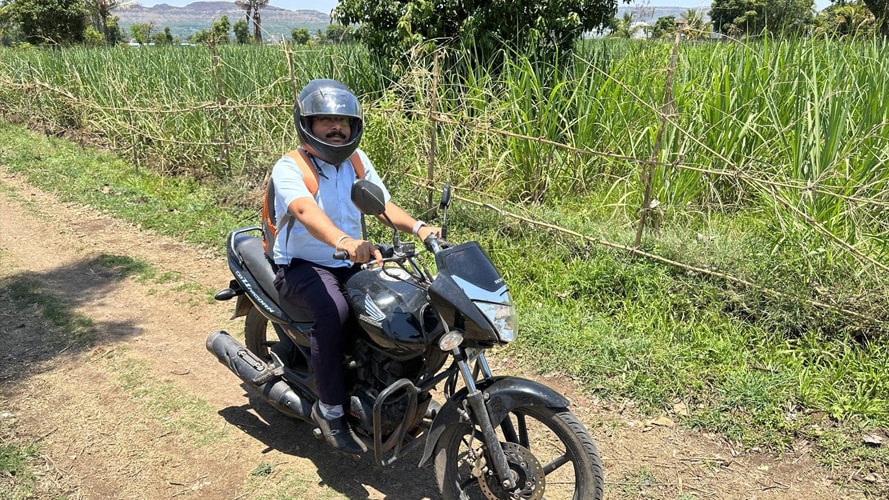 Our John Deere Financial (JDF) India team recently exhibited this by finding a solution to a challenge that was not only making their jobs of processing money less safe, but the customer experience slower.
Better, Faster, and Safer
Sagar Patil, senior territory business manager, helped explain the problem.
"I was making multiple multi-hour trips by motorbike to visit customers in very rural areas, which was, at times, unsafe because of challenging road and weather conditions," Patil explained. "I had to carry cash, which was risky, and had to make return visits if there was a missing signature or a single missed document.
"It was exhausting, inefficient for us and the customer, and left me with little time to spend with family."
The process was also proving to be challenging for JDF India leaders. After all, Deere was making great strides in the marketplace and business was good. Something had to be done, but it had to be done strategically and deliberately.
"We had to provide better experiences for customers and better efficiencies to our field teams," said Abhay Dhokte, managing director, JDF India. "So, we leveraged fintech companies and their expertise to do our jobs better, faster, and safer."
Almost immediately, the collaborative effort began to work.
"Fintech helps field teams with faster customer acquisitions thanks to digital onboarding tools. In addition, it enables faster collections by offering multiple digital payment options and makes the process much more convenient for customers," Dhokte said.
What is Fintech?
Put simply, fintech is financial technology such as software, apps, and algorithms that improve banking or financial services experiences.
"Think of fintech this way: If you've transferred money through Venmo or GPay, then you've used fintech," said Vinodh Sankaranthi, fintech lead, JDF. "Likewise, if you've used a digital bank such as Chime, N26, or an alternative lending service such as SoFi or Klarna, then you've used a fintech."
For JDF, fintech is a broad term that refers to a financial company or a startup that offers services such as financial solutions, customer experience solutions, and process improvements.
"Fintech is vital for us because of the rapid evolution of technologies and solutions that can provide value to our customers, dealers, and employees," Sankaranthi said. "We can't build all of these services and technologies on our own, so fintech helps us experiment faster, fail faster, enables greater speed to market, and provides a way for us to stay current with new tech products."
A Fintech Future
The fintech initiative in India was known internally as "Do More with Less." And doing more is exactly what JDF has done when it comes to unlocking value for customers, dealers, and employees.
"For example, in a recent collaboration with an India fintech, we released multiple payment options for customers," Dhokte said. "Now, customers and field agents don't have to visit a bank to deposit cash, which greatly reduces or eliminates travel, improves efficiency, and boosts security."
Which makes territory managers like Patil very happy.
"Fintech has empowered us to be more efficient and agile and is a vast change in the way we do business, because processing times have been reduced from several days to a few hours or even a few minutes," Patil said.
There's another benefit for Patil, too.
"Because customers can pay their installments from the comfort and safety of their home, we save time. I can plan my day more effectively and get more opportunities to be with my family and friends, as well as work on developing new skills."