Gaurav Bansal Helps Make Autonomous Tractors a Reality
Blue River Technology employee helps answer the complex autonomy question of when (Hint: it's now!)
Gaurav Bansal spent the better part of 15 years chasing the elusive promise of autonomous vehicles at Mercedes Benz, Toyota, and Airbus as an engineer in Silicon Valley. In that tech sphere, the question of "when" was often followed by a flowchart of answers. Certainty was a fairytale.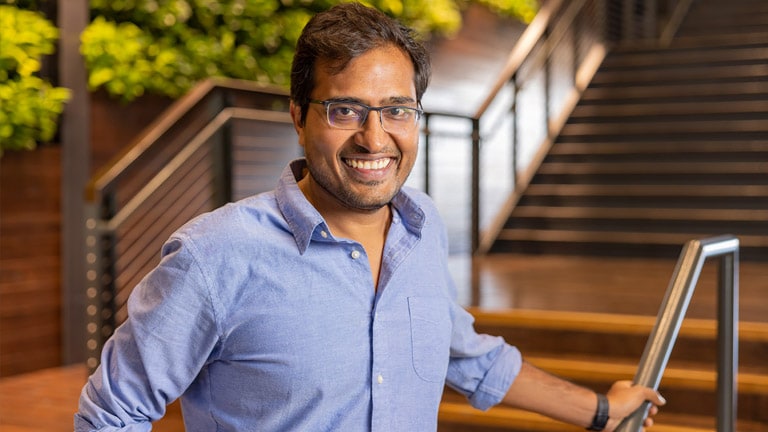 "In Silicon Valley, when you ask how soon a company's autonomous project would be ready to ship you got a long answer," Bansal said. "'Well,' you'd hear, 'If this, then that.' It was never simple."
In 2019, Bansal found a chance to bring autonomy to market much sooner, but not in a car or plane.
The opportunity came in 2019 via a job offer from the ag tech company Blue River Technology, which is now a part of John Deere. Before making a decision, Bansal asked the ever-elusive question: When would the autonomous tractor he had heard about be ready for customers? He braced for a meandering reply.
Instead, Willy Pell, vice president of autonomy at Blue River, gave an unexpected answer: "2022."
"That was it," Bansal said with a tone of amazement. "Just one word."
A career defines a choice
What makes Blue River the perfect fit for Bansal is the combination of customer need, societal gain, and speed to market. And what Bansal calls "bad math."
Having a customer spend all their time in the cab of a tractor is not ideal. Being able to do multiple tasks at one time is where autonomous driving comes in.
"In the next 10 years the ag labor force is expected to grow by 1 percent," he said. "And in the next 30 years food consumption will increase by 50 percent due to population growth."
It's a dilemma rooted by inefficiencies, Bansal, director of engineering autonomy, said. "Having a customer spend all their time in the cab of a tractor is not ideal. Being able to do multiple tasks at one time is where autonomous driving comes in."
Bansal's previous work came with limitations and restrictions. In the auto industry there were the safety concerns of vehicles traveling at high rates of speed. Mix in pedestrians, other vehicles, and road construction and the hurdles got higher and higher.
But agriculture is different.
"It's often just one tractor in a field, going 6 to 10 miles an hour and no pedestrians. The environment is much more ready for this technology," Bansal said.
Mission and vision meet
Working at Blue River on John Deere's 8R autonomous tractor, Bansal caught up quickly. He would help design the vision system -- a machine learning model -- that acts as the eyes of the tractor, allowing it to drive autonomously. His dream of making a difference soon became a reality.
As a child growing up in Bharatpur, India, Bansal remembers the day his family got its first phone. He was 10.
"I was amazed by what it could do; I stood by it for three days, just waiting for it to ring."
I can't see a better place to be if you're in tech and if you want to be part of something big," Bansal said. "Because autonomy is the next step for humanity. It's about changing people's lives not only today but for the next world.
Bansal, perhaps revealing his engineering path back then, was captivated by the technology and what it meant. "It connected people," he said.
He's carried the power of connection with him ever since. When he talks to customers about what autonomy can mean for them – their lives and livelihoods – Bansal said, "They tell me it's going to change everything."
Today, Bansal is responsible for delivering the perception system for the autonomous tractor project, referring to it as "technology for change." It's the kind of mission that provides purpose and the vision, he said, remains impactful. The Blue River team has been challenged to build technology that enables a fully autonomous farm within the next 10 years.
"I truly believe that Deere's going to become one of the best robotics companies in the world. We're not at the end of the beginning. We're just getting started here and we need smart people to join us," he said.
The 8R tractor was just the start.
"I can't see a better place to be if you're in tech and if you want to be part of something big," Bansal said. "Because autonomy is the next step for humanity. It's about changing people's lives not only today but for the next world."