Meet Two Students who Met Our Cyber Tractor Challenge
Students invited to year two of John Deere's digital security event
Last year, Katrina Rosemond was a student taking her first crack at testing for potential vulnerabilities.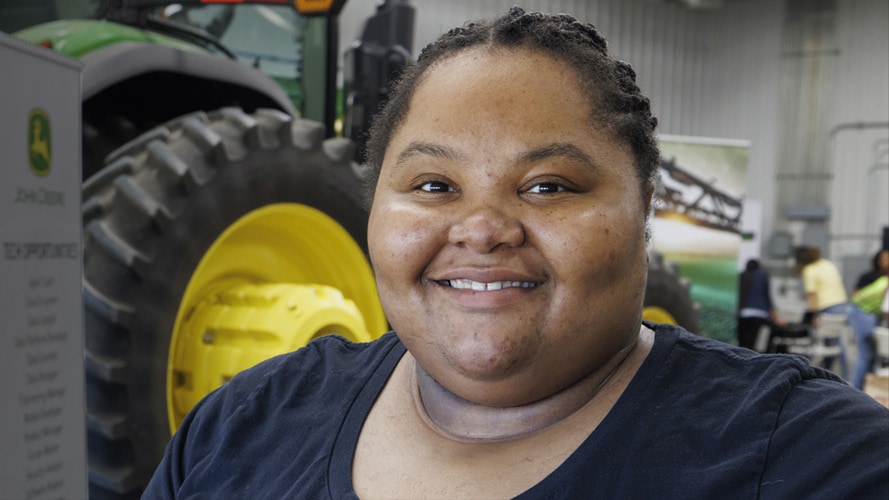 This year, the third-year computer science Ph.D. student at the University of Colorado will be part of the John Deere team helping lead the company's second annual Cyber Tractor Challenge event.
"There's no better way to gain hands-on experience with the tractor than participating in the challenge," Rosemond said.
What is the Cyber Tractor Challenge?
The event—to be held in June—gives students the opportunity to take cyber security classes and work on the embedded systems on real equipment. This year, 30 students from around the country will be invited to one of our test farms in Iowa to get a hands-on experience, working inside Deere equipment.
Ethan Luebbering, Director of Recruiting for the Cyber Tractor Challenge, said the team is working together to make this year's event even stronger.
"Industry experts, professors and John Deere employees will be guiding them every step of the way" he said of the students. "Our plan is to prepare them with all the skills and tools they need to be effective during the event and all of the experiences required to start a career in Cyber Security."
And that is the goal of the week-long event and to explore John Deere's technology stacks while unlocking the next generation of cyber security talent.
What Makes the Challenge Interesting?
Rosemond, who will be interning with the Product Security team and volunteering for the Cyber Tractor Challenge, is looking forward to being on the other side of things this time around.
"What I find most rewarding about the work is the ability to help protect others," she said. "So, by helping to secure critical infrastructure, I'm doing my part to help protect others."
Trent Walraven, who participated in last year's event as a Deere intern, will also be back this year to help the event team. He wants to make this year's event as special for the students as it was for him last year.
"I was really impressed at how open everyone was at the event, not just to me as an employee, but all the students," he said. "Whenever a question was asked even if it was something super specific about how a certain piece of software worked, it felt like real answers were given about how things worked under the hood."
Advice for Aspiring Cyber Security Students
So, what would Walraven and Rosemond tell those participating in this year's event, or considering a career in their field?
"Something I would say to people … is that if you find something interesting in a subsection of Cyber Security jump in headfirst and start asking questions," Walraven said. "In my experience people already in the field love to help new people and will gladly answer questions in a way that helps, but make sure you also learn something along the way to the solution." Rosemond agrees.
"I always tell people that if they're interested in cybersecurity, then they should go for it," she said. "While challenging, it is also rewarding, and you'll never get bored. The saying goes, 'If you build a ten-foot wall, you'll create a market for ten-foot ladders.' The same thoughts apply to cybersecurity, the cyber landscape is changing daily, and we must have those willing to help keep it secure."