Stand Tall
In the face of adversity, Samantha Bull always finds a way
On a hot August morning at a logging site in Lafayette County, Arkansas, Bull IV Logging's crew harvests pine on a 140-acre tract. As if the oppressive heat isn't enough, the company faces another challenge: two of its four logging trucks are down. Owner Samantha Bull and Foreman Tad Ward enlist local contractors and a few of their operators to help with trucking. Keeping up with the 70 to 80 loads a week that the company typically hauls for Weyerhaeuser means all hands‑on deck.
It's just another day in the life of a logger. Inclement weather. High fuel prices. Lack of qualified workers. Supply chain issues. There's always some new obstacle to overcome. Bull takes it in stride. "You're going to have good times and bad times," she says. "You're going to have your ups and downs. But loggers always find a way. We've always made it through and done the best we can."
Four for logging
Bull knows something about overcoming hardship. She grew up in Texarkana, Arkansas, just north of her current hometown of Genoa. Her father drove a log truck and was tragically killed in an accident in 1993. The following year she met her high school sweetheart and future husband Michael. Fast forward almost two decades and Bull is a happily married stay-at-home mom with two daughters, while Michael supports the family with his logging company.
Then in March 2013, tragedy again struck. Michael was diagnosed with an aggressive cancer, Burkitt lymphoma. He passed away in November the same year. A widow at 33, Bull was not prepared. "I hadn't really paid attention to the business," she recalls. "Michael made it all work, and he loved it."
With no experience in logging, she had a decision to make. "Michael had worked so hard for what we had. I decided I had to keep it going."
Bull reformed the company under the name Bull IV Logging, a play on words with a double meaning. The IV represents that they were a family of four. It also signifies that her husband Michael was "for" logging. "Michael was always in a big hurry," Bull recalls. "He had a lot of drive and ambition. He was very passionate."
Bull wanted to preserve her husband's legacy, but those first few years were overwhelming. "It was rough. But I never really thought about quitting. I just did the best I could."
Sheer determination
Without Michael providing direction, some crew members became apathetic and didn't seem to care about doing what needed to be done. "We weeded out quite a few people, and today we've got a pretty good crew," says Bull. "Without them, we wouldn't be what we are today."
One of Bull's hires included a new foreman, Tad Ward, who started in June of 2014. Ward grew up working with his father and brother in the family logging business. "It was tough and the days were long, but I loved it," he recalls.
The two families knew each other. Ward had quit logging after his father died, when Bull approached him about helping her. "I told my brother, who was still logging, that she really needed help. He told me that I should take care of it. And I'm glad I did."
Bull gives Ward a lot of credit for helping her turn things around. "I have always done the paperwork, but I learned so much from Tad about forestry and the logging operation," says Bull. "Above all, he taught me to stand up for myself. Now I just say what I need to say and it doesn't bother me. I've become more hardheaded."
"When she started, she didn't really know the business and people took advantage of her," says Ward. "But she was persistent and became tougher and stronger. I admire her determination, her sheer will to keep the company."
Bullish on Deere
Bull IV Logging has been working for Weyerhaeuser since 2015. Ward had worked with Weyerhaeuser, so he reached out to a few people he knew. "That was a pretty big step," says Bull. "We had been busy before then, but it was much more hit‑and‑miss."
Weyerhaeuser owns almost seven million acres of timberlands across 11 southern states from Virginia to Texas. In the particular area Bull IV Logging is working, Weyerhaeuser owns approximately 8,000 acres. Bull IV Logging has thinned many of the tracts in the area but has been mostly clear-cutting them for the last five or six years.
Bull IV Logging has always used John Deere equipment. Today the company's machines include a 748L‑II Skidder, a 643L Wheeled Feller Buncher, and two 437E Knuckleboom Loaders. Ward has run a skidder since he was 20 years old. "I love the 748L‑II. It's awesome in wet ground, and on dry ground it can pull a massive load. On long skids you can rotate the seat to improve rearward visibility and avoid neck strain. It's an amazing machine."

"I admire her determination, her sheer will to keep the company."
The versatile 643L Wheeled Feller Buncher gives the company flexibility to respond to changing demand. "The 643L is fast, smooth, operator-friendly, and comfortable. It's a great machine. It is plenty capable of doing clear cuts, but we can also do first thins. You never know about the markets."
Uptime is key to the company's success. "If we're down even one machine, we're not making money," says Ward. "I come out here to log, and Deere machines are stout and reliable."
Bull IV Logging depends on the support of its local John Deere dealer, Stribling Equipment. "You couldn't ask for better people," says Ward. "If we need a part or service, they're always there. They've done a lot for us."
Ward and Bull also depend on each other. "I don't know if I'd still be logging right now without Samantha," says Ward. "She's really got her hands full every day. Doing paperwork. Chasing parts. Raising two daughters. Taking care of us out here. She's a great person and a great mother."
"I'm very proud of how far we've come, from where we started to where we are today," says Bull. "It's a big accomplishment." Looking back on the decision she made almost a decade ago to continue on, she reflects, "I'm glad I did it."
The logging industry needs more women like Bull. "There are not a lot of women in forestry," she says. "At first that bothered me, but now it doesn't. I really enjoy it. And I learn something new every day."
Bull IV Logging is serviced by Stribling Equipment, Texarkana, Arkansas.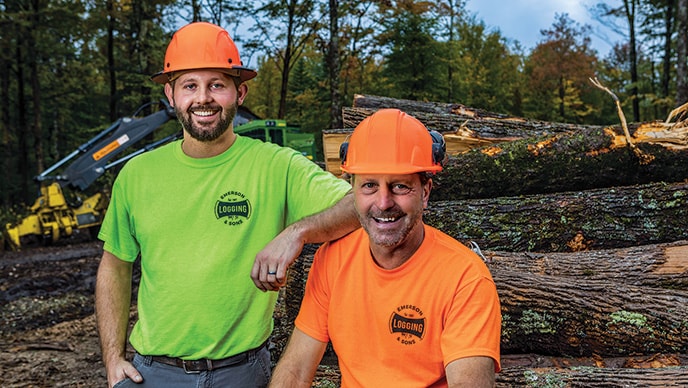 The Green Mountain Boys
The father-son duo of Chris and Zachary Emerson have propelled the family logging business to success.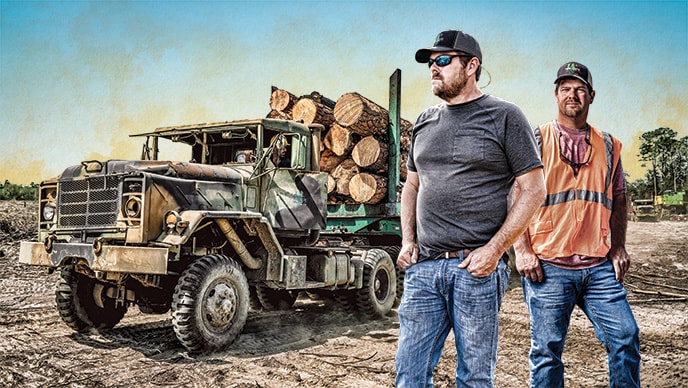 Won't Back Down
A third-generation logging company in Georgia depends on durable John Deere machines.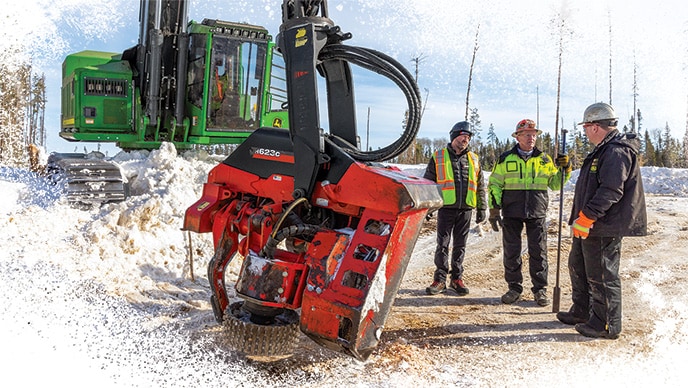 Hired Hand to Wanted Man
A.R. Williams Logging is using the latest John Deere technology to grow the business and move forward.
Share your journey
Do you think your company's story would resonate with others in the logging industry? To be considered for a future edition of The Landing, tell us about your journey by filling out this form.