Growing Tall
Through vertical integration, Pleasant River Lumber and A&A Brochu Logging have grown into one of Maine's largest lumber producers
As the logging industry struggles with finding young operators to fill an aging workforce, Jason and Chris Brochu, co-presidents of Pleasant River Lumber, Dover-Foxcroft, Maine, decided to do something their family hadn't done in generations: start a logging operation.
In 2020, the brothers brought back A&A Brochu Logging, named after their father Adrian and uncle Andre, who logged under that name decades earlier. The goal of the new commercial thinning operation was to feed the family's Pleasant River Lumber mill in Enfield while attracting fresh talent.
Pine Tree State of mind
Over 80 percent of Maine is covered in forest, making the Pine Tree State fertile ground for a growing logging company. The original A&A Brochu Logging was founded in 1968. "It was a big operation," says Jason. "At its height, the company had around 80 employees and 35 cable skidders."
In the early 1980s, the Brochu family entered the sawmill business, building a sawmill in partnership with a Quebec family. Jason and Chris hadn't been a part of the family business until 2004, when their father asked them to help run an antiquated sawmill operation, Pleasant River Lumber in Dover-Foxcroft, learning the ropes from their uncles Luke and Guy Brochu before taking the reins.
"My brother and I grew up around logging and the sawmill but were never involved in it," says Jason. "Our father wanted us to do our own thing, so we did." Both attended the business program at Bentley University in Waltham, Massachusetts, before making their way back to Maine.
With the brothers and their father at the helm, Pleasant River Lumber bought mills in West Enfield, Ellsworth, Sanford, and Jackman from 2008 to 2015. The company also started a trucking company, A&A Brochu Trucking, while acquiring Ware-Butler Building Supply, a chain of 14 building supply and lumber stores, across Maine. Today Pleasant River Lumber employs approximately 800 people across all of its businesses.

"As we vertically integrate, it's important that our mills are designed to fit the land."
From stump to store
One of the largest producers and distributors of finished lumber in Maine, it was natural for Pleasant River Lumber to reenter the logging business. Vertical integration, consolidation, and economies of scale made good business sense in an environment where many owners are retiring and getting out of the industry.
"Logging is tough in Maine" says Jason. "In our area, it's predominately service contract work. Land is managed aggressively to keep costs down and generate as much revenue as possible for the landowner. We took it upon ourselves to help make sure the harvesting capacity for our mills was there."
"Mills in the state of Maine do not have enough volume in their yards," says Toby Pineo, general manager of A&A Brochu Logging. "It's all being constricted at the logging level because the industry is not in a healthy place."
Three years ago, A&A Brochu Logging started its first processing crew to thin spruce and fir stands. Through acquisitions, the company added another eight logging operations and today runs a total of 19 full-tree and cut-to-length crews.
All of the spruce and fir that is harvested feeds the company's four mills. "As we vertically integrate, it's important that our mills are designed to fit the land," says Pineo. "A lot of the old paper-company ground we harvest is now timber ground. Most of the wood that our operations are harvesting was destined for a market that didn't exist when it was planted."

"Jason and Chris have the foresight to make the industry attractive, and technology can help do that."
Pleasant experience
In a competitive environment and consolidating industry, having reliable, productive equipment is key. The company's large fleet of John Deere equipment includes tracked feller bunchers, skidders, and log loaders.
"Eight of our crews are predominantly John Deere machines," says Pineo. "The machines are productive and reliable, and dealer support is outstanding. Plus, the level of technology on this forestry equipment is excellent. To run anything but a John Deere machine feels like a detriment to where I really want the company to go. When you add it up it's an easy decision."
The John Deere TimberMatic™ Maps and TimberManager™ map-based production-planning and -tracking system allows A&A Brochu Logging to share real-time production and location information for efficient and effective decision making. "Mapping technology allows you to plan your work in a way not otherwise possible," says Pineo. "We are just scratching the surface of what we're capable of with TimberMatic Maps and TimberManager."
Having the machines talk to each other offers many advantages, according to Pineo: "In a heavy snow, we can track the precise locations of piles, so we don't lose valuable wood. During the summer, we can direct skidders and forwarders to high-quality, high-value pieces of wood first and have them get pulpwood later. In either case, skidding time is more productive and efficient. You are not flailing around to find wood."
Technology has helped attract young people to the company. "We're a family company and we take the health of the industry seriously," says Pineo. "In an industry where the average age is 50, you need good long-term answers. Jason and Chris have the foresight to make the industry attractive, and technology can help do that."
"We've got an incredible young workforce and are doing everything we can to recruit them," adds Jason. "Many young people don't want to leave Maine but often have to in order to get the job and income they want. To attract them, you must accept that it's different now and design the work to fit the workforce, not the other way around. With the technology we have now, logging is interesting to them."
Brochu's favorite part of his job is offering satisfying, well-paying careers to people. "We grew up in Maine around this industry," he says. "We're able to offer good machines and work environments. To be able to invest in people's futures, that's the most fun part by far."
Pleasant River is and always has been, well, a pleasant place to work. "I'm proud of the culture we've developed even through all the acquisitions," says Jason. "We've grown substantially and blended into one common vision. The most exciting part is not looking at where we are now but where we could be in 10 years."
A&A Brochu Logging is serviced by United Construction & Forestry, Hermon, Maine.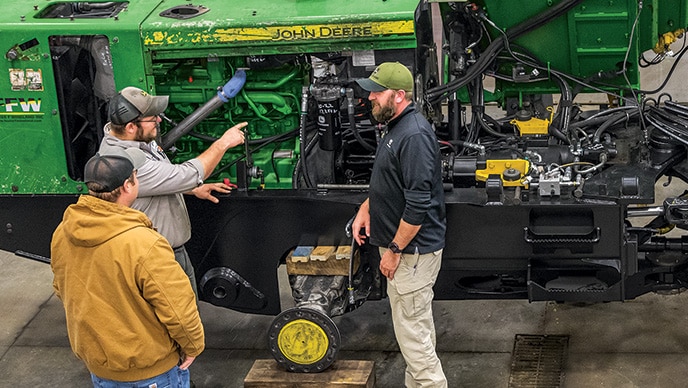 Second Wind
The John Deere Powertrain ReLife Plus program extends the life of skidders while helping loggers manage costs.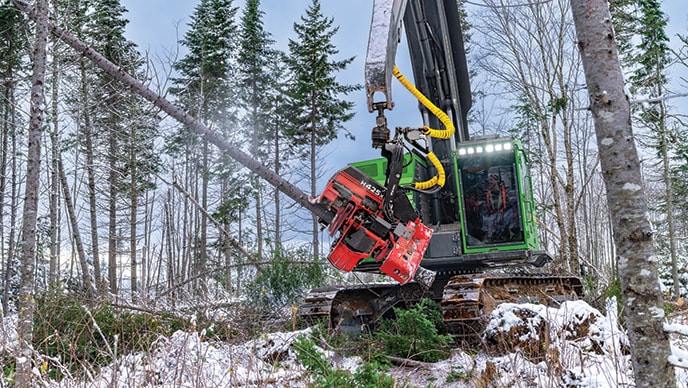 Starting at Mile One
See how a logging company in the heavily forested northeastern U.S. has found a way to separate itself from its competitors.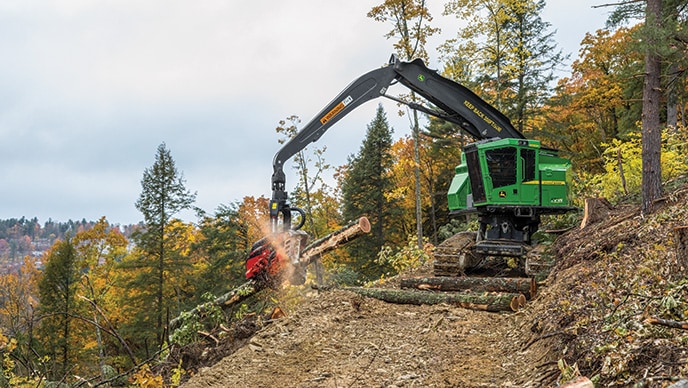 Trailblazers
Learn how a Pennsylvania logging company has utilized durable John Deere machines and innovative strategies to master steep-slope logging.
---
Do you think your company's story would resonate with others in the logging industry?
---