The Green Mountain Boys
Vermont loggers protect the land
The first thing that strikes visitors to Vermont is its natural beauty. In the fall, the "Green Mountain State" becomes a patchwork quilt of color. Sugar maples create deep fiery reds and oranges in fall foliage. Not surprisingly, tourism is the state's biggest industry, followed by manufacturing. Forestry contributes nine percent of Vermont's total manufacturing output and is a $1.5-billion industry.
Almost 80 percent of the state is covered in forestland. Zachary Emerson, co-owner of Emerson & Sons Logging, grew up in Groton, near one of the state's most picturesque forests. His father and company founder, Chris Emerson, was raised in nearby Newbury. "Vermont is small and quiet," says Chris. "It's like a big family. Everybody knows each other."
This land is our land
Emerson & Sons Logging harvests sugar maples and other hardwood including ash, yellow birch, and beech, as well as softwood such as spruce, fir, and hemlock. About 50 percent of the wood the company harvests is roundwood. The other half is processed with a chipper and shipped to local biomass plants.
Logging in Vermont is unique, according to Zachary. "We're often working with private landowners on small tracts of land. We work hard to improve their land. We treat it as our own."
Vermont has the highest concentration of sugar maples in the United States, so it is appropriate that the sugar maple is the state's official tree. The state's famous maple syrup is made from the sap of the sugar maple. Vermont is the largest manufacturer of maple syrup in the U.S., producing two million gallons each year, more than a third of the nation's total.
At a logging site near Emerson & Sons' shop in Groton, Zachary brings a jug of Vermont maple syrup and fresh cake donuts for his dad and the rest of the crew. They agree the combination is better than a pancake breakfast.
The company's history with John Deere goes back to the late 1980s, when Chris ran several Deere cable skidders. "Deere machines are extremely reliable and the service we get from our local dealer, United Construction & Forestry, is top-notch," says Zachary. Today the company runs a John Deere 853M Tracked Feller Buncher and a 648L Skidder, producing around 30 loads a week. "We mostly work in steep terrain, so we have to run tracked feller bunchers," says Zachary. "The 853M has the power and stability we need."

"Deere machines are extremely reliable and the service we get from our local dealer is top-notch."
Watch the Full Video
A huge leap
As a child, Zachary would tag along with Chris to the forest every chance he could. "I loved the freedom I felt in the woods. It really inspired me to become a logger."
Throughout high school, Zachary would work for his dad during the summer and holiday breaks. He started working for him full time after graduating in 2006. At the time, he ran a cable skidder, while his dad felled trees with a chain saw.
In 2016, Zachary bought into the business and formed a partnership with his father. "I'm so blessed to work with my dad," says Zachary. "Sure, it has its ups and downs, but we get along great. We're best friends, more or less."
"We have a great relationship," agrees Chris. "I'm very proud of him. He really stepped up, and our business has grown tremendously since I handed him the reins. He's so good at dealing with landowners and foresters and using social media. It's gotten so I can just show up for work and put all the pressure on him (laughs)."
The logging business has changed significantly over the years, according to Zachary. "The biggest change has been just the technology — moving from hand-felling and a cable skidder to a grapple skidder and more computerized machines with mapping systems. It's taken a huge leap."
Another form of technology that Zachary has embraced is social media, which he has used effectively to keep landowners informed and attract new customers. "I'm passionate about sharing the quality of our work. We try to help each landowner achieve their goals, for example, whether it's growing sawtimber or wildlife management."
His loyal following of 1,400 on Instagram has caught the attention of John Deere (see related #DeereInTheWoods article). As part of Zachary's future relationship with the manufacturer as an influencer, he'll be able to try out some of the latest John Deere Precision Forestry technology and share his experiences.
Chris admits he is not savvy with social media like his 34-year-old son. "I don't have an Instagram or Facebook account." But he believes the future of his logging company is in good hands. "I have another son who is very interested in coming on board. He works for us every chance he gets. And Zachary certainly has a good handle on everything we are doing. Things are looking great."
Emerson & Sons Logging is serviced by United Construction & Forestry, Williston, Vermont.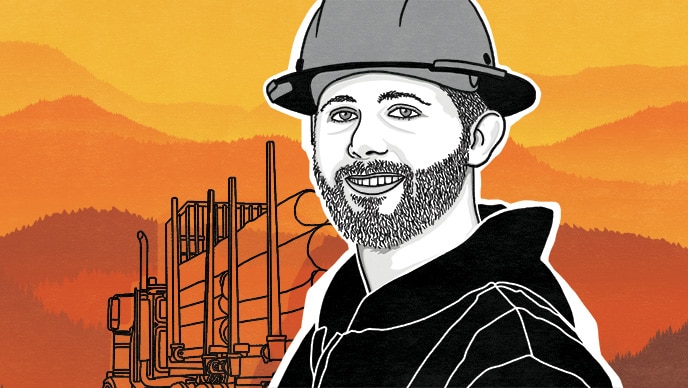 #DeereInTheWoods
Authenticity and expertise have helped Zachary Emerson amass a major online following.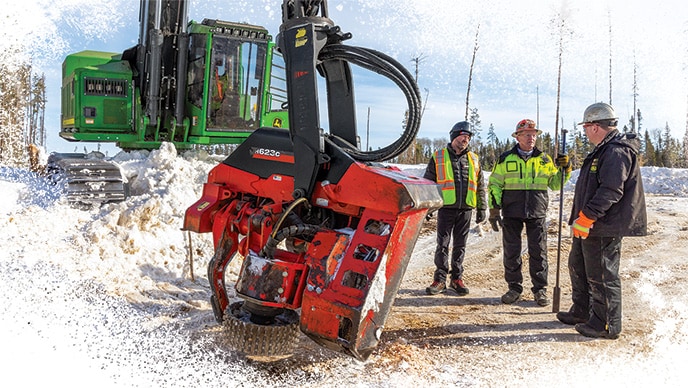 Hired Hand to Wanted Man
A.R. Williams Logging is using the latest John Deere technology to grow the business and move forward.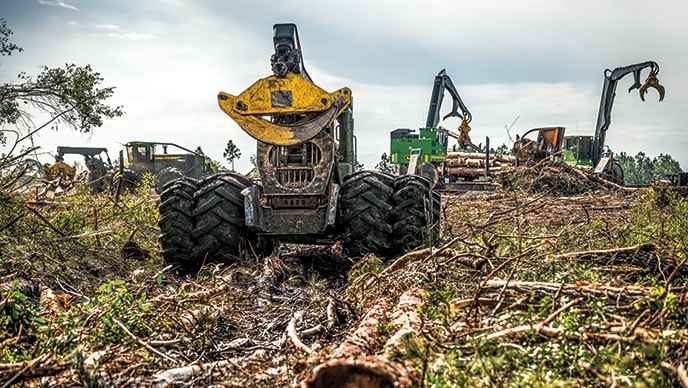 The Legacy We Leave
Teamwork is the name of the game for a thriving logging company in Georgia.
Share your journey
Do you think your company's story would resonate with others in the logging industry? To be considered for a future edition of The Landing, tell us about your journey by filling out this form.