Agriculture, Specialty/Niche
June 01, 2023
Land of the Faroes
Viking legacy in the North Atlantic.
Sheep graze the impossibly steep, corduroy cliffs rising straight from the cold Atlantic, holding firm on the vertical slopes like refrigerator magnets. Legend has it that when the Vikings first beached their boats on the Faroe Islands 1,200 years ago, there were already Irish sheep on those cliffs. There's no word on how many Celts, who first settled the islands three centuries before, were there to see the Vikings arrive. But sheep are at the heart of the name of the Faroe Islands, whether it was from the Old Norse færeyiar for "sheep islands" or the Old Irish féarach for "pasture."
In the Faroe Islands, pasture still seems brand new, just like the sweeping volcanic cliffs and U-shaped glacial fjords. Soil drapes over rocks like a thin veil, lumpy and torn. Deeper deposits are boggy and rich with acidic peat. Water leaves gashes in the turf as it runs to the sea, and it leaps from the cliffs in dramatic waterfalls.
Wooly, thigh-high sheep are still everywhere on the Faroes' 18 treeless islands. They sashay across lonely roads, which dip into inter-island tunnels or dead-end at ferry terminals that tie together the tiny country, a territory of Denmark with its own language and government.
Sheep graze lawns in the capital city, Tórshavn, and more than 100 other villages and towns. And they hunker down in shallow depressions behind lichen-spattered rocks. Those are crucial hiding places when storms blast their way east across 400 miles of uninterrupted sea from Iceland.
One breed. Faroese sheep are the only breed of sheep allowed on the islands: sturdy, little short-tails that are probably very similar to the first sheep introduced to Europe. The population crashed in the 1600s and again in the 1800s, notes Jens Ivan í Gerðinum of the Faroe Islands Agriculture Agency, so farmers imported similar sheep from Iceland and the British Isles to breed against the survivors. Today's Faroese sheep are ideally suited for the islands.
"They seek the highest mountains and the steepest cliffs," says Gerðinum. "If you think about fully utilizing the natural resources in as sustainable a manner as possible, they fit quite perfectly."
The Faroese meat industry is just as wild as the sheep themselves. There is no commercial slaughterhouse on the islands, so harvesting is handled on the farm or in the villages. Families buy carcasses or cuts from their neighbors or look for meat on Facebook. Even supermarkets and restaurants buy meat from the farm.
"It's a bit of the Wild West sometimes because we don't export any sort of meat or milk," says Gerðinum. "It's like the black market. And if you ask the insurance company how many ewes there are on the Faroe Islands, they'll say there are 5,000 because that's the number that's insured. But we have 75,000 or 80,000 breeding ewes. Everybody knows it."
The 53,000 residents of the Faroe Islands have a huge appetite for lamb, so local flocks only fill 50% of the nation's demand. But only Faroese sheep have just the right balance of meat and fat, and just the right lipid profile to ferment when hung for months in the islands' cold, salty sea breeze. After legs hang in vented sheds from October through April, the result is skerpikjøt. Slices from a black-and-white haunch are chewy, with the deep, sour funk of stormy winters, damp barns, and ancient ways.
Indoors. Eyðun Eliassen's 200 ewes summer on slopes that arc above the village of Trøllanes like a huge amphitheater. Eliassen's skerpikjøt may be traditional, but his husbandry is thoroughly modern. He overseeds his pastures with grass seed from Denmark, which boosts forage quality for about 3 years before it is overwhelmed by native grasses. And after he and 5 or 6 friends walk the flock into the village for slaughter in October, Eliassen's ewes don't return to the mountains like many others do. He and his son shear them again and put them inside for a winter of hay from a 20-acre patch on his property, imported English concentrate, and breeding in a slat-floored barn.
"They get 0.8 lambs per mother the old way—some years it's better, some years it's worse," Eliassen says.
His way yields an average of 1.5 lambs per ewe, each one yielding high-quality meat that always sells out.
"If one of my customers dies, in October his grandson is calling to say, 'I want the meat,'" Eliassen says.
Sheep are not a way to get rich in the Faroe Islands. The coarse wool is almost worthless, though traditional Faroese fishermen's sweaters fetch a premium. At 15 kilos (33 pounds), the little carcasses don't weigh much. But Eliassen rounds out his business selling sausage, raising ducks and geese, and tending the local lighthouse. When seabird populations are high enough, he also nets puffins, a local delicacy.
Robots. Near the end of the road, on the northern island of Vidoy, Roi Absalonsen represents a new generation of Faroese farmer. His father was a fisherman, by far the dominant industry in the tiny nation. But Absalonsen was drawn to farming, so he went in with his uncle and another partner to buy 1,300 metric tons of milk quota and the 110 cows to provide it. Two cuttings of hay per year can only dry a day or two between rains, so every chore is a race against the weather.
Two milking robots and an automated feeding system help, especially because labor is hard to find in the Faroe Islands—most farmworkers are young Danes on a 2-to-3-month adventure. Absalonsen says 60% of the country's milk goes through robots.
His farm—the largest of 16 dairies left in the Faroes—supplies about 20% of the country's milk. Through the farmer-owned Raska brand, the Faroe Islands are proudly self-sufficient in fluid milk. Isolation is key: it takes 2 days to sail milk from Denmark to Tórshavn, so local milk is fresher. However, Faroese dairy farmers have to compete with European Union producers on butter, cream, and yogurt.
Though the country is not a member of the European Union, its markets are open to EU foods.
"You have to remember that 90% of our gross domestic product is export of fish, and we always sacrifice farming to get into the European market," says Gerðinum at the Agriculture Agency. "It's hard to say when I love farming, but that's where the real money is."
Fish, which thrive in the clean, cool waters of the Faroes, have earned the tiny nation a big seat at the table in global trade talks. The industry is roughly split evenly between wild-caught cod and farmed Atlantic salmon. And now, a tiny seaweed company may represent the next generation of riches from the islands.
At Ocean Rainforest on Streymoy, workers massage seed into ropes that hang from floats. Twice a year, they return to cut the ribbon-like seaweed off the lines.
Kristina Arge says demand for the mineral-rich seaweed as feed and even protein for plant-based human food has been huge.
"My role has been to apologize and say, 'we're sold out,'" she says.
17th generation. At 900 years old, Johannes Patursson's house, Kirkjubøardarður, or King's Farm, is said to be the oldest continually inhabited wooden house in the world. He is the 17th generation of his family to farm the place. Like his ancestors since 1557, Patursson leases his farm from the government. For the buildings and almost 2,000 acres of pasture, he pays 200 Faroese kroner ($28.69) per year, a figure that hasn't changed in many, many years.
His lease requires him to graze at least 323-1/13 sheep, 3-1/2 cows, and 2 horses. He sold his dairy quota and replaced 20 dairy cows with 3 Scottish Highland heifers ("Our accountant said it was more profitable to milk tourists," he quips) and focuses on sheep and hosting visitors for delicious Faroese dinners. Only one of his children can inherit the lease—that's the way it goes in the Faroe Islands on about half of the nation's farmland, which is owned by the state. If no heirs take up the lease, the government will find another tenant for the house, a pair of medieval chapels, the land, and all the improvements Patursson's family have made.
Patursson points out that life in the Faroes—tending sheep, fermenting meat, hauling nets—is a testament to sustainability.
"Sustainable is vital to all of us," he says. "In the old days, it was easy: if it wasn't sustainable, all the people would die." ‡
Read More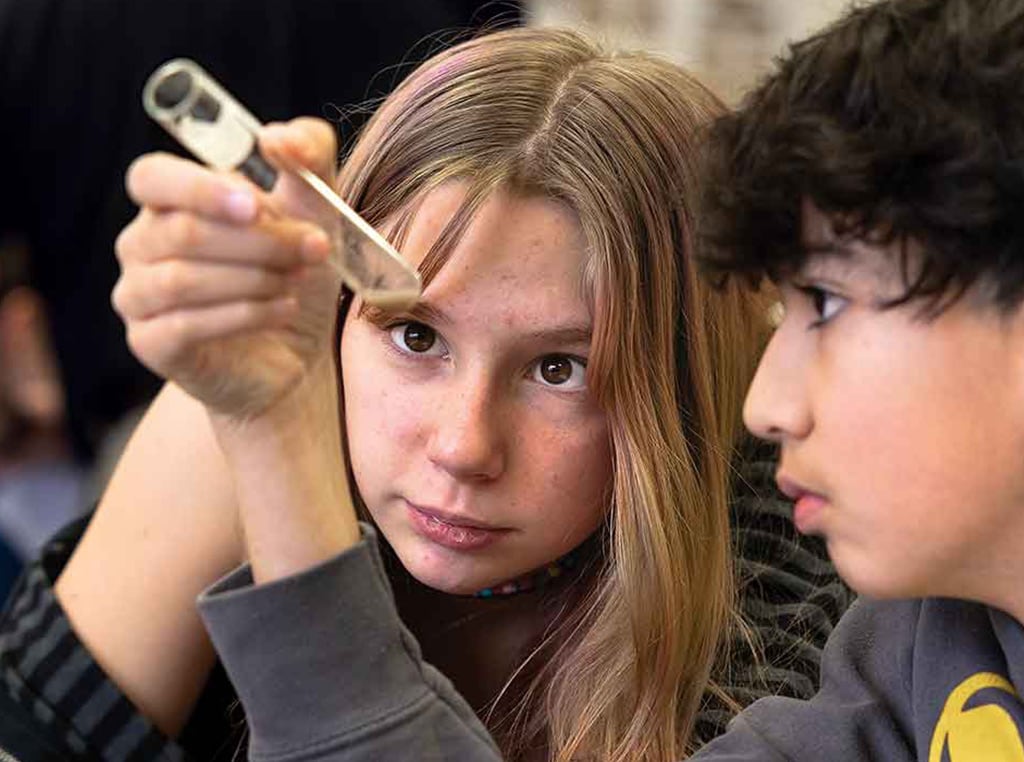 AGRICULTURE, EDUCATION
Corn in the Classroom
Kansas Corn STEM engages young minds.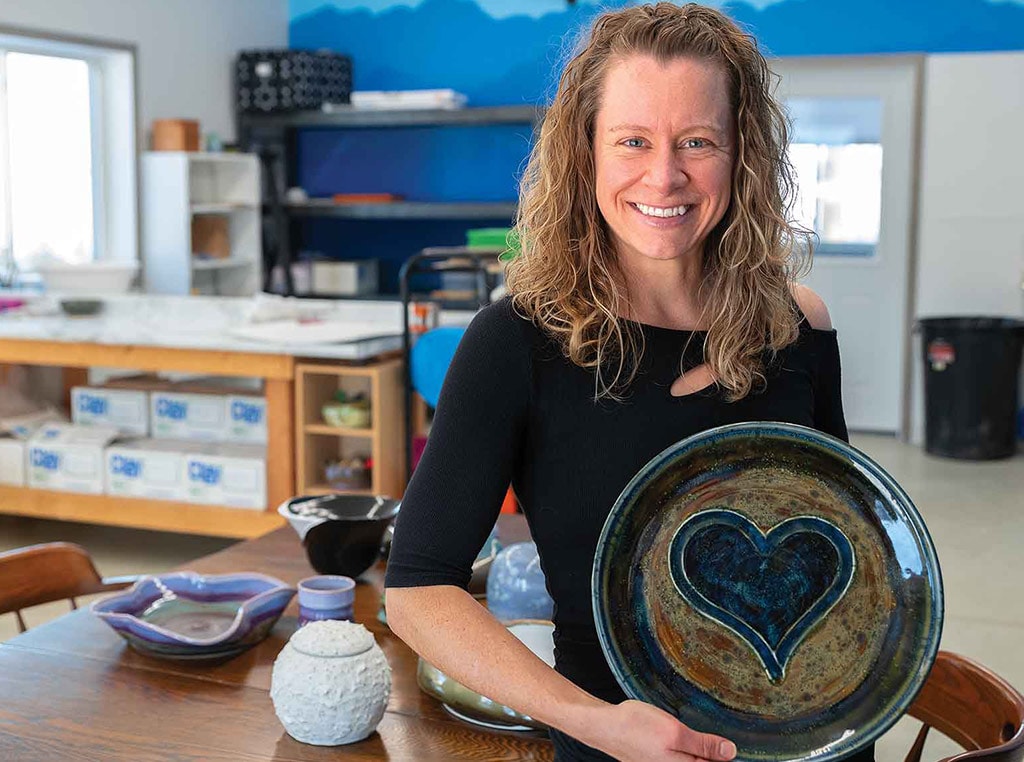 AGRICULTURE, RURAL LIVING
Clicking Best of Both Worlds Together
Family builds full life on and off 5th generation farm.