Agriculture, Farm Operation
November 01, 2023
Rising to the Occasion
Family steps up during time of crisis.
Farm succession plans typically move at a leisurely pace. It gives the younger generation the luxury of time to decide if they want to take over their family's operation and for the elder generation to get comfortable with the process. But that wasn't the case for the Dutil family's dairy, Ferme Marygold in St-Anselme, Quebec. For the past two generations, their farm succession process came with a crash course in crisis management.
René Dutil was in his first year of the dairy program at the Institut de Technologie Alimentaire (ITA) in St-Hyacinthe, Quebec in 1985 when a major farm accident left his father too injured to carry on. The whole family stepped in to help. René took over managing the dairy when he finished his studies. It was a resounding success. He grew the farm from milking 48 in 1985 to 140 today with three robots.
Decades later his daughters, Mireille and Frédérique, just 17 and 15 at the time, also stepped in to help out when the farm's two key employees left one after the other in 2018.
Their choice. "I never forced the girls to work on the farm," says René Dutil. "It was their choice then and it still is now. I want them to be happy doing whatever they chose to do."
Mireille was following in her father's footsteps and studying agriculture when the workers left, but says she wanted to work with animals from the time she was 11.
"The hired hands had already left for the evening when there was a calving emergency," Mireille says. "I was so proud and happy that I was able to help. It played a role when it came down to choosing my career path in high school, although it was a toss up between becoming a veterinarian or becoming a farmer."
Mireille was the only one of her high school friends going into farming. She felt a little lost.
"But once I started classes at ITA, I felt at home," Mireille says. "I was with like-minded people."
Frédérique is following suit. She's currently in her last year at ITA and plans to go to University Laval in Quebec City, to study ag economics, after that.
"The summer of 2018 was life changing for me too," Frédérique says. "I'd always spent my summers on the farm, but that year, I was responsible for some chores, and I realized I really liked that."
"Mireille officially became a partner in the operation this year," René says. "The farm's assets were frozen in February 2023 and profit sharing started from there. Frédérique will be integrated into the operation using the same strategy when she graduates in 5 years."
Their interest in taking over the farm did play a role in the decision to buy milking robots, René says. Automation has really made it easier for women in agriculture.
"The stereotype that only sons take over the farm hasn't completely gone away but it's fading fast," says Frédérique. "The farming program at ITA is pretty much 50% women and 50% men now."
The sisters' different interests are shaping their roles in the operation. Mireille prefers to work with the cows while Frédérique enjoys office work and accounting. Both like doing field work.
"I'm still involved in the day-to-day operations, monitoring the robots and the herd," René says. "But now I get to sleep in until 7am. I've done my share of projects though. I'm content to leave them to the next generation." ‡
Read More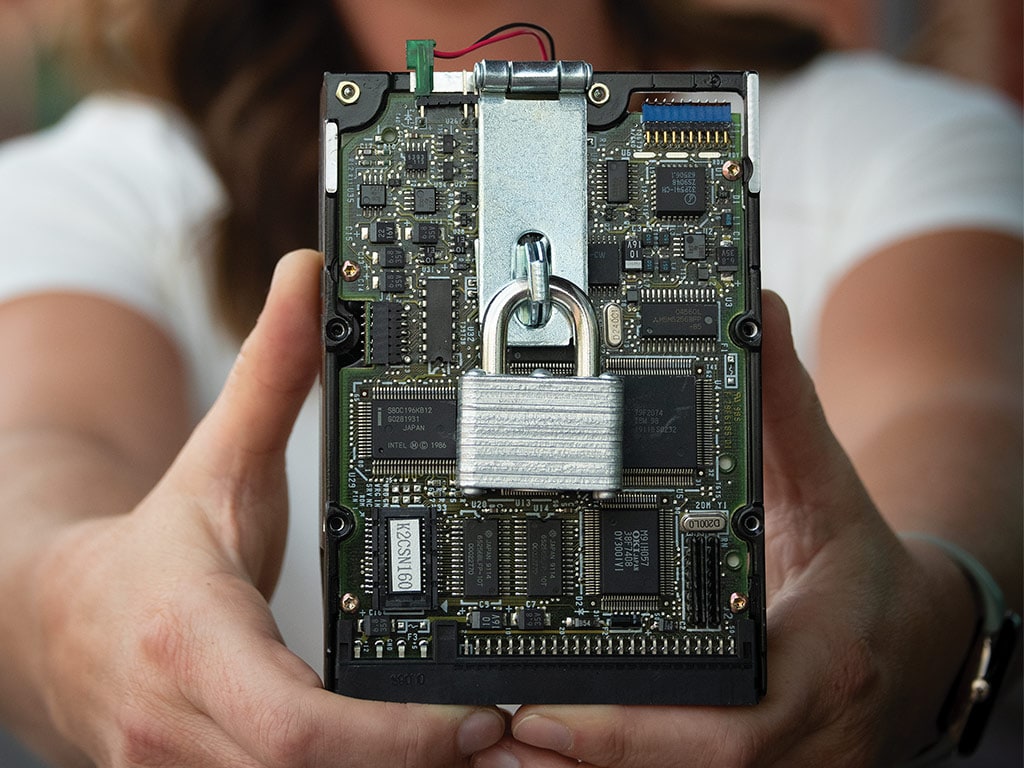 AG TECH, EDUCATION
Password 123
How secure is your farm's data?
AGRICULTURE, SUSTAINABILITY
More from Less
Livestock integration pushes cash crop performance.