Agriculture, Livestock/Poultry
September 01, 2023
Water Buffalo Mozzarella
Quebec dairy milks water buffalo to supply niche market.
Milking water buffalo has become a family tradition for the Archer family. Richard Archer's parents, Darrel and Anthea Archer, pioneered the industry in the Cowichan Valley on Vancouver Island in British Columbia at the turn of the century. But the B.C. market for water buffalo mozzarella cheese wasn't expanding rapidly enough for Richard and his wife Alicia, who moved to Quebec to strike out on their own in 2017. It didn't go exactly as planned.
They started by renting an older tie-stall barn near Sainte Sabine, Quebec, not far from Farnham and close to the Vermont border. While it met their immediate needs, they knew it was a short term solution; it was too small for their expansion plans. The couple had just nicely settled into their new-to-them facility when Covid turned their lives upside down.
"The dairy processor that bought our milk canceled our contract when the Quebec government closed all the restaurants," Richard Archer says. "We were dumping our milk into the manure pit for weeks on end. Covid really emptied our bank account. Eventually we were able to land a new contract with a cheese maker in the United States."
Milking water buffalo is exotic in North America—there are only a handful of water buffalo dairies in Canada. Globally though, only the dairy cattle herd is larger. The water buffalo dairy herd size dwarfs the dairy goat and sheep herd numbers. In North America and Europe their milk is almost exclusively used to make mozzarella di bufala (water buffalo mozzarella). This style of cheese is best known by its DOC (controlled designation of origin) name, mozzarella di bufala campana.
Softball sized. The soft white cheese comes as a ball, roughly the size of a softball. It's packaged in a natural brine (like feta cheese). It resembles a giant Caprese ball but has a stronger flavor profile and comes with a much higher price tag. Like Caprese, it's normally consumed in a salad. Most people think of water buffalo as a tropical animal, but Archer says they don't care for hot weather. That's why they're called water buffalo—they jump in rivers to cool down. They do best at 10°C (50°F), so do well in northern countries like Canada, Ireland, the UK, Sweden and Russia. They won't breed if they are under heat stress.
Water buffalo have four teats, like a cow does, but they take twice as long to milk. Automatic pull-offs won't work on them. The biggest difference in milking them is they have to use different cleaning protocols in their parlor's wash cycle because the milk has 8 percent butterfat.
"We receive a much higher price per liter than you would for cow milk but if we didn't, we wouldn't be sustainable," Archer says. "A water buffalo will produce milk for 20 years but only yield about a quarter of what a Holstein would. We're doing some embryo work with one of the universities and are importing semen from the top bulls in Italy to try to bump up our numbers. It would be awesome if we could get our [average per animal] milk production up to 6,000 or 7,000 liters."
Today the Archers are slowly getting their finances back on track. They recently signed a long-term lease with a much larger barn with a milking parlor outside of Hemmingford, Quebec, that gives them the space they need for expansion. The couple has had a bumpy ride but they're once again feeling confident about their dairy's future. ‡
Read More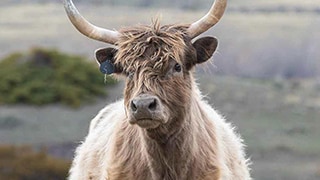 AGRICULTURE, LIVESTOCK/POULTRY
Tiny Cows, Big Business
Mini cows can be a commercial success.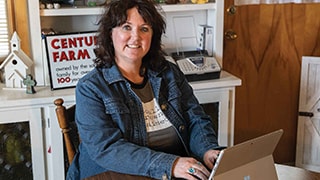 RURAL LIVING
Iowa's Storyteller
Darcy Maulsby tells the story of the Hawkeye State through books and speaking.