Agriculture, Sustainability
September 01, 2023
Rick Clark, Farming Without
Applied fertilizer, nitrogen, lime, insecticides, fungicides, crop insurance and more.
Zero and 7,000. Those numbers represent two truly shocking data points from Rick Clark's Williamsport, Ind., farm.
His 7,000 acres are 100% organic. Impressive enough. The farm is 100% no-till. That takes some management prowess. The most profound and repeated number, however, is zero.
"We haven't applied any synthetic phosphorus or potassium for nine years. We don't apply herbicides or pesticides or grow GMO crops. We haven't had multi-peril crop insurance for five years. We're not in any government programs and we receive no subsidies," Clark says.
Achieving those extreme numbers has required some extreme farming tactics. While Clark is happy to share the work he's done with no-till, cover crops, intercropping, epigenetics and more, he's adamant others don't endeavor to mirror his practices exactly. Instead, he hopes his fellow farmers are inspired to reflect on his intentions and motivations.
"Can everyone do what I'm doing? No, but there's a spectrum of regenerative practices," he says. "Everyone is capable of making a few changes and moving themselves further to the regenerative side."
But why? Zero and 7,000 are catchy. Less flashy are his average crop yields. Realistic yield expectations are 140-bushel corn and 40-bushel soybeans—roughly 30% lower than 2022 Indiana averages.
Those numbers don't bother Clark a bit. He'd rather tally record-breaking profits than record-breaking yields. "Would I like to raise 200-bushel corn? Sure! The reality is I don't need to in the system I've developed."
His break-even yields are a meager 9 to 10-bushel organic soybeans (25% of his average yield) and 40 to 50-bushel organic corn (around 30% of his average yield). The per-acre calculation encompasses the entire farm's financial picture.
Break-even includes paying himself at a rate reflective of his cost of living, land and equipment debt payments, and all other farm and crop expenses. The 70% to 75% yield produced beyond break-even is true profit.
His farm is in the black. It's also buffered against many critical variables plaguing farmers on the other side of the conservation farming spectrum.
"I don't really care what the cost of most farm inputs are right now because I don't use them. I care because high costs and shortages hurt my fellow farmers, but it has no impact on my bottom line or crop performance," Clark says.
Even weather isn't as great of a concern. A state soil health specialist determined average water infiltration on the farm was 20 inches per hour.
"The numbers are absolutely amazing. We seldom see ponding and there's no runoff. Everything goes into the soil," Clark says.
Soil aggregate stability built with no-till and cover crops help deliver this result. Macro soil life pulls their weight, too. The soil health specialist determined the farm hosts more than 2 million earthworms per acre. "A 6-inch cube of soil had 24 earthworms in it. That's incredible," Clark says.
Strategies like rolled cover crops and intercropping block weeds and protect soil moisture. Clark's fields can't withstand an extended drought, but his crops stand stronger longer.
In the event of crop failure, he's still financially secure. Clark explains inputs are just $85 per acre on a soybean field that, when driving by, looks more like a mixed-species hay field. Costs are only cover crop and crop seed and seeding.
Ideally, the cereal rye he planted on these acres in fall would have thrived. He could have rolled it and the cash crop wouldn't be swamped by volunteer cover crops. Even if the combine didn't run (it did, a flail mower was used to open the canopy) the jungle of plants would still fix carbon and secure nutrients produced by soil life. He could use the field for grazing—even if that wasn't the plan.
"You work hard on your plan then Mother Nature decides to do something different. That's why I always have about six plans in place at all times. You have to be flexible," he says.
Years of gradual adoption, experiments and forced learning moments help Clark be very pliable. When he started, he didn't have anyone to ask. He hopes that changes, and for more farmers to see the benefits of regenerative practices.
"It's going to take a major disruption to get people on board," he says. Covid supply chain issues were a wake-up call for some. Rising interest rates may spur change. Clark sees the next generation as those that will take charge, though.
"Most land degradation is happening slowly. It's the kids that are 18 now that will face the consequences. That's why I spend a lot of time speaking to FFA. I want them thinking about it," he says.
Farmers must evaluate their context and adopt and adapt change that suits their conditions and opportunities. He encourages slow change so as not to jeopardize anyone's income, but change still must happen. "If you're not uncomfortable with what you are doing, you are not trying hard enough to change," he says. ‡
Read More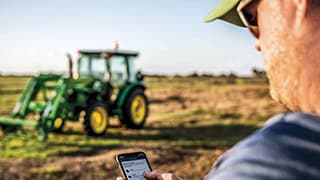 AG TECH
Tech@Work
John Deere Property Center™ now available for consumers.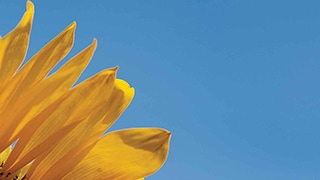 AGRICULTURE, FARM OPERATION
Sunny Days Ahead
Drought years forced farm to change course.