Rural Living
June 01, 2022
Gardening to New Heights
Go vertical to put fun back in gardening.
Suburban acreages are gradually decreasing in size, and that's prompting avid gardeners to look in a new direction to facilitate their passion. That direction is straight up.
"More homeowners are going vertical with their garden for a number of reasons," says Dennis Patton, Kansas State horticultural agent in Johnson County, Kansas. "Using a fence or trellis to support vining crops like cucumbers, squash, beans, melons and tomatoes, takes a fraction of the space. Also, the increased exposure to sunlight and air reduces disease, insects and quality problems so plants yield more with less work."
In his book Vertical Gardening: Grow Up Not Out for More Vegetables and Flowers ($16.95 on Amazon) noted author Derek Fell puts it in words many gardeners have likely lived. 'The biggest mistake gardeners make each season is starting out with big plans in the spring. After planting, summer's days get hot and humid, which encourages a forest of weeds and necessitates daily watering. Gardeners lose their enthusiasm and the garden sprawls out of control until a cold snap puts an end to it. Vertical gardening provides a better outcome by allowing easier maintenance, healthier plants, effortless harvesting and higher yields."
Up not out. In his book, Fell recommends hundreds of plants with vertical capabilities and low-growing vegetables to plant beneath them. He also gives advice on support systems for plants to climb, including stakes, strings, fences, walls, trellises, arbors and arches.
On his website (epicgardening.com/tomato-trellis-ideas/) Kevin Espiritu details 53 different methods of supporting plants in a vertical garden. The site provides photos and illustrations as well as a list of items needed for each do-it-yourself design, and links to other sites for added details.
"There are many practical reasons to go vertical, but there's also some aesthetic ones," says Kerri Ebert, communications director at Kansas State's Olathe Horticulture Research and Extension Center. "Vining veggies growing up and over a trellis or arch is visually more appealing than tangled vines crawling on the ground."
However, Ebert's favorite support in her garden is a simple livestock panel available at any farm supply store. "Bend the panel into an arch tall enough to walk under and with a couple T-posts on each side to hold it in place. I love to grow cucumbers this way because the vines grow up and over the arch so you're in the shade, and the cucumbers hang down through the fence so they're easy to pick at eye level. It's just fun," she says.
Jen Stefanchik gardens in Gardner, Kansas, and says a sturdy, well anchored vertical system is important. "You need something that can stand up to the weight of fully loaded plants, even in a strong wind."
Stefanchik says her favorite vertical crops include peas—because they're planted and harvested early, leaving time for another vining crop, and squash—because it makes it easier to spot troublesome squash bugs. "It's been a game changer for growing butternut and spaghetti squash, mini-pumpkins and gourds, though you may end up having to support their fruit with mesh bags or hosiery. Also, gravity causes cucumbers on a trellis to grow long and skinny, which is good for pickling and slicing."
"My favorite trellising method is to use livestock panels because they're strong and they don't rust. I prefer the 'goat' panels over 'cattle' panels because the grid openings are smaller." (Find more from Stefanchik through her Instagram account @kcgardeninggirl.)
Patton says vertical gardening pairs well with gardening in raised beds—another popular practice. "With raised beds you have to amend far less soil, but beds are small—typically 4' x 8'—so you have to go vertical because there's no room for vining crops to spread on the ground," he says.
Fell recommends even smaller 12-inch wide beds that can be 4 to 8 feet long. This minimizes soil prep, reduces watering requirements and saves space.
King tomato. Perhaps no garden crop receives more attention from vertical gardeners than tomatoes. Determinate 'bush' varieties—bred to get only three to four feet tall—can be adequately supported when sandwiched between layers of string in a 'Florida Weave,' as shown above. On the other hand, indeterminate varieties will easily crawl six to eight feet up a trellis—the world's tallest tomato grew to 25 feet.
"Because the indeterminate types produce over a long cycle they're more popular for home gardeners, but there are many popular varieties that are more of a semi-determinant type that need support, but don't get quite so crazy," says Patton.
"I weave my indeterminate tomatoes through the grid of livestock panels as they grow and use plant support clips or string to train them to the trellis," says Stefanchik. "It works great if you're diligent about pruning them to a single vine. My raised beds are 12 feet long and I plant five tomato plants along the length of the panel, along with some smaller veggies around them."
Ebert explains that tomatoes do well grown vertically because the increased airflow keeps leaves dry to prevent disease. Pole beans do well on a trellis and squash, melons and cantaloupe benefit by not laying on wet soil that can cause rotting. "Going vertical in the garden simply results in less time tending and more time enjoying," she says. ‡
Read More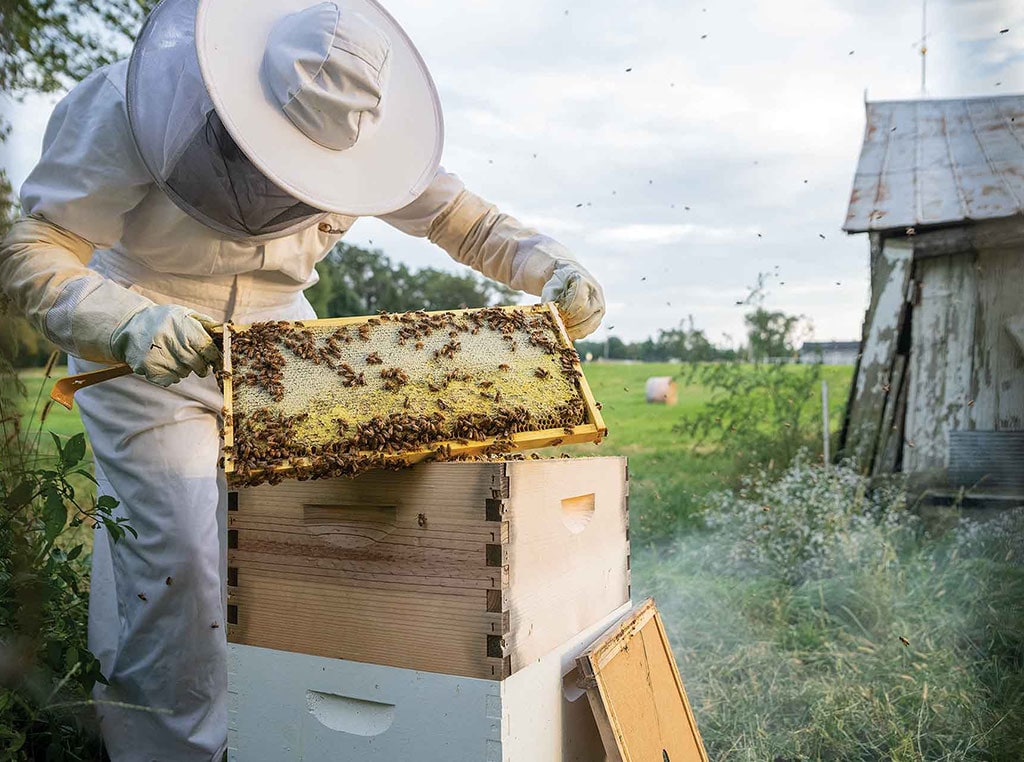 SPECIALTY/NICHE
What It's Actually Like to Keep Bees
A beginner's experience.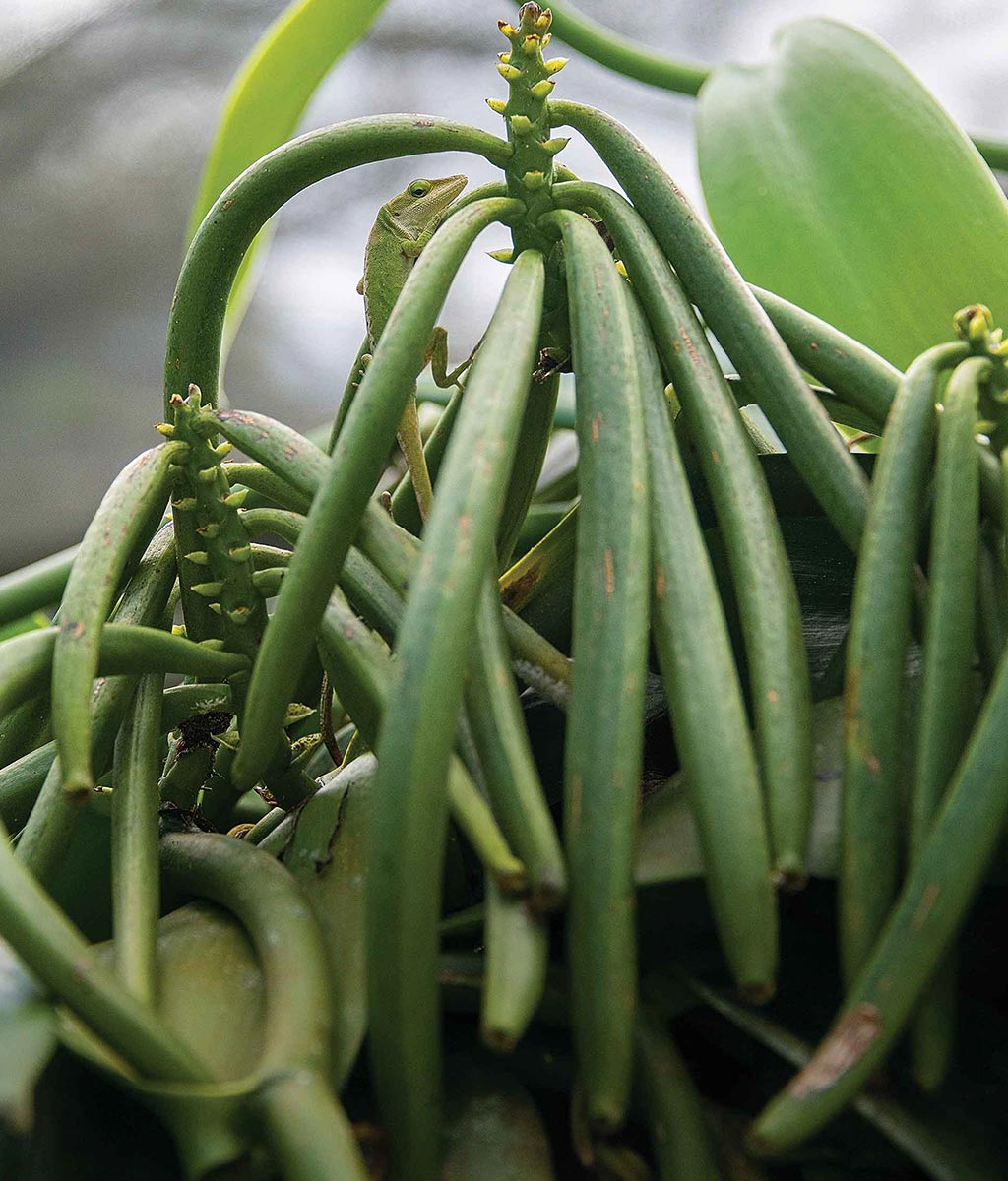 AGRICULTURE, SPECIALTY/NICHE
Magic Beans
Vanilla grower nurtures a flavor of the tropics.