Agriculture, Specialty/Niche
November 01, 2022
The History Blues
Artisans revive American indigo.
There's something magical about indigo, the transformation as a shock of fabric emerges seaweed green from the dye vat and turns rich blue as the pigment reacts with oxygen. It's the blue of South Carolina's flag, of the Atlantic lapping at sandy shores, of summer skies and farmers' bluejeans.
There's something tragic about indigo, too, in the labor-intensive dye's deep connection to slavery.
And there's something about watching Caroline Harper pull fabric from a steaming pot of indigo dye made from leaves harvested that day in Green Pond, SC. It's a 300-year journey that ties past and future in a deep-blue bow.
"When you come to Charleston, you should be seeing blue everywhere, but you aren't," points out David Harper, Caroline's husband and treasurer of the International Center for Indigo Culture. "You see plenty of sweetgrass baskets, carriage rides, and shrimp and grits, but you're not seeing a blue renaissance. Yet.
"The story is here," he adds. "It's how to turn the heaviness of the past into hope for the future."
Indigo shone briefly as a remarkable success story in the early agriculture of coastal Carolina's Lowcountry. Teenage botanist Eliza Lucas Pinckney managed 5,000 acres of family plantations there. Determined to diversify her farms beyond their cash crop staple of rice, she experimented with figs, cassava, ginger, flax, cotton, and silk. But indigo turned out to be the right crop in the right place at the right time.
In the mid-1700s, most of the world's indigo came from French Caribbean colonies. As Eliza was making careful selections of winter-hardy plants grown from seed her father shipped her from the Caribbean, tensions between Britain and France threatened the U.K.'s indigo supply. By the time Eliza sent a cake of Carolina-grown indigo to England for evaluation in 1744, British textile makers were anxious for a domestic source. Her dye proved as good as French Caribbean powder, and the floodgates opened. Indigo quickly grew to account for one-third of South Carolina's exports. In 1775, the colony's growers shipped 1.2 million pounds of dye to England.
The next year, the Declaration of Independence was signed, the export market slammed shut, and Britain's East India Company shifted indigo production to India. A century later, in 1883, Adolf von Baeyer—namesake of today's Bayer Corporation—synthesized the active ingredient in indigo dye from coal tar. The plant-based industry virtually disappeared by 1900.
Elbow-deep. The Harpers are typically elbow-deep in indigo. For a fiber artist and a land conservation consultant, indigo is the perfect fascination: art and culture ready for restoration in the Low Country they love.
Caroline creates beautiful indigo-dyed scarves, table linens, purses, clothes, baskets, and more at her CHI Design studio. Her daughter Elle even blends indigo into clay and creates jewelry that Caroline includes in her online store at chidesignindigo.com. At harvest time, David travels to the patches of indigo that the couple has planted in the corners of several farms around the coast, stripping leaves off of cut branches and managing tanks of fermenting dye.
Those patches of Indigofera suffruticosa—a few hundred plants here, a few hundred there—are planted from seed collected from feral stands on Ossabaw Island, Georgia, believed to date back to the 1700s.
Almost as soon as she fell in love with indigo after a workshop that focused on Japanese indigo (Persicaria tinctoria), Caroline realized if she wanted local dye, she would have to grow her own.
"I started in 2014 with two weeks in Japan to learn everything about indigo, indigo dyeing, and shibori techniques of folding and dyeing and squeezing to create patterns," she says, her French accent still clear and musical after years in South Carolina. "I looked for indigo pigment, being in an indigo state. There was none. Nobody growing it, nobody selling it."
The next year, a friend gave them the Ossabaw Island seed and the Harpers learned through trial, error, and Google how to grow and process it.
They also started connecting with kindred spirits like Arianne King Comer, a batik artist and educator who first encountered indigo in graduate school and followed it to West Africa and South Carolina.
"The day I hit the ground in Osogbo [Nigeria], they took me to the villages of indigo and the life of it," King Comer says. "I was immersed with what they were doing. It was an ancestral call. It just resonated."
After her United Nations grant in Nigeria was up, King Comer returned to her home in Detroit, packed her bags, and headed to South Carolina.
"Because historically I knew indigo was here," she explains. "It's a drawing magnet."
New hands, new approaches. King Comer's art is inspired by the West African techniques and motifs she encountered in Nigeria, just as strongly as Caroline Harper draws on Japanese practices and styles (with distinctly Southern touches, like using dried okra pods to create patterns in the dyed fabric).
Back in the 1700s, indigo was largely used to create plain, blue fabrics, notes David, suppressing the vibrant artistic West African traditions of the enslaved people growing and processing the dye. Today, artists like King Comer are blasting past that history.
"Now there's an opportunity to get back to those art forms and say, 'how can we create a new culture of indigo for this region that isn't a history lesson and does honor the people that were here growing it against their will and the cultures they came from?'" he says. "There could be new patterns, Lowcountry patterns, that no one's created yet."
The Harpers have received state and USDA grants to help them scale up processing of Blue Gold Indigo, their brand of handmade dye.
"Our goal is to have enough dye so that any teacher in South Carolina, any artist, any textile designer, could be working with it and have the story behind it," David says. "And we want to make sure the equipment is there, the knowledge, the marketing, so someone else could take it on—a university, a farmer cooperative."
The Harpers are getting others elbow-deep in indigo through workshops and online courses.
At a workshop last year, a small group stripped freshly harvested leaves into jars, musing about indigo. Kelly Hauschild said, "I'd hate to see this lost to history—just the whole process."
Lucas Adams (a descendant of Eliza Lucas Pinckney) responded immediately: "But it won't, because there are so many of us who are so excited about it." ‡
Read More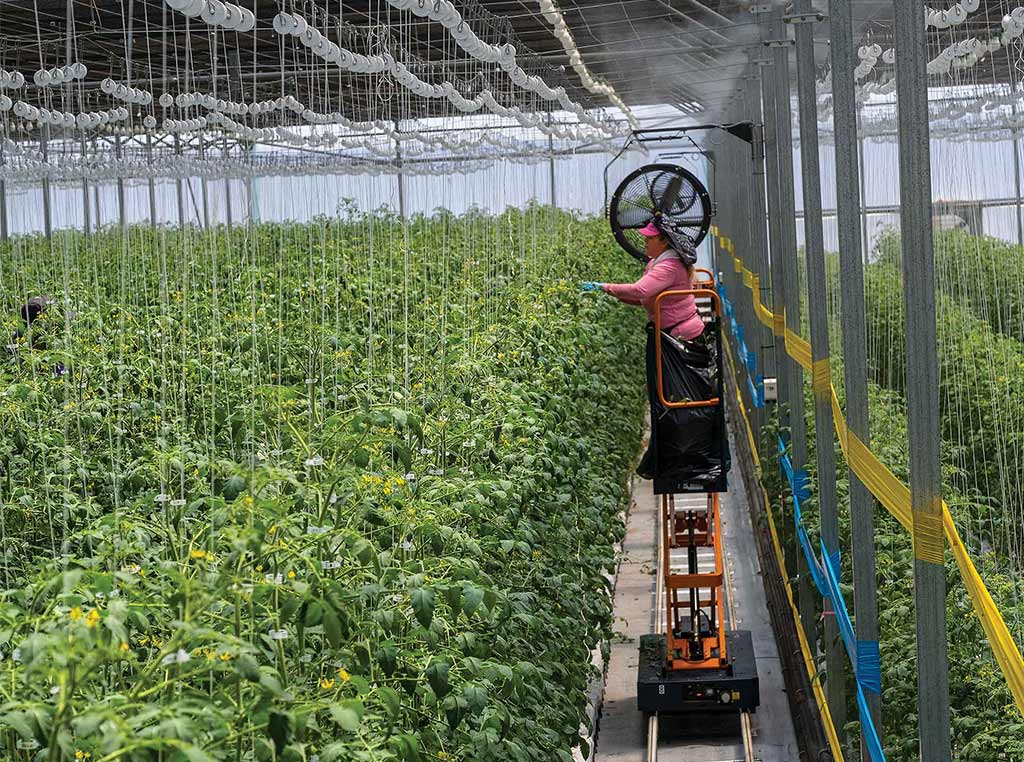 AGRICULTURE, EDUCATION
Kentucky Nurturing AgriTech Revolution
This 150-year-old California farm is laying the groundwork for a long future.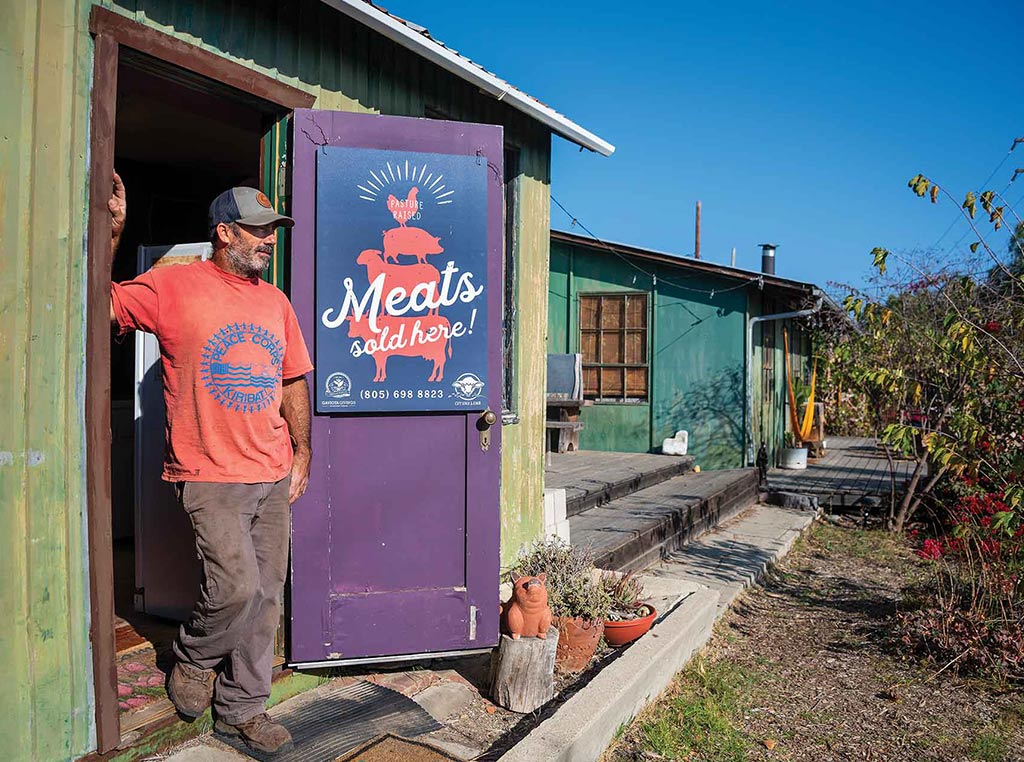 AGRICULTURE, SUSTAINABILITY
Seven More Generations
This 150-year-old California farm is laying the groundwork for a long future.