Agriculture, Education
November 01, 2021
Holidays By The Numbers
All major holidays are centered around food; that's great news for farmers!
Harvest is over, Thanksgiving is nearly here. For me that means turkey with stuffing, (preferably made using my mother's recipe), cranberries, mashed potatoes with gravy, fresh rolls, turnips, creamed corn and pumpkin pie for dessert. Ideally my entire family and perhaps a few close friends will be here to share it.
All major holidays around the world are celebrated in similar ways. Christmas, Lunar New Year, Eid al-Adha, and the many other feast days, revolve around family, friends, and food. The menus are timeless; everyone has a favorite food they must have to make their day complete. The predictability and quantity of festive foods has an astonishing impact on farmers. Much of their production is timed to meet the seasonal demand.
Let's talk turkey. Turkey completely dominates American festive meals; holidays account for 29% of total turkey sales in the U.S. According to a list of turkey facts compiled by the University of Illinois, 88% of Americans will have turkey for Thanksgiving and be consuming 46 million birds.
"Christmas and Thanksgiving are huge for turkey producers in Canada too," says Brian Ricker, Chairman of the Turkey Farmers of Ontario. Canadians purchased 2.5 million whole turkeys for Thanksgiving in 2020, 36% of annual whole turkey sales. They bought 2.9 million whole turkeys, or 41% of the annual total for Christmas in 2020. It's so closely tied to feast days that the industry's biggest challenge is convincing consumers to eat more of it the rest of the year.
Cranberry producers face a similar issue. According to Ocean Spray's website, Americans purchase 80 million pounds of cranberries every holiday season. This includes over five million gallons transformed into cranberry sauce.
Canadian Thanksgiving, held annually on the second Monday in October, is by far the biggest season for Wendy Hogarth and Murray Johnston at Muskoka Lake Farm and Winery in Bala, Ontario. Before they diversified by adding cranberry wines, year-round cranberry-themed tourism activities, a farm store featuring cranberry-themed products and dining facilities, 100% of their farm's sales occurred over just a few weeks in the fall.
"It coincides with cranberry harvest so it's peak season for farm visitations and fresh cranberry sales," Hogarth says. "There is even a big uptick in (cranberry) wine sales at the LCBO (Ontario's liquor monopoly)." Presumably this occurs because consumers extend their longstanding connection between turkey and cranberry sauce to cranberry wine.
The timing of the holiday also makes the long Thanksgiving weekend the busiest time of the year at La Courgerie in Sainte-Élisabeth, Quebec, says owner Pascale Coutu. Families are gathered together and looking for fun activities. Two, sometimes three, generations will come to their farm to buy Halloween pumpkins. While there, they purchase marinades and all kinds of other squash products at their farm store too. Many return in November and December to pick up gift baskets for Christmas.
A big world. Every farmer knows how essential Thanksgiving and Christmas dinners are for some farm sectors. But few have considered how exports and immigration make other major holiday meals, like reunion dinner held on Lunar (Chinese) New Year's Eve, and the three-day-long Eid al-Adha celebrations in the Muslim world, potential markets too. Only a vanguard are looking beyond the old familiar holidays for new marketing opportunities.
The reunion dinner, as the name suggests, is a time of homecoming and thanksgiving. Like Thanksgiving in Canada and the U.S., family and friends gather for a huge meal. Pork figures prominently on the menu. This is great for American and Canadian pork exports; China imported 560,000 tonnes of pork in January 2020 to ensure adequate supplies were on hand for New Year's celebrations.
"The idea is to start off the New Year with a big, positive celebration so good luck will carry through the rest of the year," says Michelle Jaelin, a Hamilton, Ontario based dietician (nutritionartist. com). There will be no shortage of food on the table. Dishes are selected because they signify luck, wealth and prosperity. For example, steamed fish and chicken are served with both head and tail on; this signifies good beginnings and good endings.
Lamb demand. Canada's Islamic population has grown significantly over the past 15 years. The community's taste for lamb for Ramadan, Eid al-Fitr and Eid al-Adha, now triggers significant demand and price spikes.
Eid al-Adha now ranks second only to Christmas season for lamb sales, says Miles Kliner, general manager for the North American Lamb Company in Innisfail, Alberta. Their lamb sales jump as much as 30% during the week leading up to the celebration.
It takes several months of planning to prepare for a three-day feast, says Ferida Baloch, from Rodney, Ontario. Family and friends gather at one person's home at the start of the first day and share a few sweets. The men then go to the mosque for prayers. On their return her husband, Bob Baloch, slaughters the Qurbani (sacrificial) lamb or goat that he purchased for the occasion right at their farm. Families who live in large urban settings, unable to slaughter at home, have to make other arrangements.
"It's more complicated slaughtering Qurbani lambs for Eid al-Adha than normal halal production," Kliner explains. "For halal, animals are slaughtered in the name of Allah. Lambs for Qurbani need to be blessed in an individual's name. Each of our customers provides us with a list of names of their customers who have purchased animals and a lamb is blessed in each customer's name. It's then carefully tracked through the plant so we can ensure everybody gets the whole carcass of their animal. You can imagine how complicated it is to keep that all straight when you're doing 800 or 900 in a day."
After the animal is slaughtered, each family divides meat from their animal into three equal shares; one for themselves, one for family or friends, and one for the less fortunate. The offal (organ meat) is cooked for the morning meal. The women work together throughout the day preparing a variety of their favorite dishes. The men barbeque the meat for an evening meal. The entire process is repeated again the following two days at another relative's or friend's home.
"It's very difficult trying to donate uncooked meat to the poor in Canada," Bob Baloch says. "We tried to donate it through the food banks a few times, but they are cautious about accepting meat from individuals. Now we just purchase a second animal through a mosque in a poor part of Pakistan and have them distribute it there."
There are ample opportunities for lamb, goat and beef farmers to develop markets within the Islamic community, Baloch says. He recommends reaching out to the Imam at a nearby mosque to find out the best way to do it. ‡
Read More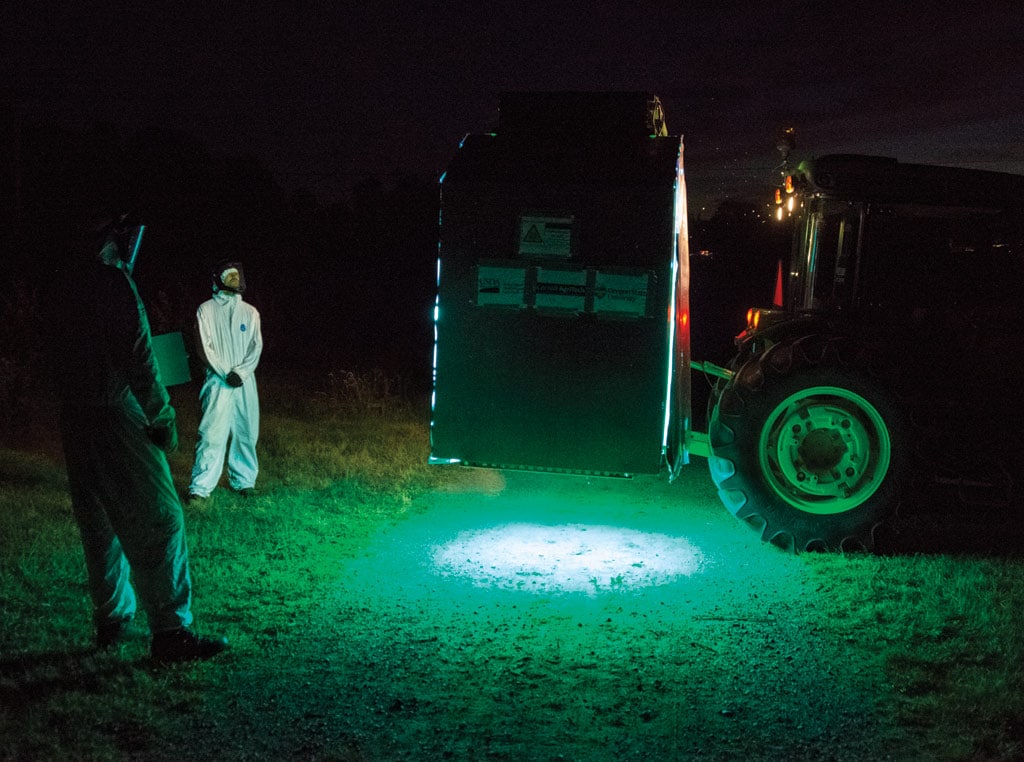 AGRICULTURE, EDUCATION
Mildew in the Spotlight
UV trials target powdery mildew.
AGRICULTURE, FARM OPERATION
Soft Skills and Labor