Tradition Meets Innovation
Founded by an Italian immigrant, Eastern States Construction Service has built a successful business on family values and the latest technology

8 MIN READ
On a foggy morning on a jobsite at Cattail Creek near Frederica, Delaware, three John Deere SmartGrade™ Dozers roll out. The sun peeks through the mist, casting an impressionistic orange haze over the machines and jobsite.
Stephen Julian, president of Eastern States Construction Service of Wilmington, Delaware, takes in the scene. Julian possesses a gravitas that inspires respect and trust while exuding a calm, kindly presence. He's the kind of guy you want to coach your kid's baseball team. Or lead you into battle on a multimillion-dollar land-development project.
Julian's company is beginning the first phase of a housing development that will comprise 180 single-family homes. The full-service site-development contractor will handle everything from excavation through streets and pavement. Six months from now, the first 70 lots will become available. But today is an earthmoving day.
As the fog lifts, the dozers carve out swales and slopes while grading roads and building pads. Noticeably absent are grade checkers and stakes. "The biggest advantage of SmartGrade is having all of our team members know exactly what they're doing without grade stakes or conversations with foremen," says Julian. "They know where their grade is without over-cutting or undercutting. They make good fills and get to grade the first time."
Julian began tinkering with GPS grade control in its early stages 20 years ago and has experienced its evolution firsthand. "It has been such an improvement in productivity and safety in our industry. I believe it's probably the greatest innovation we've had in construction."
SmartGrade represents a culmination of decades of evolving grade-control technology. "We love it," he says. "I'm amazed when I think back on doing jobs without it. We've become so much more efficient. Honestly, if you're not using it, you're basically doing things the way they were done in the 1950s."

"They make good fills and get to grade the first time."
Getting in on the ground floor
Julian would know. Eastern States Construction Service was founded in 1953 by his grandfather, Gene Julian, who had immigrated with his brother from Italy. "My grandfather was working for his brother as general superintendent, but he wanted something nimbler, so he founded Eastern States Construction. He left the company to my dad and my uncles, who helped grow it to what it is today."
During the 1950s and '60s, the company worked on a number of small residential communities popping up around Wilmington. "We did projects similar to what we work on now, including site development, sewer, and water, but on a much smaller scale," explains Julian. "That's still our bread and butter."
Julian grew up around the family business. "When I was a little kid, I remember driving around with my father in his Jeep and checking out jobsites."
He started working for the company at the age of 17. Julian wasn't handed anything by his family, except maybe a shovel before being told where to dig a ditch. He worked his way up from the ground floor, cleaning equipment, performing maintenance, and working in the field as a laborer before learning to run the equipment.
After graduating college and working a short stint at another construction company, Julian returned to the family business as a superintendent project manager before working his way up to president in 2016.
Today the company employs 100 people and runs 80 machines, including three John Deere SmartGrade machines. Seventy years since its founding, Eastern States Construction Service's mission remains the same: Deliver high value and a great product for the customer.

"One or two passes and you are done, ready to roll on to the next job."
Not your father's earthmoving system
Early on Julian was tasked with learning GPS grade-control equipment. The older generation was happy to let a young man figure out the newfangled gadgetry. "I was younger and a little better at it, so I helped some of the older guys learn it."
The company's first serious foray into GPS grade-control systems began in 2003 when the company purchased base and rover kits and added GPS control to a few dozers. Julian immediately saw its potential. "The technology definitely had limitations and was not as user-friendly as everyone would have liked," he recalls. "But it kept on getting better and better. Around 2016 or 2017, we started to see factory integration and things started to take off."
In 2019, Julian began talking with his local John Deere dealer, JESCO, about SmartGrade Dozers, which led to a machine demo and the eventual purchase of three machines. "They're great dozers and the integration with technology is fantastic. They come from the factory ready to work, with the wiring harnesses, sensors, and components well protected. Our operators fell in love with them. We can't get them off the seat."
Operator Dan Frassico has logged approximately 95 percent of the 2,000 hours on the 750L SmartGrade Dozer he runs. "SmartGrade eliminates the guesswork, which can get you into trouble," he says. "It makes it easy to get on grade quickly. One or two passes and you are done, ready to roll on to the next job."
Using the SmartGrade control system, the jobsite is stakeless, so there's no waiting on surveyors or grade checkers to slow things down. The operator simply references the blueprint on the monitor inside the cab and keeps working. "The work is done right the first time with a high level of accuracy," says Julian. "With SmartGrade on the machines, I don't have to go down and check the product because I know it's been done right."
Invaluable input
Julian has been a member of John Deere's Customer Advocate Group (CAG) for the development of the 850 P-Tier Dozer. The CAG provided invaluable feedback that inspired many of the changes to the new machine. "It's been a fantastic experience meeting so many of the John Deere team who do the real work on these dozers. They are receptive to feedback and willing to make changes."
In March, Julian visited John Deere at CONEXPO-CON/AGG 2023 in Las Vegas. "It was a huge show and I had a great experience. The machines and the focus on the new technology coming out was fantastic."
Julian got to sit in the cab of an 850 X-Tier Dozer at the show. "All of the wonderful feedback we gave them was on display: the larger monitor, the user-friendliness, the larger cab and better visibility, and little details like the new tie-downs for transporting. We're witnessing the next level of machines."
Julian is also excited about other new technologies he discovered at the Deere booth, like object-detection systems. "Deere's desire to continually engage the customer and deliver what they want is unlike anything I've experienced with other equipment manufacturers. That's why we chose Deere — the excellent product quality, the technology integration, and the high level of support from JESCO."
Julian believes these innovations are only the beginning and is enthusiastic about what is to come. "I'm just very excited by where we can go with this industry to improve productivity and the quality of work that we do. And make everyone's job a little bit easier."
Eastern States Construction Service, Inc. is serviced by JESCO Inc., Middletown, Delaware.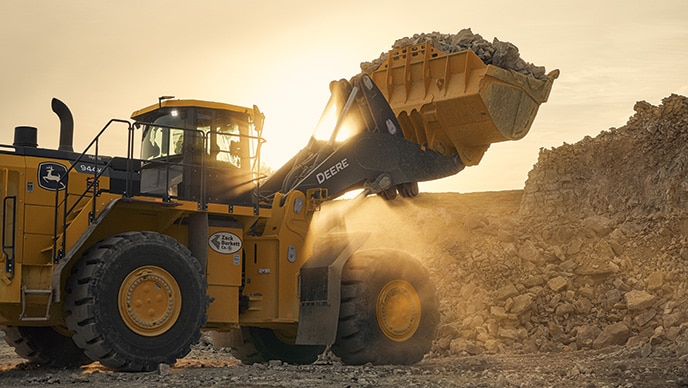 Texas Trailblazers
Zack Burkett Co. relies on John Deere technology to gain an edge in roadbuilding.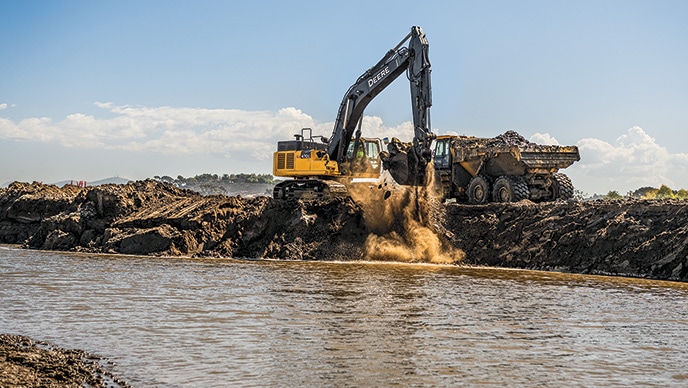 Leaving a Legacy
Marathon Construction is playing a pivotal role in restoring San Diego's pristine coastline.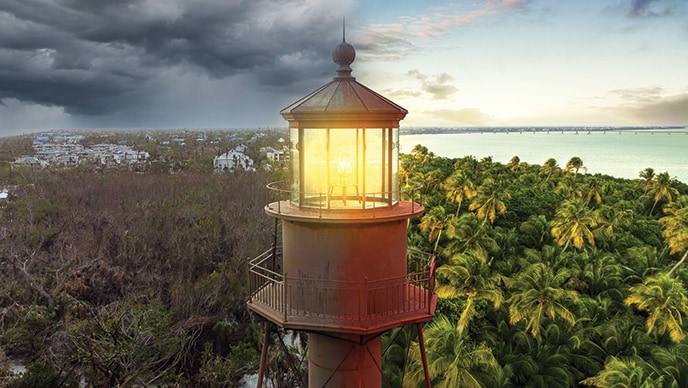 Restoring Hope, Rebuilding Dreams
A pair of construction companies are helping Sanibel Island on its road to recovery.
Think readers would dig your story?
You could be featured in an upcoming edition of The Dirt. To be considered, just tell us a bit about yourself and your story idea by filling out this form.