Opportunities on the Horizon
This family business thrives on big vision and limitless passion

6 MIN READ
As the sun rises on a quintessential Midwest morning, Ryan Rietzke pauses to savor the moment. "It's beautiful here," he exults, breathing in the crisp, dawn air at a bustling jobsite in Kansas. "You can see everything, 360 degrees around. You can just take it all in. I really do enjoy it."
Rietzke is the owner of CenCon of Kansas, a multigenerational family company based in Kensington that has successfully carved an impressive niche, tackling ambitious projects that support the growth of fiber and cell-phone infrastructure in the heart of the United States. At the same time, the company is mining the aggregate materials that fuel further area development and support local contractors.
The growing company still pays close attention to the small things. Trent Rietzke, Ryan's son, begins each day by assessing what lies ahead: What obstacles could stand in our way today? And how do we make sure they don't?
"My favorite time of the day is the morning," he explains. "You can think about the rest of the day and see what you have in front of you. It's the best time to assess those challenges."
Looking on, his dad nods in knowing approval. "If you can't solve the problems at a fast pace, you're going to get left behind," he says. "That just goes along with the job. If you're not moving forward, you're not making any money."
Difference makers
Over the years, CenCon of Kansas has worked closely with customers in the telephone, gas, cable TV, and power industries. On the current project, the company is installing roughly 30 miles of fiber in a rural area. It's an undertaking that will ultimately bring a new level of technology and connectivity to the region.
The younger Rietzke emphasizes that the project won't be an easy one. Underground utility work is frequently complicated by materials or infrastructure left behind by past projects, which present unforeseen obstacles as new work unfolds. On top of that, the Midwest plains can experience high winds and accompanying dust storms that reduce visibility or delay work. "You're going into an unknown any time you start a new job," he says.
The real-world impact of the company's work will be immense, even if his humble nature obscures the true scope of the project. "Sometimes, I pause and think about it: We're building fiber to a cell tower, and there are a lot of people who are going to use it and benefit from it. That is something we can be really proud of."
Power meets intelligence
Troy Collins may not be related to the Rietzkes by blood, but he still feels a close connection to the family that helms CenCon of Kansas. He believes Ryan Rietzke is the engine that keeps the business humming: "He is a go-getter. It's in his DNA." And he tries to emulate that drive and perfectionism each day he steps onto a jobsite.
Collins has worked for the company for three years, serving as a heavy equipment operator. When it's time to produce, he knows he has the right machinery to depend on. "I am really liking this John Deere loader," he says. "It has the power that's needed for getting under these large rocks."
The power is accompanied by cutting-edge technology that boosts efficiency. That's particularly true when it comes to Obstacle Detection, an optional feature that helps operators like Collins identify — and avoid — any jobsite hazards. "Obstacle Intelligence is a must-have on my site. With the larger equipment you have today, just knowing where everybody's at around me is worth everything."
Moving ahead
Ryan Rietzke shares a sense of appreciation for the support around him. As he peers across the expansive jobsite, taking a moment to observe multiple John Deere machines in motion, he speaks about how Deere and the local dealership have shaped his own company. "I have developed a love for John Deere construction equipment," he says. "And I feel like our dealer, Murphy Tractor, has treated us very well. They go the extra mile for us."
One way Murphy Tractor offers value is the cutting-edge technology of John Deere Connected Support. "JDLink™ not only connects the different machines in our fleet, but it also identifies equipment problems and comes up with solutions," Rietzke explains. "It gives me some assurance that someone else is watching my back and watching my equipment, versus just me."
For CenCon of Kansas, this support fuels a broader belief that the sky is the limit. "I am always thinking, 'What can the company do to make more money or be more efficient?'" he ponders.
Trent Rietzke adopts a similar mentality, expressing a sense of optimism and ambition about the road ahead for the company. And he is pleased to have John Deere alongside for the journey. "We're growing. We don't have any signs of slowing down. We're moving forward. And it's great to have machines that do the same thing."

"We're moving forward. And it's great to have machines that do the same thing."
Watch the Full Video
Runs in the family
The history of CenCon of Kansas dates back to 1979, when it was originally established by Ryan Rietzke's father-in law, Dale Franklin.
Rietzke describes the business as a true family operation, emphasizing the essential role his wife Tiffany plays behind the scenes. "She's pretty much the glue to this whole thing," he says. "We rely on her for a lot. On a day-to-day basis, she takes care of the billing and she's our HR. She is really what holds the operation together."
A new generation is now making a major impact in the family business. Ryan and Tiffany's son Trent is learning the ropes from his parents and aiming to elevate the operation to a new level.
"My family is what truly motivates me," said the younger Rietzke. "Knowing that my granddad started this business, and my dad is leading the way now, that is something I think about all the time. It is an honor to be doing the same thing they have done."
CenCon of Kansas LLC is serviced by Murphy Tractor & Equipment Co., Great Bend, Kansas.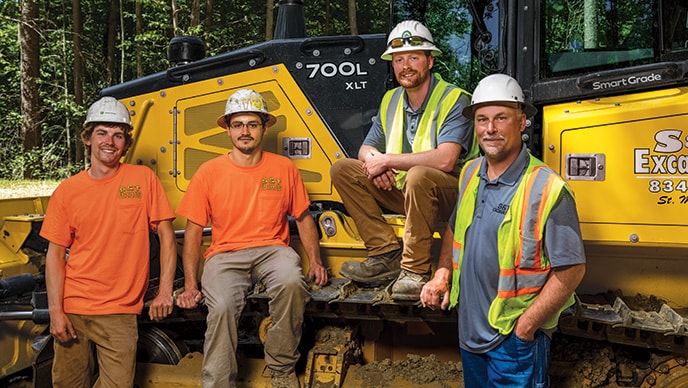 Key to Success in the Keystone State
S&T Excavating, a Pennsylvania contractor uses GPS technology to take its operation to the next level.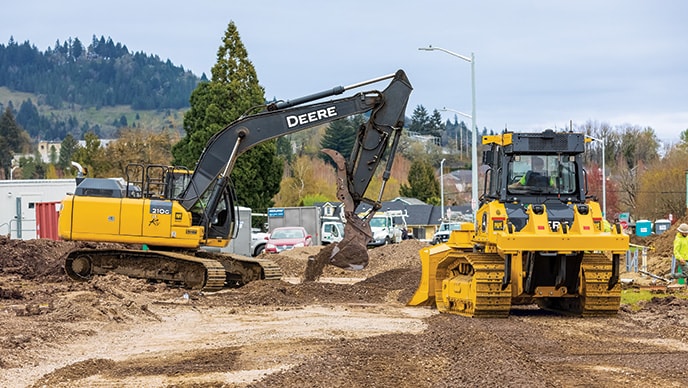 Part and Parcel
Kipco Construction is a small company tackling big site-preparation projects in bustling Eugene, Oregon.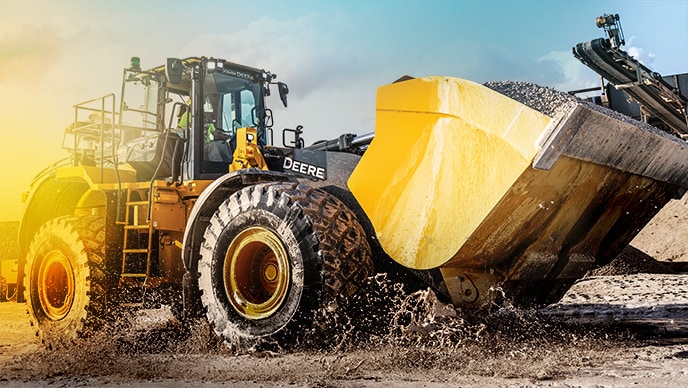 Grit and Grind
There's nothing easy about mining work. But with the help of John Deere equipment, the crew at Lago Verde Mine is up to the task.
Think readers would dig your story?
You could be featured in an upcoming edition of The Dirt. To be considered, just tell us a bit about yourself and your story idea by filling out this form.