Key to Success in the Keystone State
GPS technology helps Pennsylvania contractor boost efficiency

9 MIN READ
Cody Nussbaum, foreman of S&T Excavating, remembers the first time his father, owner Jesse Nussbaum, saw the John Deere 700L SmartGrade™ Crawler Dozer in action. About a year ago, the company had to complete a large stormwater pond and had just taken delivery of the machine. "My father was sitting there watching it run," says Cody. "In one pass, my brother graded the bottom of the pond, and it was perfectly level."
His father couldn't believe his eyes, so Cody sat him in the dozer and showed him how to use it. "I went back across and, in a matter of minutes, graded the pond within an inch," Jesse remembers. "It was 200-feet long by 100-feet wide. The productivity is just insane. It's the best thing we ever did."
"From that point on, my father was sold on the technology," says Cody.
The journey
S&T Excavating began its journey toward using a GPS grade-control system a year-and-a-half ago. The company was starting a large stormwater-pond job near its office in Saint Marys, Pennsylvania. Typically, a surveyor would come in and set stakes and grade pins, which were difficult and time-consuming to maintain. A GPS base station and rover would conveniently allow them to do all the staking themselves. Jesse was originally resistant to obtaining a GPS system because of the cost. "I was always old school," he said. "But Cody did a lot of research and sold me on the idea. Plus, some of our customers were starting to request GPS equipment, and we could see the competition making the transition."
Cody found a used base station and rover. "There was a learning curve at first, but once we got going with the GPS unit, we became much more efficient," recalls Cody. "It was a stepping stone to the SmartGrade machine, which has taken us to the next level of efficiency and speed. The transition was pretty seamless."
"The GPS grade-control system was a real eye-opener," adds Jesse. "The amount of time saved by going to a stake-less system was just mind-blowing to me."
Now with the 700L SmartGrade Dozer, basically all they need is one operator in the cab, says Cody: "We no longer need people on the ground staking or shooting grade. The operator can see the whole jobsite live and run grade from start to finish. It just speeds up the process tremendously."

"The SmartGrade system has allowed us to take on new work and bid jobs more competitively."
Big step
In addition to stormwater ponds, S&T Excavating also builds pipelines, rain gardens, bioretention berms, and roads for the oil and gas industry. This represents approximately three-quarters of S&T Excavating's work, which also includes residential and other commercial projects.
"We've really accelerated growth in the last three to five years, hiring more people and buying more equipment," says Cody. "The SmartGrade system has been a big step for us. It's allowed us to take on new work and bid jobs more competitively."
The system is easy to set up, requiring minimal calibration. "All we have to do when we show up on a jobsite is set up our base station, fire up the dozer, and we're good to go," says Cody.
Unlike aftermarket systems, John Deere SmartGrade doesn't use masts or cables, minimizing breakage or theft. "Everything is integrated and tucked away," says Cody. "You can't even tell it's GPS capable except for the SmartGrade decal."
Auto SmartGrade settings optimize performance based on soil type and load size. The dozer automatically raises the blade whenever heavier loads are encountered, preventing stalling. "In the SmartGrade settings, you can change material types and select small, medium, or large material load," says Cody. "This helps to really dial in what you are doing and make a full pass without spinning a track."
In it for the long run Cody's younger brothers, Dylan and Colt, run the 700L SmartGrade Dozer as well as the company's two John Deere 210G LC Excavators.
"It's a blessing to work with my sons every day," says Jesse. "There's not much more that you can ask for."
Jesse got his first John Deere when he was 17 years old: a 330 Lawn Tractor with a backhoe and loader. He used it for five years, earning money doing odd jobs. When he bought out S&T Excavating in 1999, he traded in a competitor backhoe, which kept breaking down, for a Deere.
"John Deere equipment, sales, service, and support is top-notch, which is why I've stuck with them for decades, says Jesse. "Our local dealer, Foster F. Wineland, knows that time is money, so they handle any repairs quickly. Not that we have many issues with the machines. We really don't."
The dealership has helped S&T Excavating get up and running with SmartGrade technology, including offering Cody training classes. "He came back pretty excited," says Jesse. "Of course, now he wants
a John Deere SmartGrade excavator. I'll definitely push back on that one (laughs)." Will Cody be able to sell his father on the new machine? Jesse pauses and smiles: "He probably will."
"John Deere keeps progressing and developing the technology," adds Cody. "It's going to get better and better and keep opening up opportunities within the industry."
More work in the pipeline
S&T Excavating of Saint Marys, Pennsylvania, began working in the oil and gas industry in 2004, when the discovery of the Marcellus Shale in Washington County, Pennsylvania, led to widescale drilling. "We started cleaning up behind pipelining crews and doing grading and restoration work," says Owner Jesse Nussbaum. "Today we're a one-stop shop for the industry. We'll build the roads, locations, and pipelines. We'll even hook up the wells."
Pennsylvania is the birthplace of commercial oil production. The first oil well was developed in Titusville in 1859. Natural gas production dates back to 1881. The Marcellus Shale is one of the world's largest natural gas fields, containing over 500 trillion cubic feet of natural gas. Today the Keystone State is the second largest natural gas producer after Texas.
"In the oil and gas industry, everyone needs it done yesterday," says Cody Nussbaum, son of Jesse and foreman of S&T Excavating. "It's a fast-paced environment with high stakes. The industry is held to a higher environmental standard and looks for reputable contractors. With clients like that, we'll do whatever it takes to get in, get the job done, and do the job right."
S&T Excavating LLC is serviced by Foster F. Wineland, Inc., Saint Marys, Pennsylvania.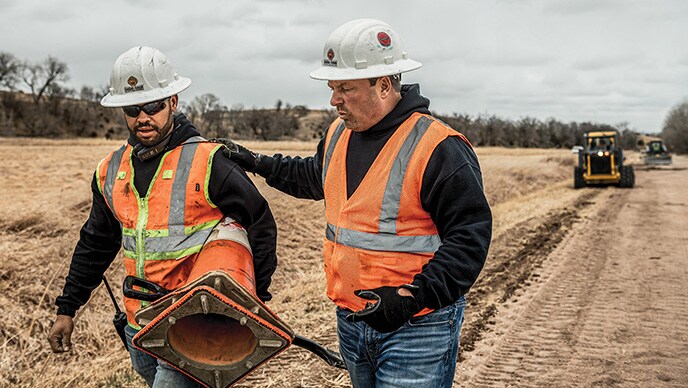 Opportunities on the Horizon
CenCon of Kansas is laying the groundwork to grow cell-phone and fiber infrastructure in the Midwest.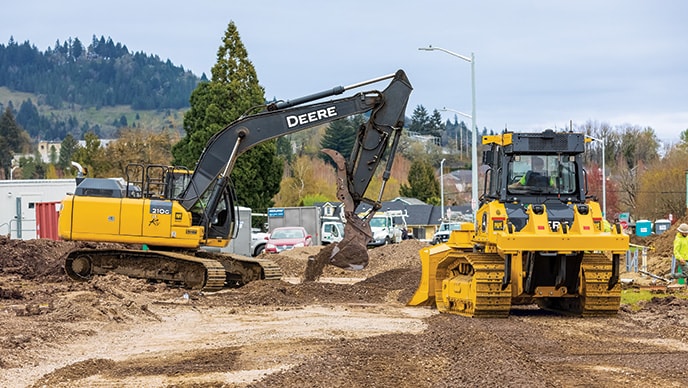 Part and Parcel
Kipco Construction is a small company tackling big site-preparation projects in bustling Eugene, Oregon.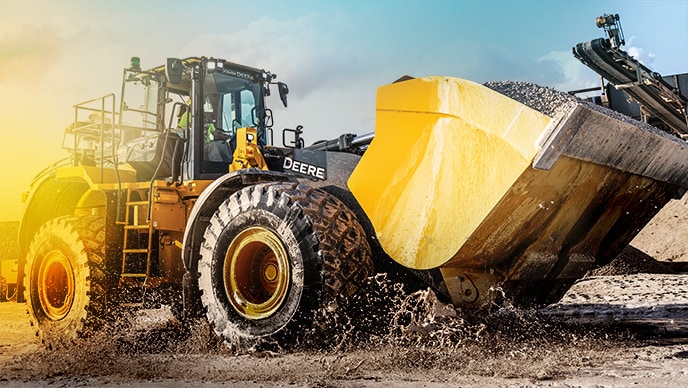 Grit and Grind
There's nothing easy about mining work. But with the help of John Deere equipment, the crew at Lago Verde Mine is up to the task.
Think readers would dig your story?
You could be featured in an upcoming edition of The Dirt. To be considered, just tell us a bit about yourself and your story idea by filling out this form.