Shawn Phillips: 2023 John Deere Fellow Award Recipient
Phillips' creation of JDAAT puts Deere's commitment to quality on the shop floor of every factory
When Shawn Phillips begins to sort through his thoughts regarding the creation of JDAAT — the John Deere Assembly Assist Tool — there is a sense that what is now comfortable may soon become uneasiness.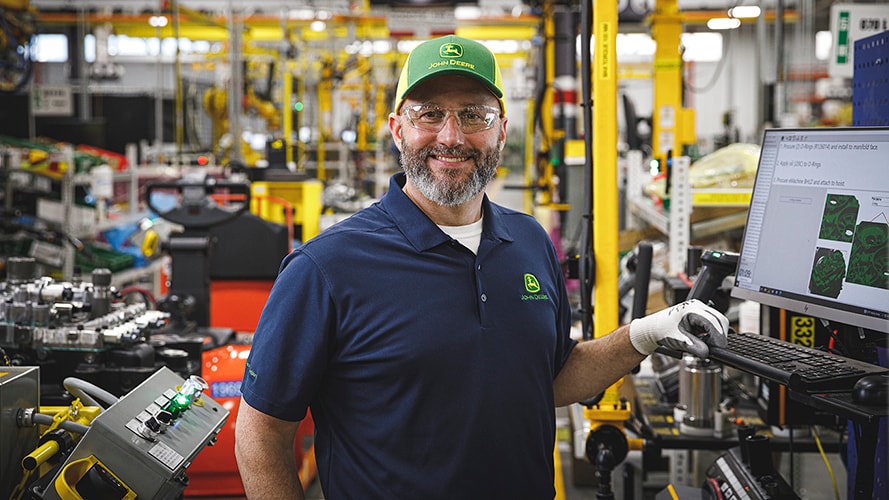 You can feel him struggle with not taking too much credit. With him being slightly conflicted in hearing all the praise. With it being both his legacy and the only lens others will see him through.
He will talk about pride and impact. He'll mention quality and the customer. And he'll point out how it drives value back into the business. All of it seems fair and measured. And humble.
But ask others in Deere about JDAAT and it's clear there is no hiding its importance. The software program has been called the "birth certificate of the critical processing steps" along with "transformative," and "a solution so essential for the business that when, after knowing it, it becomes impossible to work without it."
If you work in a John Deere factory, using JDAAT is as common as seeing a nut or bolt. It is an assembly aid to every manufacturing employee that not only provides work instructions but also obtains data on product key characteristics from tools and systems. It can manage process flow, work station definition, tool interaction, and build rules. It adds in mistake proofing and quality assurance and it continuously gathers data to identify issues and opportunities for improvement.
When pushed, Phillips concedes. "It has revolutionized how we approach manufacturing and it has completely changed our approach from a quality perspective and from how we design our processes."
In short, JDAAT's significance cannot be overlooked. And it hasn't been. It's the main reason why Phillips has been honored with a 2023 John Deere Fellow Award, the top achievement given to an individual in the company.
Far and wide
The sign of a solution's effectiveness is measured by its reach. So, as impressive as JDAAT is as a tool, how it has scaled across the enterprise is equally as significant. JDAAT started in Phillips' home factory of Waterloo in 2007, a "first iteration" of what it is today. But as it launched and was used, it grew and refined. By 2010, as Waterloo leaders ended up in other manufacturing facilities, they made sure to bring JDAAT with them, word of mouth arriving before it did.
Today, JDAAT is in 33 factories with 22 more getting online. It has been translated into multiple languages and has become the standard safeguard for Deere's reputation of distinctive produce quality.
"I think JDAAT symbolizes a shift in culture and how we approach manufacturing. It's a focus on driving quality into our business as it's not an option anymore. It's an obligation. It's an expectation," Phillips, a 19-year employee and smart connected factory manager for large tractors and combines at Deere, said.
When you've spent nearly two decades building, nurturing, and releasing a solution there are times for reflection and refinement. For Phillips, if he could change one thing about JDAAT his answer becomes another proof point to the program's effectiveness.
"There are capabilities that it has now that were never anything we ever would have dreamed for it to be," Phillips said. "Part of its name is 'assembly' and 'tool,' which is indicative of what we intended it to be when we started it. But now it's not just used in assembly. It's used in fabrication and it's used in weld and it could be used in so much more. It's beyond what we imagined."
Now what?
It's human nature to ask someone who has helped create something so revolutionary (another adjective put on JDAAT) what the next big thing will be. Working in the smart connected factory space gives him confidence there is more to come while presenting the opportunity to shift the light toward something new.
"If, as a business, we're going to continue to deliver the products that our customers need, our manufacturing spaces have to be able to adapt to be able to deliver that," he said. "And I think smart connected factories are the key to how that happens. It's about how we use information. Because we are always on the hunt for the next JDAAT, a solution that will drive business impact. And they're out there."
But, when talking with Phillips the conversation steers back to JDAAT, as it often does. When asked if this is his clear-cut signature accomplishment at Deere he smiles, showing his thankfulness for being a part of something so groundbreaking. His answer, though, also shows the weight it can carry.
"There is a desire for it not to be," he said.
The words sit in silence for a moment. And then Phillips' careful nature comes through. Known as a thoughtful mentor, he leans on the army of colleagues he's coached and developed.
"I would much rather my legacy be tied to the impact I've had on others and how I can help enable careers and how people approach things. I'd rather it be that and not a tool."
And as JDAAT spreads throughout Deere it's clear that mission has been accomplished.