Two's Company
Ex-oil field worker partners with lifetime logger to take on tough conditions in Michigan's Upper Peninsula
Dameon Harris' path to becoming a logger was the road less traveled. Unlike many loggers who come from logging families, Harris grew up on K.I. Sawyer Air Force Base in Marquette, Michigan. "My dad was an Air Force mechanic who worked on B-52s," recalls Harris, co-owner, R&H Logging, Inc., Watson, Michigan. "It was a lot different than your normal community. Everything was so neat and tidy — I remember the clean, perfectly trimmed yards. It was a safe, comfortable upbringing."
Like his father, Harris worked as a mechanic, taking a job at a Ford dealership in Marquette after graduating high school. "I've always been really mechanical, taking things apart to see how they work," he says. "Growing up in the Upper Peninsula, I was always fascinated by logging machines and the hydraulic and electrical systems on them."
"LET'S GO!"
In 2005, Harris and his wife, Cassie, relocated to Texas to find fortune in the oil business. He worked there for three-and-a-half years and made decent money. "But if anything is worse than the logging industry as far as ups and downs, it's the oil industry," says Tom Reynolds, who is Harris' father-in-law and current business partner (the "R" in R&H). "So in 2009, he called me one morning and told me he wanted to come back north and get into logging. I told him, "Well, you've got the ambition. And you've certainly got the beard (laughs). So let's go!""
Harris recalls meeting his future wife as a freshman in high school. "I said hello to her on the first day of school. She didn't have much to say to me then, but we got to know each other well after high school."
"So that's how our partnership began — Dameon started dating my daughter," laughs Reynolds, who has been logging since 1972. "But it's been great. He's a hard worker and not afraid to put in the time to learn what he needs to learn."
Oil field workers have a reputation for working in tough conditions, so Harris felt right at home in the woods of Northern Michigan. To meet the demands of the mills, R&H Logging has been working in tougher and tougher terrain.
Harris enjoys the challenge of operating in rocky, steep conditions. "I like the problem-solving aspect of working on hard or difficult ground. That's where it gets really interesting. And it's not the same task over and over, like changing oil in a car engine. Every tree and every species is different."
The "office" isn't bad either. "I've got photos of some of the most beautiful sunsets coming through the trees. Yesterday I saw the first fawn of the year. I've seen wolves and bears, and a couple of years ago I saw my first wolverine. That was incredible."
LEVELHEADED
Harris ran heavy equipment when he worked in the oil fields, so it wasn't as much of a stretch for him to log as one might think. "The first machine Tom and I bought was a used Fabtek 133," he recalls. "I had no experience running one — I just had an idea in my head of how it should work, and Tom said it would be a good starter machine. Tom had a single-bunk forwarder — he could skid a lot of wood with that machine — and that's how we got started."
In the early days, three loads was considered a pretty good week. "It was pretty intense," remembers Harris. "Now we do 15 loads a week, and we're not killing ourselves. It's not bad at all."
Reynolds has skidded wood since he began logging for his uncle during the 1970s, when forestry was just becoming mechanized. Today he still runs a forwarder, but in a much more technologically advanced, powerful machine: an eight-wheeled John Deere 1210G Forwarder with a rotating cab.
Reynolds loves the cab and everything else about the 1210G Forwarder, especially the Intelligent Boom Control (IBC). "The nicest part of the machine is the IBC," he says. "It's like the grapple is wired to your brain. It becomes part of your body — it's as simple as reaching for a cup of coffee. You don't have to think about it. It's smooth, effortless, quick, and productive."
Harris runs a new eight-wheeled John Deere 1270G Harvester. He finds the machine easy to run. "It's just a very, very nice machine. Controls are intuitive. Visibility is great, and flotation is better with eight wheels compared to six-wheel machines."
The nicest part of the machine is the IBC… It's as simple as reaching for a cup of coffee.
Harris also appreciates the long reach of the Waratah 415 Harvesting Head. "With greater cutting swath, you can make fewer passes through the woods. And the dangling head is phenomenal. Using a fixed head is like working with one hand tied behind your back. A dangling head gives you the finesse and movement you need to do what you want. It's the only way to go — I'll use one as long as I'm logging."
Other technology on the machines helps R&H Logging further maximize productivity. The TimberMatic™ F-16 control system provides efficient control of all harvesting functions for precise, quick boom movements. The user-friendly software offers easy-to-learn patterns and operator specific settings, along with detailed diagnostics. "TimberMatic has a long list of features I like," says Harris. "It's really user friendly."
Using JDLink™, Harris can receive alerts on his computer or mobile device to inform him of immediate machine issues. If downtime does occur, remote diagnostics help his John Deere dealer minimize the time and cost associated with sending a technician to the logging site for an initial diagnostic visit. "Our dealer really keeps an eye on everything, and if there's a problem, they're right there to help with it. With our old machine from another manufacturer, the dealer would send a guy out and five hours and $900 later, you had a diagnosis. And oh, the part will not arrive for four days. But with John Deere we're up and running right away."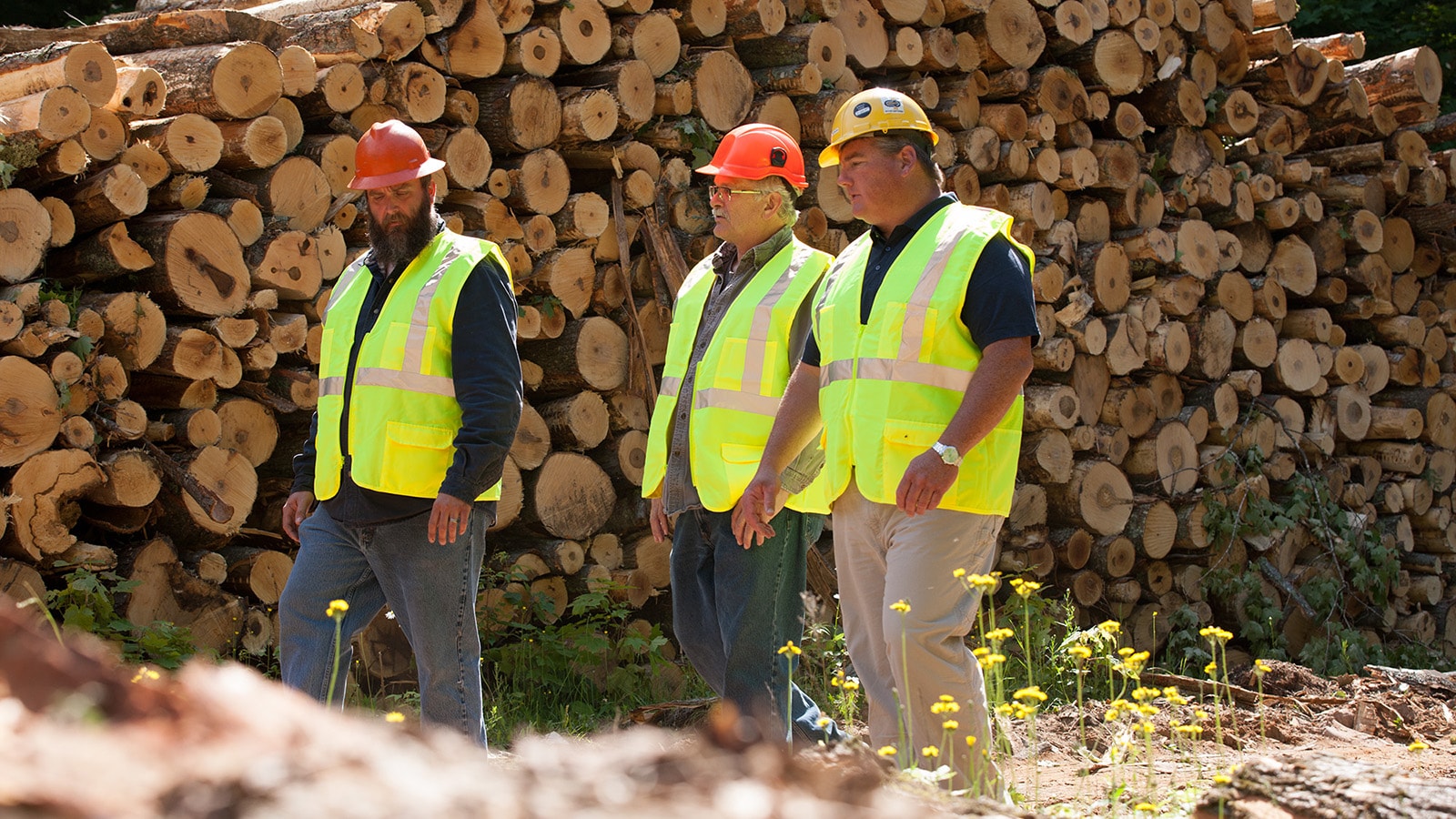 GOOD STEWARDS
R&H Logging's cut-to-length operation does primarily hardwood thinning, including oak, maple, birch, hemlock, and aspen. Leaving the logging site better than it was before they started is important to Harris and Reynolds, who are proud to be good stewards of the forest. "A well-managed forest is a renewable resource," says Harris. "If you do it right, when you return later it will be a luscious, beautiful forest."
"I can show you plots that I thinned 20 years ago and they look great," adds Reynolds. "In 1975, I had people telling me there would be no trees left in the Upper Peninsula by the year 2000. Today the forests up here look better than ever. It's in everyone's best interest to manage the forest so it is sustainable. And when you thin out the old trees, you create a much healthier forest."
At 65, Reynolds says he's considering retirement, but he can't quite see himself leaving the woods. "And anyway, Dameon says I'm not allowed to retire for another 20 years (laughs). But really, it's just hard to imagine doing anything else. You pull your hair out sometimes, but everyone needs a challenge and sense of purpose. I look forward to getting up and going to work every morning."
"It's a way of life," adds Harris. "It's in your blood — you just enjoy doing it. My son is four and he wants to cut wood with Daddy — he's talking about it already. My wife has been so supportive, and her mom and dad are wonderful people. Tom and Cherryl have accepted me as their own, and I'm so blessed to have been given this opportunity to do what I love."
R&H Logging, Inc. is serviced by McCoy Construction & Forestry, Escanaba, Michigan.