Sooner Rather Than Later
Raised on a cattle farm, Oklahoma logger Andrew Anderson found his true calling early on.
Oklahoma has a rich, colorful logging history. Wait, you ask. Oklahoma? You mean the state "where the wind comes sweeping down the plain," as the song goes? Most of the Sooner State lies in the semiarid Great Plains, where there aren't a lot of trees. But in the southeastern part of the state, large stands of shortleaf and loblolly pine and valuable hardwood began attracting lumber companies over a century ago.
DIAMOND IN THE ROUGH
"You'd naturally assume there'd be no logging going on in Oklahoma," says Andrew Anderson, owner, Anderson Logging, Broken Bow, Oklahoma. "It's flat, dry, and wide open. But here in the southeastern part of the state, there's lots of timber. It's a diamond in the rough."
Broken Bow was founded as a company logging town in 1911 by the Dierks brothers, early pioneers of Oklahoma's forestry industry. With its hilly terrain, the area resembles more traditional logging areas in neighboring states like Arkansas, Alabama, and Louisiana than the wide-open spaces to the west. The wilderness area north of town has become a tourist destination, with hundreds of rental cabins going up around a clear, mountain lake. "It's really pretty," says Anderson. "A lot of people from Texas find their little piece of heaven up here."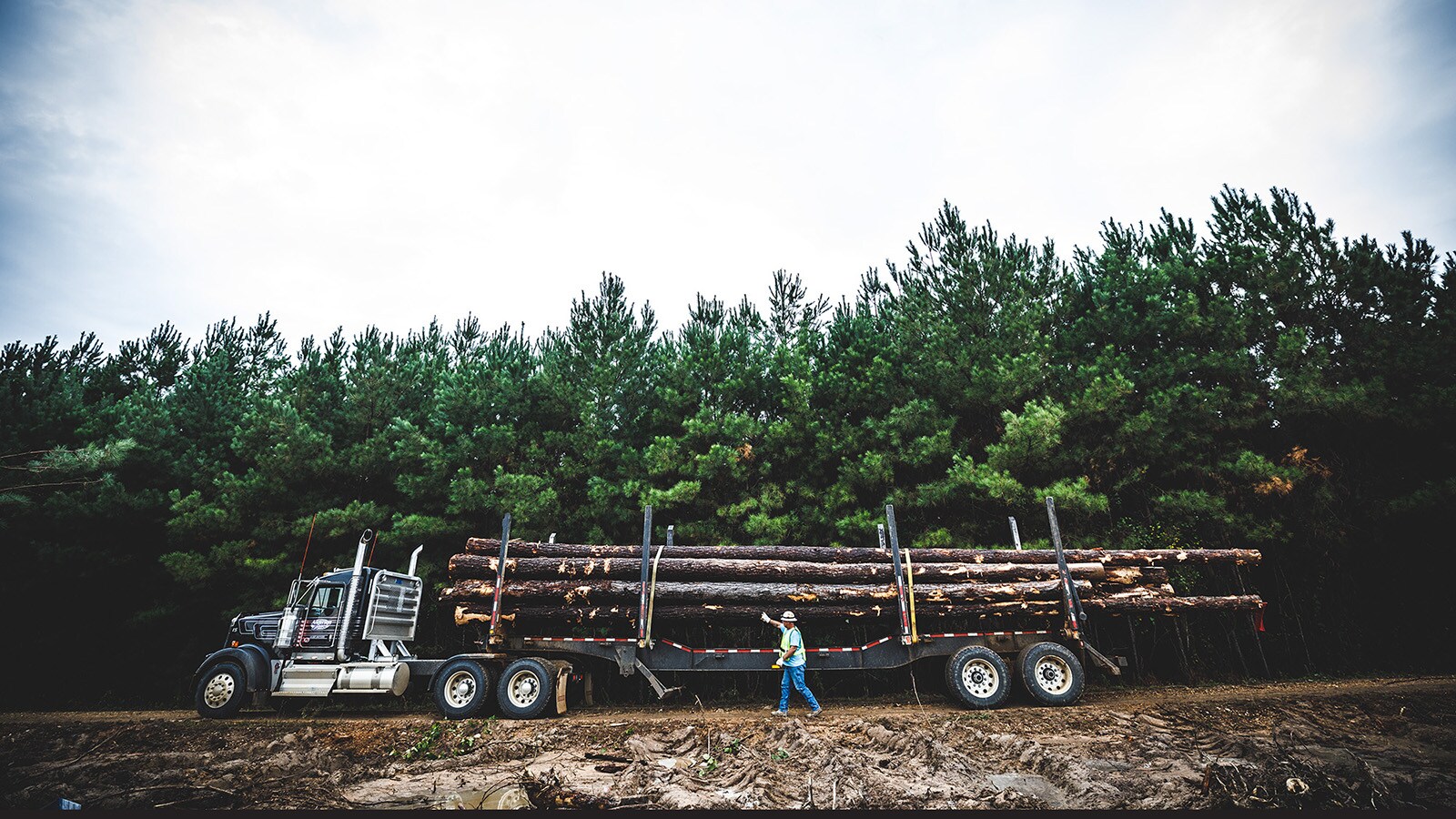 24/7
Anderson's upbringing is more what one would expect of someone who grew up in Oklahoma. He was raised on a cattle farm about 30 miles north of Broken Bow. His father had a lease with Weyerhaeuser, which owned 80 percent of the land in the area, to graze his cattle. "My grandfather ran cattle," he remembers. "My father ran cattle. I thought, 'I'm going to become a cattle farmer.' That's all I knew."
Fortunes changed in 2005 when Weyerhaeuser terminated its cattle leases. Anderson was 16 at the time, dating his future wife while doing odd jobs for his future father-in-law, a successful logger. "Over Christmas break, he asked me to come work with him in the woods," he remembers. "I had no idea what I was getting myself into (laughs)."
Anderson headed to Pine Bluff, Arkansas, to help with a chipper operation. His father-in-law was running four logging crews in the woods, with an additional crew working in the wood yard at a paper mill. He put Anderson to work clearing slash and bark away from the chipper, keeping the equipment fueled, and counting loads. "I remember it being pretty cold. Twelve hours went by, then 18.
For the next two weeks, Anderson worked 24 hours straight, then slept for five hours before working another 24 hours. "When we got back, I was so tired that he insisted I stay at his house. In the middle of the night, I was sleepwalking, and I kept trying to put an ironing board in the closet. The noise woke my girlfriend, who asked what I was doing, and I told her I was trying to load the chipper!"
To this day, Anderson admires his father-in-law's work ethic. "He's one of the hardest-working guys I've ever been around. There's no quit in him. I thought he was testing me for those two weeks, but that's just how he is." The experience inspired Anderson. "I was planning on going to college, but I decided working in the woods is what I really wanted to do."
He started out driving a skidder for his father-in-law before the housing crisis in the late 2000s caused the chip market to bottom out. When the market rebounded, his father-in-law helped Anderson start his own operation by finding some used logging equipment. "I started out with one crew. I bought my own timber, and soon I discovered it was better to buy and sell more rather than less because you get better prices. So I soon expanded to two crews."
I want to attract the best operators, so I try to buy the best equipment.
OUT WITH THE OLD, IN WITH THE NEW
Today Anderson runs four crews, harvesting mostly pine with some hardwood, depending on demand from the mills. Although he started out with used equipment, he now runs mostly new machines with extended warranties, including a John Deere 848L Skidder, an 848H Skidder, and two 843L Feller Bunchers. Anderson liked the low payments of used machines, but they were costly to maintain. "I put pencil to paper and determined it's far cheaper and more efficient to run new machines. They don't break down as much, so you don't have all the extra hidden costs for parts and mechanic bills. And even if you have an issue, it's under warranty, so your costs remain fixed."
The new machines have been very reliable. "The two 843Ls have about 2,000 hours on them and we've just done routine maintenance — maybe fixed a blown hose or two, or a sensor going out, nothing major." The support from the local John Deere dealer, Yellowhouse Machinery, has also been very helpful in keeping the company going. "Using John Deere JDLink™ machine monitoring, they can remotely monitor a machine and help us resolve problems over the phone. If needed, they can send out the right part immediately without an extra visit from a service tech. We might be working as far as 90 miles away, so that helps reduce downtime and costs."
A skidder operator from day one — although today he mostly buys timber and manages the operations — Anderson loves the 848L Skidder. "It's one bad dude," he says. "I can't believe the load it can haul without the front end coming up. With the rotating seat and excellent rear visibility, it was like opening my eyes for the first time. Very spacious and comfortable, too. It's the nicest piece of equipment I've ever been on. The operators love it."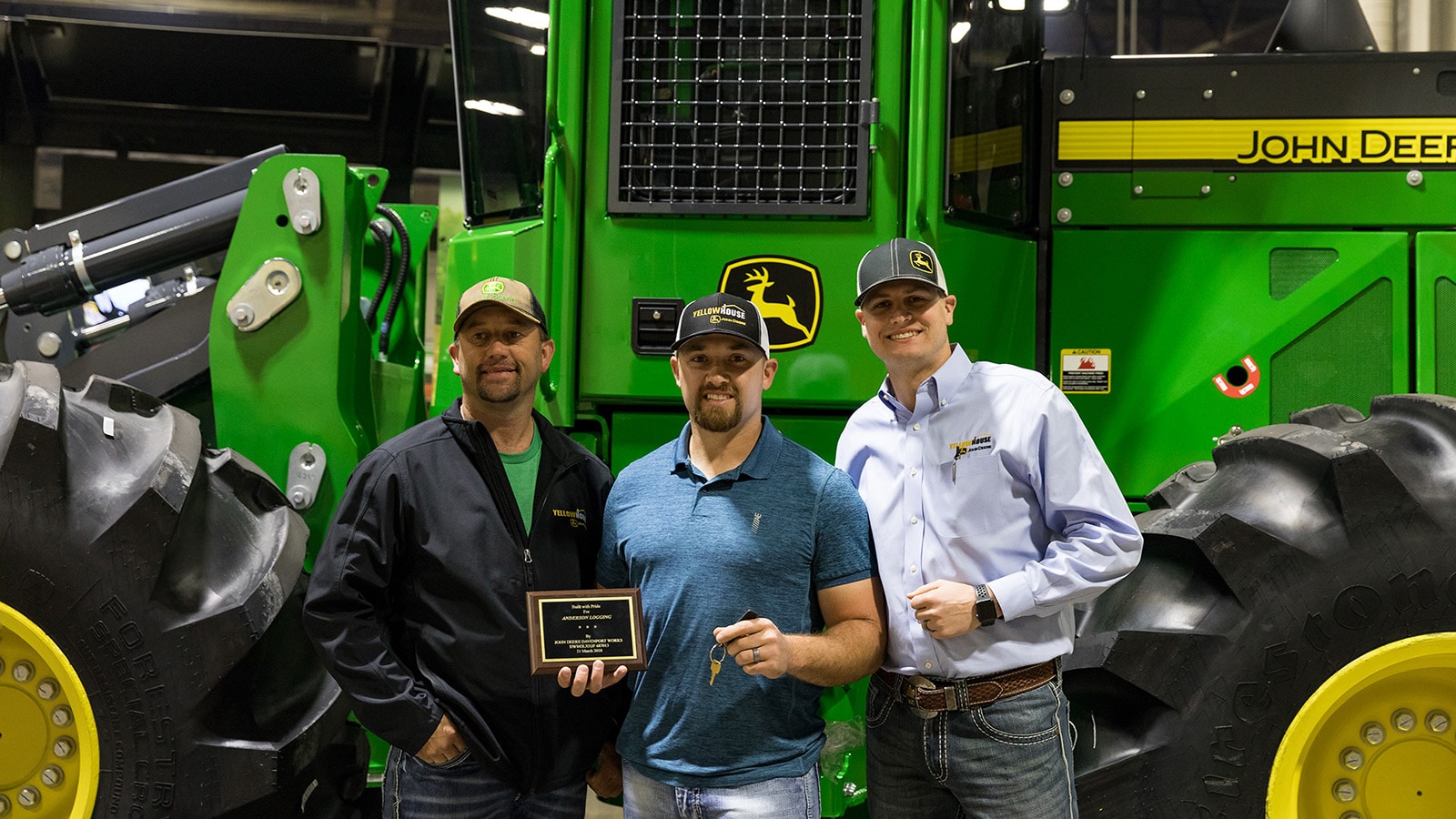 Anderson had the opportunity to see one of his 843L Feller Bunchers come off the assembly line during a Gold Key tour at John Deere Davenport Works. "I was like a kid in a candy store — all bright-eyed and bushy-tailed. It was almost unfathomable to me to see a piece of metal going in one end and a new machine driving out the other. I got to meet everyone from the head of the Forestry Division to the assembly-line workers. These guys really have it figured out."
Having quality, dependable equipment helps with operator retention. "I want to attract the best operators, so I try to buy the best equipment." Good equipment also helps Anderson focus on his job. "I don't have to be on the logging site all the time working on machines. I can be out ahead of my crews buying timber."
Anderson loves the thrill of the chase. "There's something about big timber that gets me going. I'm a competitive person and want to move more and more. If the next guy is moving 70 loads a week, I want to move 90. That's what's fun about it. And we really try to make it fun for the whole crew, because if you don't enjoy what you're doing, you won't last very long."
Anderson Logging LLC is serviced by Yellowhouse Machinery Co., Broken Bow, Oklahoma.