Raising Hell
McMillan Logging is helping turn Tate's Hell State Forest into a sustainable forest


SNAKEBIT
Tate's Hell State Forest has an interesting history that tells visitors a bit about its unforgiving nature. The forest was named after farmer Cebe Tate. In 1875, Tate ventured off into the swampland armed with a shotgun to find a panther that was killing his livestock. After becoming lost, he was bitten by a snake. He survived for seven days by drinking murky water to stay alive. According to legend, when he finally found civilization, he lived only long enough to utter the words, "I'm Cebe Tate, and I've just come from Hell."
Over a century later, Steve McMillan, owner of McMillan Logging of Bristol, Florida, and his crew work a tract of pine in the 202,437-acre forest. He's built a successful logging business, but like Cebe Tate, McMillan knows what it's like to be snakebit. "Like every logger, I've seen good times and bad. Right now things are pretty good, but I've had my share of sleepless nights worrying about paying the bills. To be a logger, you must have the right disposition and not let the really bad times worry you."
Tate's Hell State Forest may be heaven for campers and canoers, but it isn't exactly a logger's paradise. About half of the forest is covered in swamp. Even the driest ground is still spongy. In the wettest areas, logging machines must battle deep muck and mire.
McMillan and his crew thin the forest for the Florida Forest Service. "Thinning makes for a healthier forest," he says. "It benefits wildlife and opens the way for controlled burning to prevent wildfires. It's just good for everything."
The crew produces approximately 80 to 100 loads a week. The timber is sold mostly for pulp to a local mill, along with some saw timber. "Wood ranges from 22 to as old as 65 years old," says McMillan. "Some of it is original timber that's never been thinned."
If timber is there, we'll get it.
COME HELL OR HIGH WATER
From the early 1950s to the mid 1990s, private forest companies attempted to drain Tate's Hell Swamp and establish pine plantations for supplying timber to pulpwood mills. The draining negatively impacted marine life, and other alterations further disrupted the natural ecosystem. Thousands of acres were converted to slash pine and fertilized, putting too much phosphorus and nitrogen into the environment.
Hundreds of miles of roads and drainage ditches were constructed, which actually made drainage much worse.
In 1994, the state began acquiring the forest to restore ecosystems and drainage patterns to their natural state.
The Florida Forest Service manages the forest through a combination of prescribed fire, timber thinning, and a number of major hydrological-restoration projects. Its mandate is to ensure sustainable timber, wildlife, and water, while improving the aesthetics and recreational opportunities of the forest.
McMillan works closely with the state foresters and biologists, who manage the forest to preserve its health for generations to come. "I can't say enough nice things about these folks," says McMillan. "They are really on top of what they're doing. They're good people."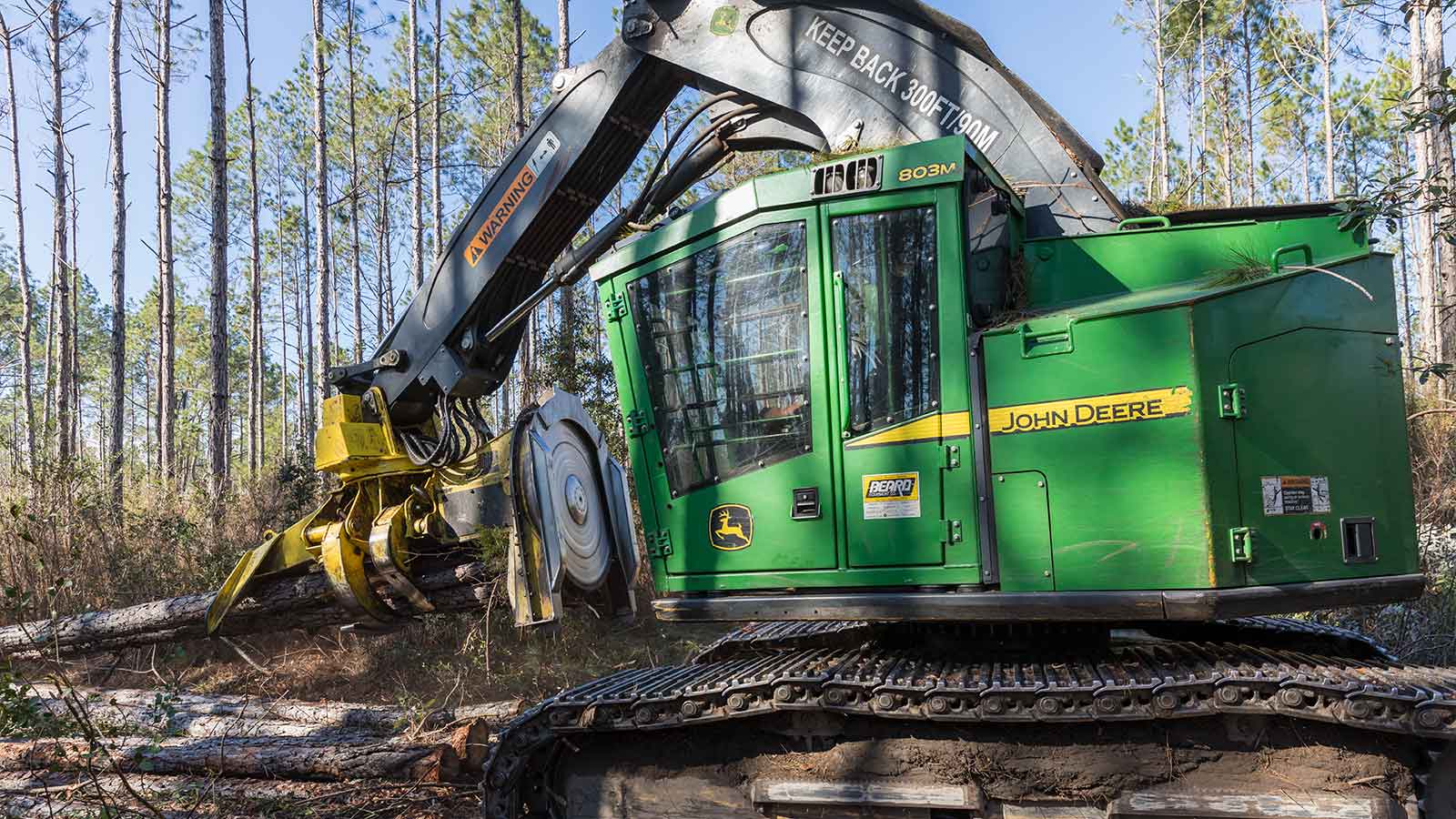 Conversely, the foresters couldn't do their jobs without McMillan, who is specially equipped to work in the unique, swampy environment. His operation runs a John Deere 803M Tracked Feller Buncher, a 648L Skidder, and a 437E Knuckleboom Loader. A tracked feller buncher is an unusual sight on a logging operation in the Southeast, but in the swampy conditions, the 803M works perfectly. "It's very nimble and has a light footprint," says McMillan. "With conventional equipment, we could harvest 70, maybe 80 percent of the forest. With the 803M we can harvest it all. If timber is there, we'll get it."
McMillan appreciates the FR22B head on the 803M, which rotates 360 degrees. "For thinning in these woods, it's been a lifesaver. We couldn't work without it."
The 648L Skidder is equipped with duals for improved flotation. Swamp logging would be literally impossible without duals, according to McMillan.
Joysticks also make the job easier. "Joysticks are much more responsive than a steering wheel. They steer more quickly and are more comfortable over a long shift. Every operator I've ever known prefers them."
DON'T LOOK BACK
McMillan is happiest when he's in the seat of the 803M Tracked Feller Buncher, deep in Tate's Hell State Forest felling trees. "There are two kinds of loggers," he reflects. "The ones that come to the woods, and the ones that manage. I'm the kind that comes to the woods."
Like Henry David Thoreau in Walden, McMillan went to the woods deliberately. Many loggers descend from generations of loggers, but McMillan didn't come from a logging family. "It was 1972, and I was on summer break from college," he remembers. "A bunch of boys I grew up with talked me into going into the woods with them. They said it would be a good summer job."
Logging was tough in the premechanized days of hand felling and cable skidding. "It was pretty dangerous back then. Everything was done with chain saws and by dragging cables."
But McMillan never looked back. "I just fell in love with it. It was supposed to be a summer job, but I didn't return to school. I stayed in the woods."
McMillan's mother was disappointed initially. She raised him without a father, working three jobs to make ends meet. "We were dirt poor. My mother worked hard so we could all go to college and have a better life. When I quit school, it broke her heart a bit. But years later she understood. If you love what you are doing and you're happy, that's the most important thing in the world."
As Thoreau wrote in Walden, "If one advances confidently in the direction of his dreams, and endeavors to live the life which he has imagined, he will meet with a success unexpected in common hours."
In the woods, McMillan has not only found success, but an extended family. Some of his employees have been with him since he got his start close to 30 years ago. In addition to his wife, Sharon, who manages operations, and his son, Josh, he works closely with crew members Monroe Ammons and his sons, Jonathan and Tyler. "The one thing I love most about logging is the people — from the folks at our John Deere dealership to the foresters to my crew. There are just good people in the forestry industry. They all share a common goal of loving the outdoors and managing timber so it is a sustainable resource."
McMillan Logging, Inc. is serviced by Beard Equipment Co., Tallahassee, Florida.