Take Flight
Life moves fast on the tarmac, and a 710L Backhoe reaches new heights with the constant variety of tasks that are thrown its way.
Life on an airfield is not always blue skies ahead. An airport with two concourses, 46 gates, 7,700 acres, and the lives of countless passengers demands the highest safety standards — standards the Airfield Maintenance Division at Indianapolis International Airport meets with flying colors.
"Everything we do revolves around safety," explains George Kestler, Group Lead for the Airfield Maintenance Division. "Keeping the passengers, the airport, and the airfield itself safe is what I take the most pride in."
RUNNING THE GAMUT
Ensuring safety standards requires attention to countless tasks. "We maintain anything that pertains to the airfield. Drainage, electrical, painting, roads, signs, snow, concrete, asphalt, and vegetation — it's a year-round project," says Kestler. And those are just the regularly scheduled activities. "We're on call 24/7. You might mow grass for a couple days, and then someone could drive through a fence or there could be an aircraft emergency when we assist the firehouse. It can always change, so we have to be flexible."
Clearly there's no shortage of hats for Kestler and his crew to wear. And with such a variety of responsibilities comes the need for equally productive and versatile machines. "We can't have every piece of equipment that's needed to do all the different jobs, so when the time came for a new machine purchase, our bid specifications included some unique requirements."
I've been around heavy equipment all my life, and the engineers at Deere continue to amaze me.
ABOVE AND BEYOND
The local West Side Tractor Sales dealership listened to Kestler's requests and acted. In addition to providing a variety of attachments, bucket sizes, and capabilities, Indy Airport's John Deere 710L Backhoe also came equipped with something you probably won't see on any other backhoe — customized extended side-view mirrors. "When you're working around and maneuvering between multimillion-dollar machines, there's no such thing as too much visibility. The fact that West Side went to the trouble of including the mirrors in their bid, and then were able to figure out how to actually make them happen, is a testament to what we've come to expect from them. There aren't enough words to praise those guys."
RIDING THE BEAM
As for the backhoe itself, Kestler is equally impressed. "The second I started climbing up into the cab, the John Deere was the obvious choice out of all our options. I've been around heavy equipment all my life, and the engineers at Deere continue to amaze me. It's easy to see the effort they put into making this machine as operator friendly as possible."
The 710L's performance has met Kestler's standards as well. Given the heavily interconnected nature of the highway in the sky, he and his team have zero tolerance for machine downtime. "Whether it's out on the airfield, the runway, or a taxiway, time is of the essence. We need equipment that can perform and step up to do what needs to be done. With this 710L Backhoe — the more you run it, the more impressed you are with it."
BIRDS OF A FEATHER
The 710L Backhoe isn't the Division's only piece of John Deere iron. It also has a 310SE Backhoe, a 624E Wheel Loader, and 18 utility tractors that are used to pull the lawn mowers. And what do all these machines have in common? Kestler has an opinion, "We've run a variety of brands since I started here, and there are plenty of things I've learned. From the standpoints of reliability, efficiency, safety, and operator friendliness, John Deere equipment comes through time and time again."

The Indianapolis (Indiana) International Airport Airfield Maintenance Division is serviced by West Side Tractor Sales Co., Indianapolis, Indiana.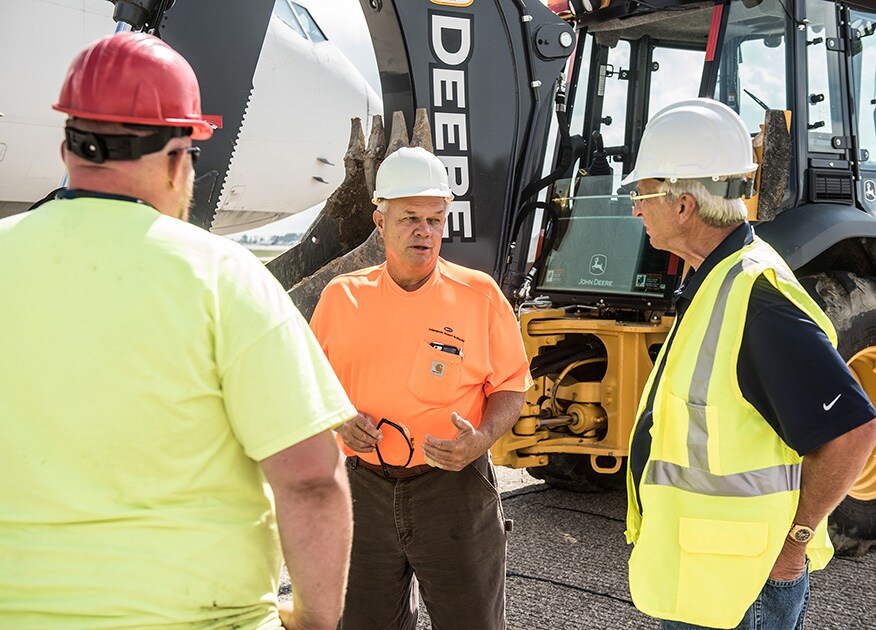 No Idle Hands Here
With a background in farming, George Kestler, Group Lead of the Indianapolis (Indiana) International Airport Airfield Maintenance Division, isn't one to sit still. On the job his coworkers and reports refer to him as the daredevil of the group — always willing to put a machine up to a new task or do whatever is required to get the job done. But his real passion is mentorship. "I was fortunate to learn a lot from the senior guys when I was first hired — passing on how to do things the best and most efficient way is very rewarding to me. If I'm able to leave something for the next guy better than the way I found it, then I know I've done my part."