Small Investment, Big Returns
Introducing the 244L and 324L Compact Wheel Loaders
Whether your work includes shuttling bucket loads of silage out of a back-forty bunker or navigating zero-lot-lines with pallets of pavers, a 244L or 324L Loader will help you turn up the volume of productivity. With our industry-exclusive Articulation Plus™ steering system and 324L High-Lift configuration, these highly adaptable multipurpose machines combine exceptional maneuverability, sure-footed stability, and the speed you need. So you can get in, get around, and get it done.
To learn more, view Compact Wheel Loaders.
Stacks up well against the competition.
Need more height and reach? Equip your 324L with optional High-Lift. Increased lift and height to hinge pin make it especially adept at loading feed mixers or stacking lighter materials such as hay bales.
Pacesetter.
With a top speed of up to 23 mph, an L-Series Compact Loader will help pick up the pace on or between jobsites. That's significantly faster than previous models, as well as many other compact loaders.
Take control of tire wear.
Rimpull control manages power to the wheels, maximizing efficiency while reducing tire and driveline wear.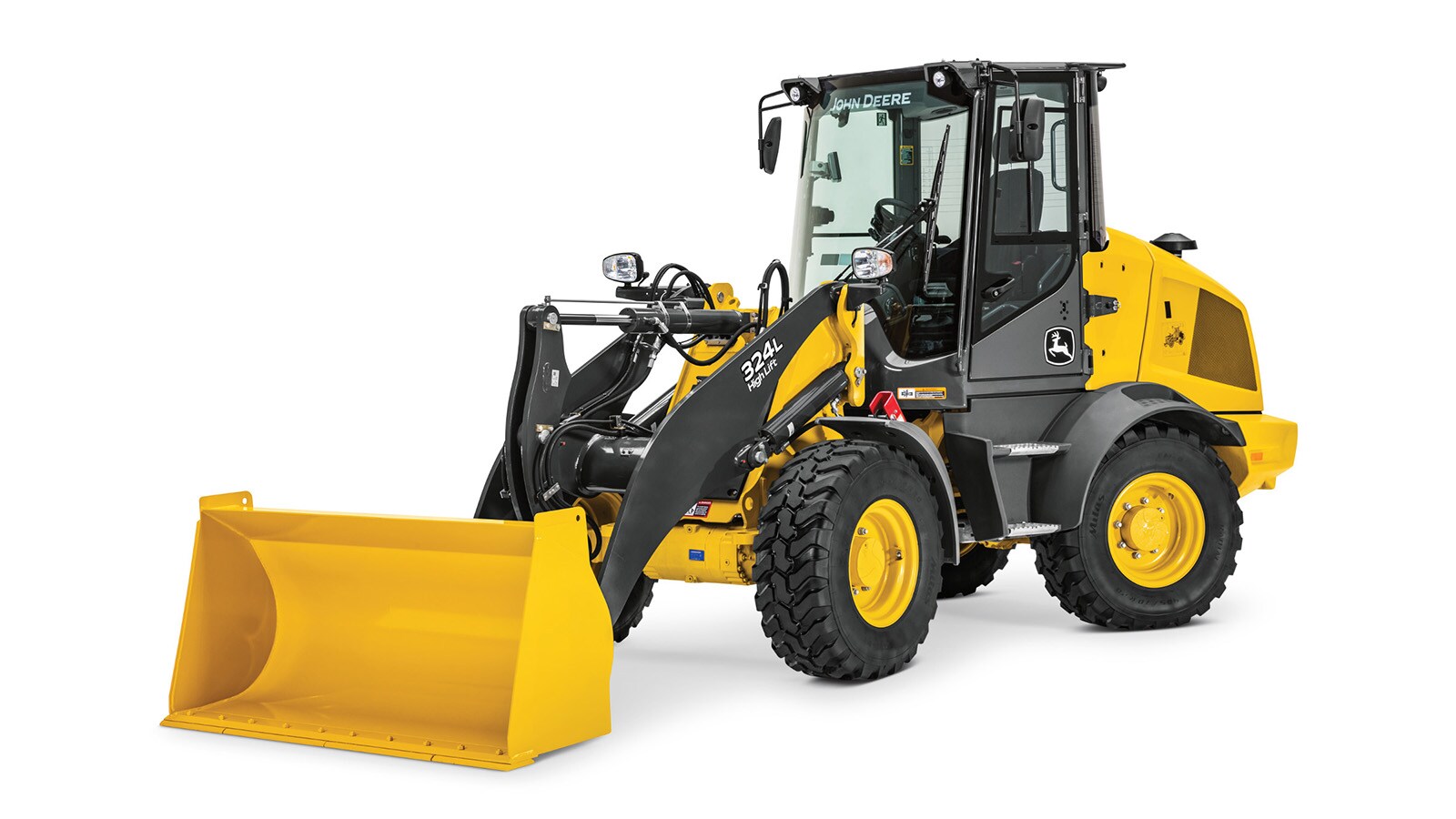 Won't steer you wrong.
Industry-exclusive Articulation Plus steering system combines 30 deg. Of articulation with an additional 10 deg. of rear-wheel steer. Reducing the articulation angle enables tight turns with large loads, delivering more turn-tip capability and stability than leading competitive compact articulated loaders.
Levelheaded.
New loader arm and coupler design improves the lifting path to near parallel, keeping the load much more level from ground level to truck-bed height to full height. Buckets stay heaped and pallets stack without needing adjustment from the operator.
Live large.
Uncommonly spacious, sound-suppressed cab provides ample leg- and headroom for operators of all sizes, while a sculpted, adjustable seat offers daylong support. Other amenities including a tilt and telescopic steering wheel, ergonomic controls and switches, and ample storage help operators do their best.
Chill out.
Redesigned engine compartment and cooling package improve airflow and help reduce incoming debris. Easy-access design simplifies ground-level cooler cleanout. Add an optional reversing fan to help keep cores clean in high-debris applications.