Don't Get Left in the Cold
12 tips to winterize your compact machine
John Deere compact machines are designed to start and run reliably during the winter months. Still, cold-weather operation requires a little extra care, and winterizing your machines shouldn't be neglected. By spending a few hours in the shop, you'll save many more hours trying to fix a dead battery or blown hose. Here's what to keep in mind to stay up and running when temperatures drop.
#1: Use Winter-Grade Fuel
When temperatures fall below 0 deg. C (32 deg. F), use winter-grade fuel (No. 1-D in North America) for cold-weather operation.
#2: Keep the Machine Greased
Check grease zerks daily. Keeping points well-greased helps repel moisture and dirt, and prevents rusting and freezing.
#3: Tread Biodiesel Blends
When operating with biodiesel blends, wax formation can occur at warmer temperatures. When temperatures drop to 5 deg. C (41 deg. F), start treating biodiesel fuels with John Deere Premium Biodiesel Fuel Conditioner (winter formula). Use B5 or lower blends at temperatures below 0 deg. C (32 deg. F), and use only winter-grade petroleum diesel fuel at temperatures below –10 deg. C (14 deg. F).
#4: Check Other Fluids
Refer to your operator's manual for the proper diesel engine oil and engine coolant requirements. Use a seasonal-grade-viscosity engine oil and a proper concentration of low-silicate antifreeze, as recommended. For most environments, Deere recommends a 50/50 Cool-Gard™ II-to-water ratio. For extreme cold-weather climates reaching –46 deg. C (–50 deg. F), up to a 70/30 ratio of Cool-Gard II to water may be used.
#5: Add a Diesel-Fuel-Flow Additive
Winter-grade fuel allows you to operate at the lowest temperatures. But you can use John Deere Premium Diesel Fuel Conditioner (winter formula) or an equivalent fuel conditioner to treat non-winter-grade fuel (No. 2-D in North America) when temperatures drop to 0 deg. C (32 deg. F).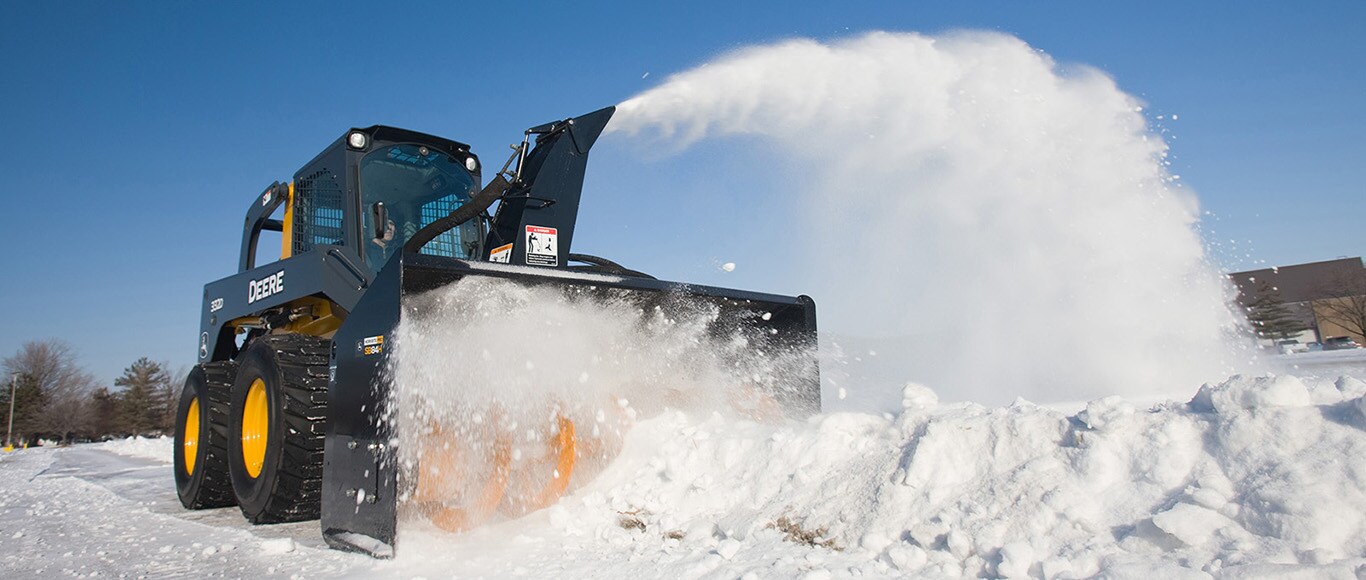 #6: Check for Water and Sediment
Inspecting fluids and filters for water and sediment is especially important during the winter because there will be greater condensation buildup. Water will settle at the bottom, so allow fluids to sit for several hours or overnight. Drain a small amount of fluid from tanks, reservoirs, and oil pans to check for water, and remove any water and sediment that may have accumulated.
#7: Test the Battery
Load-test the batteries to verify overall performance and condition. Winter weather requires up to twice as much cranking, so make sure the battery can handle the load. Our large-frame G-Series Skid Steers and Compact Track Loaders (CTLs) feature a battery-disconnect option to quickly disconnect battery power for convenient testing. Or if you are storing the machine, disconnecting prevents any draw from occurring when the machine is standing idle during the winter months. Don't forget to inspect and clean terminals, and confirm wiring is properly tightened when you fire up the machine again.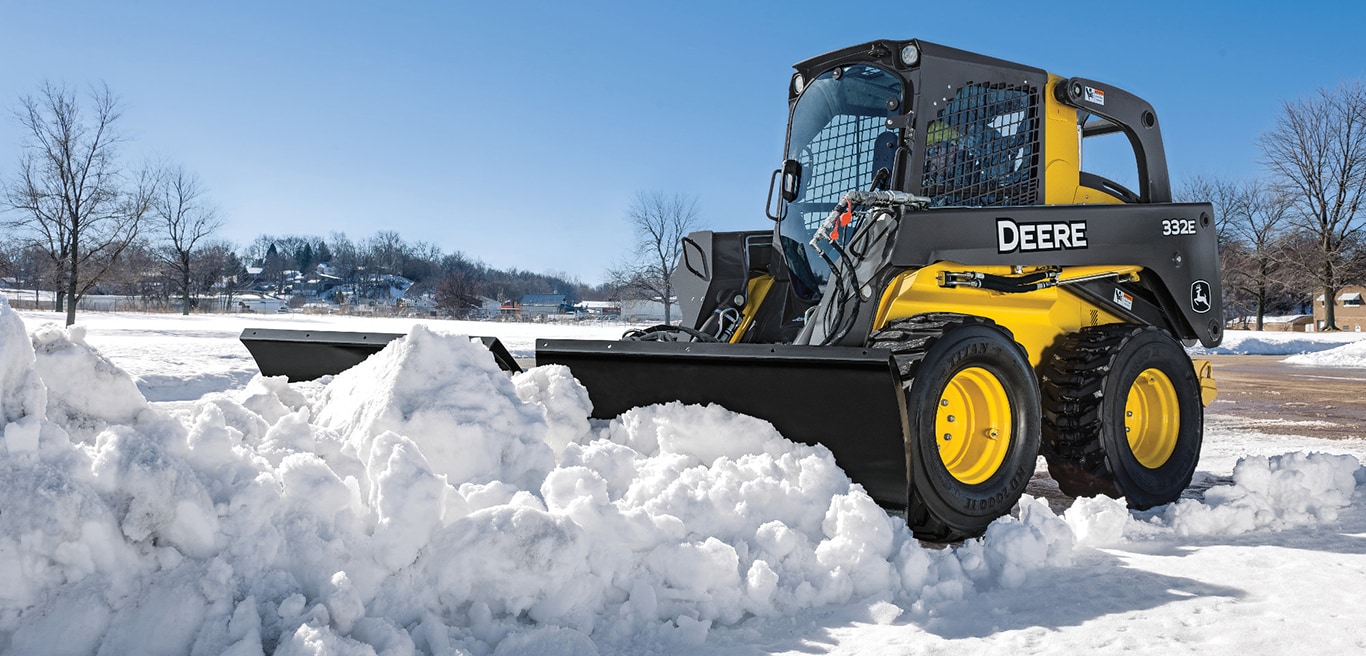 #8: Inspect Rubber Parts
Rubber becomes harder and more brittle in cold temperatures, so inspect rubber tires, tracks, hoses, and belts for cracking and dry rot.
#9: Check Tire Pressure
When the temperature falls, check and fill tires until they reach the proper pressure labeled on the sidewall.
#10: Allow for Warm Up Time
Allow machine fluids to warm up prior to operating at maximum speed.
#11: Avoid Getting Frozen In
Park the machine overnight on a hard surface to help minimize the risk of the bottom surface becoming frozen into the ground.
#12: Starting with Ease
Opt for an engine-block heater (also known as a coolant heater) to aid cold-weather starting.
*Be sure to refer to your operator's manual for complete details. And see your John Deere dealer for additional information and local availability of cold-weather aids.