Instrumental can be defined as one acting as an instrument, serving as a means to an end. But for Peggy Bliss, she combines that definition with another, acting as an audible voice for others as an instrument, serving as that means to an end.
Bliss says that telling someone's story is hard. It takes unique skills to capture your subject's traits, needs, wants, expectations, etc., and giving them a voice so others can understand. But as a technical product owner, that is what Bliss does every day. And she does it really well.
The Agile journey begins
If you've never met Peggy Bliss, there might be a piece of life you are missing. Spend an hour with her and you will experience joy, laughter, fun, compassion, humility, commitment, and enthusiasm. A purely genuine human with a soul filled with sunshine that shines through her smile.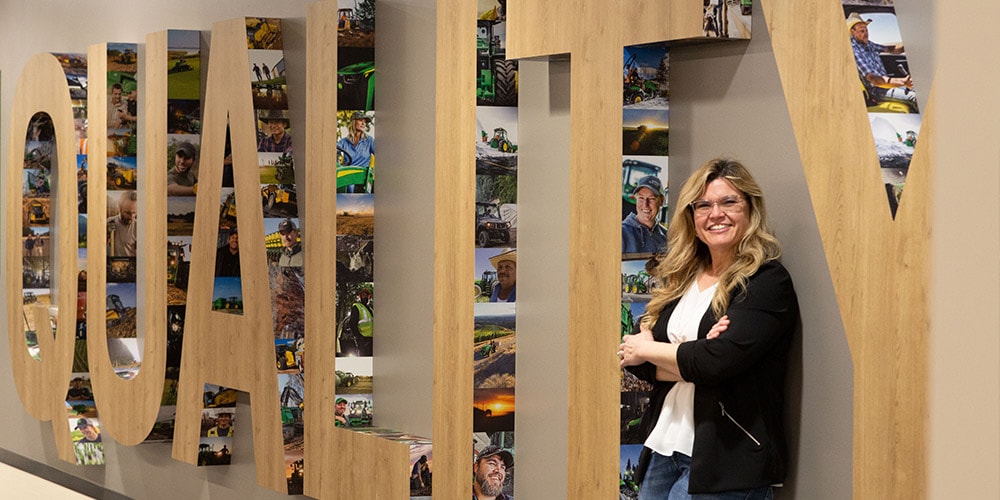 Bliss came to Deere eight years ago after graduating from Purdue while raising four children and was one of the oldest participants in the IT Development Program (ITDP) at the time. She began her Deere career supporting engineers and dealers, but quickly learned about the Agile journey IT was beginning, and she was instantly hooked.
"I loved watching people develop and change their behaviors and get excited about how quickly they were able to deliver value," she said.
So, Bliss took a role as a scrum master in 2017 and learned the tricks of the trade. She earned her scrum master certification and as IT has been growing in its agility journey, she has been instrumental in the maturity that has developed across teams through her work with other scrum masters.
As one of the founding members of the Scrum Master Community of Practice (CoP), Bliss has empowered scrum masters to learn as much as they can and challenged them to be better coaches, mentors, and to adapt to an agile mindset, not only at work, but at home as well. She developed the Networking sub-committee within the CoP, where she encouraged mentoring, pairing, and job shadowing for employees who were scrum masters or just wanted to learn more about the role. She became the scrum master advocate.
"It's all about the relationships," she said. "When you can develop trust and psychological safety, it is empowering. It propels me to take the time to truly listen to people and learn more about them."
Not only did she create a self-service mural board for scrum masters, she also started a book club with a colleague and worked with many scrum masters from around the globe. She committed to working in a time zone that worked best for them, and really learned about the challenges they were facing.
"When I worked with scrum masters from different regions, I had to pivot my own understanding to make sure I was really hearing them and the challenges they faced," she said. "When I was able to interact with them, I invested in them, and they invested in me. We created a family."
When Bliss was a child, she and her brother were raised by a single mother. To help her gain confidence, Bliss' mother signed her up for softball, where she blossomed being a part of a team. That's where she met a girl named Angie Harris, who never wanted Bliss to be alone. And that stuck with her.
Now, when Bliss sees employees who are facing challenges or may be dealing with a struggle, she just has one mindset.
"I need to make sure they are never alone."
Meeting expectations
Bliss feels like she's been able to bring her skills with her into in her new role as a technical product owner for agile tools, and she is still able to solve problems for scrum masters with the tools her team develops, never leaving them behind.
"Previously, we delivered functionality for leaders, but scrum masters wanted that functionality too, and I asked myself 'what is the highest thing I can give them?'" she said. "It developed into two parts. Not only has it given teams access to see their own metrics, but these tools also help scrum masters get a product-down view for how their team is doing, and as a former scrum master, I really wanted that for them."
"When you are living and breathing with those team members every day, it helps to show them where they've moved the needle and that the customer sees that value."
Bliss credits her customer service mentality with her time as a newspaper delivery person before she went back to school as an adult. "When people were looking for their paper at 6 a.m., I looked for ways to be more efficient and manage their expectations," she said. "Now, I look for those exact same things with our customers and encourage our team to ask themselves 'what do you want? how do you want to feel? what problem do you want to solve? what value are we giving our customers?' It is the same concept."
Bliss' encouragement to think like the customer and develop solutions for them is giving the customer a voice that our teams may never hear. Bliss helps tell their story in a way that leads to unlocking true value for them.
The value of voice
Telling Peggy Bliss' story is hard. Giving her a voice that perfectly describes her energy, her humility, her commitment to her team and her customers has been challenging. It is difficult to find the words that are worthy of Bliss's story and all that she is.
But Bliss doesn't really need someone else to give her a voice. She uses her own voice for what she believes really matters, the benefit of others. She is instrumental, and that is the best kind of voice to be.