Mike Waldo: 2023 John Deere Fellow Award Recipient
Waldo turns low-tech perception upside down, provides software solutions to customer challenges
Mike Waldo creases a bit of a guilty smile when he talks about his initial introduction into agriculture.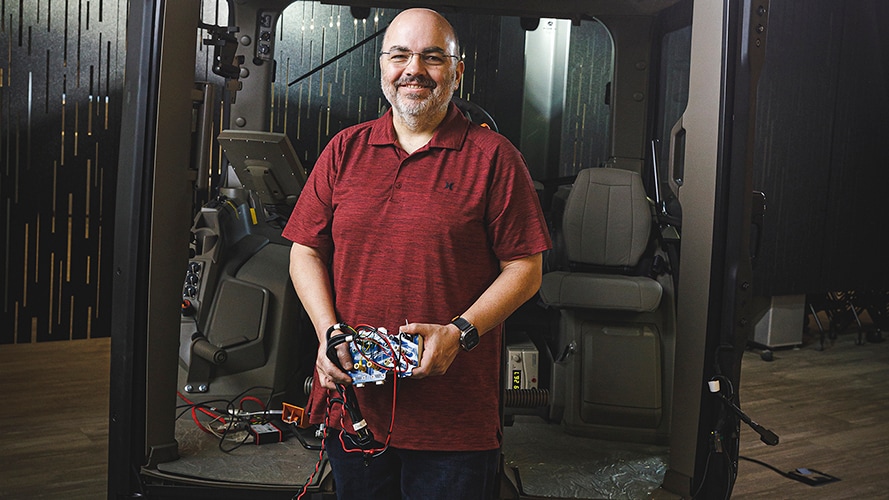 His view, he admits, consisted of two measurements — one plus and one minus. The plus was pure and honorable.
"Agriculture affects everybody," Waldo said.
The minus? Well, just remember he was fresh out of college at the time.
"I always had this picture of ag being low-tech," he said.
Oh, the irony.
Today, Waldo's title is technologist for John Deere and over his 21-year career he has utilized his software architecture and technology skills and "applied them to the challenges I see around me." He's developed some of the key systems used in Deere products, often advancing the company's precision agriculture innovations. He said he takes the "bits and bytes" available to him — all that data — and puts together what he calls the "underneath plumbing" that makes it all come together and work for Deere's customers.
His work has accomplished two clear achievements. First, it's flipped the outside perception of agriculture in general from just big iron to smart, connected machines. And second, it's earned him widespread recognition within the company, culminating with a 2023 John Deere Fellow Award, the most prestigious individual honor an employee can receive.
But if you think this would be a good time for Waldo to exhale, you'd be wrong.
"There is still a lot more to do in this industry," he said. "We're just starting out on the journey with a lot left to discover."
Out of sight, top of mind
In a world where speed to market separates leaders from followers, Waldo said the time he spends on "unknowns" helps with the technology delivery process (TDP) so new products can get in the hands of customers sooner than ever before.
"This helps us discover new possibilities faster and streamlines our ability to get to market quicker," he said.
One of Waldo's recognized strengths brings more irony to his story. With speed an identified ingredient for success, Waldo's patience has proven to be a valued asset.
"It's about being out on the cutting edge and looking at things that haven't been done before, while being willing to poke and prod and figure out how something can work in the situation you need it to," he said. "It's about doing a lot of your own discovery."
Waldo's innovations and architecture have created the foundational documentation systems that are used across display families (the monitors inside machine cabs) to collect data, visualize it in the cab, and transfer the data to the cloud for analysis and measurement in mobile and web apps. This significant contribution has been bedrock to the company's precision ag strategy and collecting the data that enables that strategy.
If that sounds like corporate-speak, Waldo understands.
"Or," he said plainly, "my work is what happens next after a customer pushes a button."
The value of technology
Waldo learned early in life about the power of what's inside a product. Enamored with early-form home computers — the Timex Sinclair ZX80 and Commodore Vic-20 — those interactions sent him to his father's basement workbench to tinker with electronics. He would take apart two devices to make a third, learning quickly that often what's hidden mattered most.
But much of what he's working on today typically leads to him ending his sentences one of two ways. He said it's either "something we use behind the scenes so the customer won't know it by any name" or "I can't talk about that yet."
There is a signature project, however, that Waldo is happy to highlight — the creation of the modular equipment framework. The framework allows for new implements, sensors, and self-propelled platforms to be added at a single point and in a common way to the most advanced displays and offboard applications.
"The biggest impact I believe I've had is in controlling those data channels and that modular framework that represents all of our equipment. I think that's been probably the biggest thing I've done for Deere that has had the most value," Waldo said.
Yet, for those customers who just want to turn the key and get to work, Waldo is perfectly fine with that. It doesn't matter to him whether his work is seen, noticed, or given a name that is stuck to the side of the machine.
"All I want," he said, "is for the customer to have a positive experience. That's what my work is aimed at. I just want them to experience the technology of agriculture."
That's something Waldo wasn't sure existed early on in life but has been integral in expanding for more than two decades. It seems life has come full circle, which is a plus.