Goutam Mohapatra: 2023 John Deere Fellow Award Recipient
Mohapatra uses AI, machine learning to widen his career path, improve materials decision making
As a child growing up in Odisha, India, Goutam Mohapatra didn't have the dreams or curiosities of a budding engineer.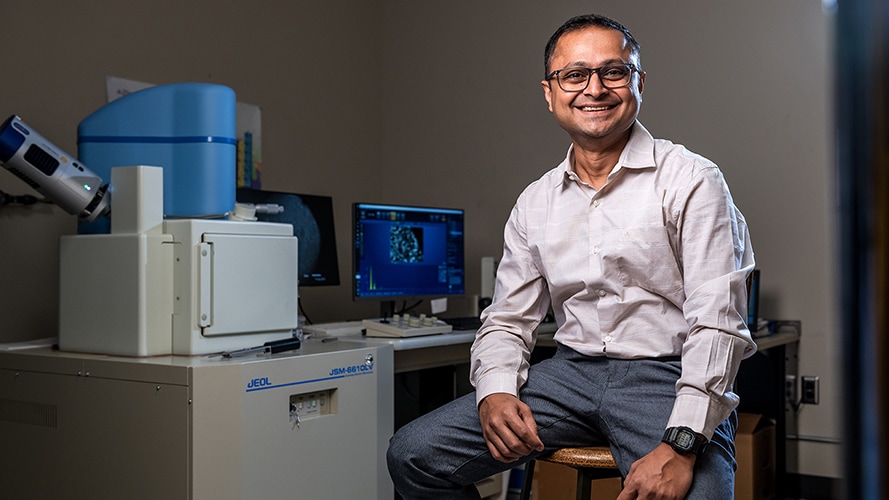 There was no history of taking apart the family vacuum just to see how its insides came together. Instead, Mohapatra's personality led him to playing games and running around with friends. Studying, he'd admit, was of little interest.
But this was a time and a culture at conflict with those behaviors. Status and serious schooling were tied to certain jobs and those were the jobs parents pushed their children toward. If you wanted to be successful, Mohapatra said, you were either a doctor or an engineer. That's it. Not an attorney. Not even a professor, the career his father had chosen.
"Becoming an engineer is not something that started in me," he said. "I had to become an engineer. It was very important in India. It was status."
Then something interesting happened.
"I started liking it and then I thought, 'OK, this belongs to me,'" he said. "Yes, I had to become educated and that's what our society likes if your son is an engineer."
In the end, it has worked out — and then some. Mohapatra, a staff engineer in materials analytics and integrated computational materials engineering, has thrived in leading numerous company and industry-changing projects. His cross functional approach and engaging mentoring style have earned him respect across product lines and have led him to a spot even he didn't think was possible: being named a 2023 John Deere Fellow Award winner, the company's highest individual honor.
Going sideways
Today, Mohapatra works at the Enterprise Technology & Engineering Center (ETEC) in Pune, his career at Deere now covering 12 years. At the start of it all he pictured a job "inside a silo with my head down focused on one thing." It has been anything but. Mohapatra had the foresight (and personality) to turn that silo on its side and create an inclusive style to get the best, most efficient answers possible by including the cross functional expertise Deere is known for.
An early conversation with his manager, 2015 Materials Engineering Fellow Award recipient Dr. Satyam Sahay, came down to how much Mohapatra wanted to pursue a career in materials engineering. Sahay presented him with a challenge: continue to be one of the many materials engineers in Deere or widen the narrow space where materials as a core resides and enhance it through the use of artificial intelligence and machine learning.
Mohapatra was intrigued — and interested. There was just one problem.
"I didn't know anything about those two things," he said. "I wasn't sure I could do the work."
Sahay, whom Mohapatra called a mentor, accelerated the process. After a trip to John Deere Coffeyville (Kansas) he returned with a project and some data and set Mohapatra free to figure it out.
"I started working and there was a lot of data and it was overwhelming," he said.
But being overwhelmed didn't last long. He created the area of materials analytics, a discipline where very few people were using AI and machine learning.
"I combined these two and found a way to create value in the process and for the business," he said.
Mohapatra explained it often started with interacting with design engineers who created parts but weren't sure which material form they should take. It's a problem in search of numerous solutions, he said.
"It ends up being a choice between multiple things," he said. "And how do you make that choice? Now imagine using AI and machine learning."
Other factors remained in play as well: how the material interacted with what's around it, how it reacted to heating or cooling, what kind of stress would it endure when performing its job, and did Deere have the right suppliers to meet both demand and cost.
In the past, employees with decades of experience might have had the answer based on having gone through something similar before.
"But then they retired and walked out the door," Mohapatra said. "And all that information left with them. Now, the technology takes over and it gets smarter based on the data."
As an example, he's applied these principles to "more than a thousand" corrective action requests (CAR) for JDPS, the tool that allows for CARs to be tracked more efficiently. Through his process, AI and machine learning prioritize those CARs based on criticality. In short, it brought order — and efficiency — to potential chaos.
"What we've done is developed a way to provide solutions that help the internal customer and the business," Mohapatra said. "And by applying this to multiple projects we can solve a variety of problems and serve an internal customer list that spans John Deere and across the globe."
And those solutions are the perfect fit, just like engineering has been for Mohapatra.