News Release
November 30, 2020
John Deere Takes On Tough Terrain With New 953ML Shovel Logger
The John Deere 953ML Shovel Logger offers a purpose-built solution ideal for soft ground conditions, such as swamps or wetlands.
Equipped with a 36-foot live heel boom, other key features on the 953ML include a durable track system, a powerful John Deere PowerTech™ diesel engine and a comfort-boosting operator station design.
The 953ML leverages the outstanding features and ease of service found in the John Deere 900M lineup, streamlining machine operation and maintenance.
MOLINE, IL (Nov. 30, 2020) — John Deere announces the new 953ML Shovel Logger, providing a purpose-built solution for loggers operating in wetland and swamp conditions. The 953ML is equipped to help loggers outmaneuver the muck, tackling challenging job sites with its powerful live heel boom, durable track system and comfort-boosting operator station.
"We are committed to providing loggers with proven equipment solutions that meet their unique needs, regardless of the job site," said Jim O'Halloran, product manager John Deere. "The new 953ML expands our portfolio to offer a machine engineered with wetland conditions in mind. Unlike wheeled machines, this purpose-built shovel logger can effortlessly tackle swampy terrain."
Equipped with a 330-horsepower John Deere PowerTech™ 9.0-liter diesel engine, the 953ML delivers the power needed to tackle challenging conditions. The most notable feature on the 953ML is the 36-foot live heel swamp-logger boom with its 60-inch grapple capacity. With the live heel boom, control over the positioning of the log is improved during timber-handling operations. Another key feature, the long and wide undercarriage, combined with excellent ground clearance and proven tractive effort, maximizes its maneuverability and flotation in soft, swampy and spongy conditions.
"It's got all the reach you need to get down into a hole and grab something. It has the lifting power and stability for handling big logs. And with the long tracks, it has plenty of flotation for working in wetlands," said Trey Freeman, Long Bay Trucking, "The ride and feel are smooth and comfortable. There's plenty of room in the cab, and the visibility is great. I can look out and grab what I need to grab. And if I start to get stuck, I can see the tracks really well."
The operator station on the 953ML offers improved visibility, equipped with floor-to-ceiling front and side windows along with an overhead skylight. Comfort-boosting features, including a climate-controlled cab, fully adjustable armrests, joystick-mounted buttons and a standard air-ride seat, cater to operator needs on the job site. An enhanced lighting package, including boom-mounted lights, improves visibility regardless of the job site environment.
The 953ML boosts the outstanding machine features and ease of service that loggers expect from the John Deere 900M machine lineup. Additionally, providing real-time machine data and alerts, JDLink™ is available five years in base, helping to further maximize machine efficiency and uptime.
To learn more about the new 953ML Shovel Logger, as well as the full line of John Deere Forestry equipment, visit your local John Deere dealer.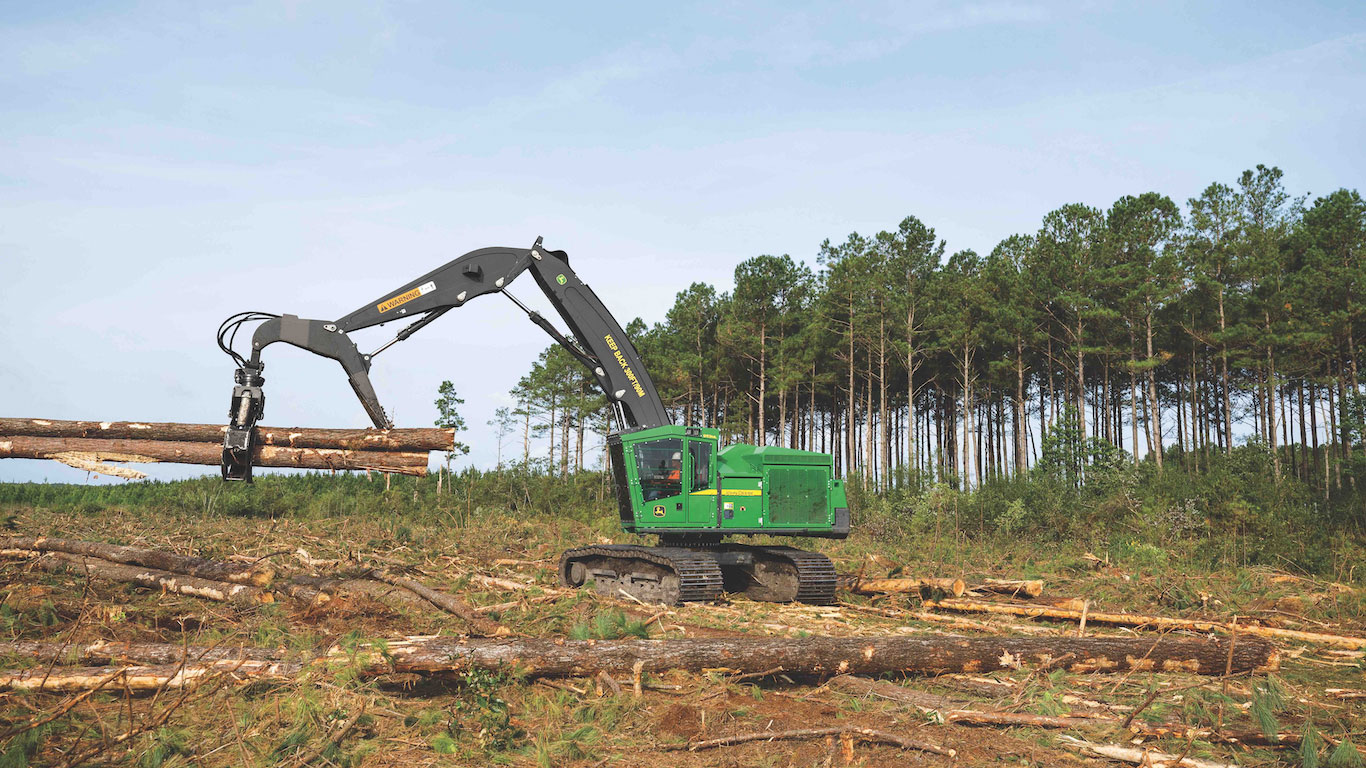 About John Deere
Deere & Company (www.JohnDeere.com) is a world leader in providing advanced products, technology and services for customers whose work is revolutionizing agriculture and construction - those who cultivate, harvest, transform, enrich and build upon the land to meet the world's increasing need for food, fuel, shelter and infrastructure.